BALCONY SYSTEMS DECKING TEXTURES AND FINISHES
Composite Decking Textures and Finishes
Composite Decking | Technical Details | Colours and Finishes | Accessories | Galleries | Prices
| | | | | |
| --- | --- | --- | --- | --- |
| Enhanced Grain - Coppered Oak | | Enhanced Grain - Jarrah | | Enhanced Grain - Golden Oak |
| Enhanced Grain - Limed Oak | | Enhanced Grain - Smoked Oak | | Carbonised - Charred |
| Weathered - Vintage | | Weathered - Driftwood | | Carbonised- Embered |
Balcony Systems composite decking textures and finishes are specifically created to thoroughly capture the natural charm, character and feel of real oak. This is a unique state-of-the-art blend of materials to produce decking that looks completely authentic without natural wood's drawbacks of rotting, mold, splitting and splintering.
Balcony Systems decking boards, fascias and edging are moulded from replicas of natural prime oak. With attention to detail, the pre-finished decking boards are hand-coloured and the result is a perfect reproduction of the grain, texture, feel and look of natural hardwood. Coatings are added to the textured decking that provide a long-lasting toughness and durability. Balcony Systems's decking was created with powerful anti-slip, mould-resistant and rot-resistant qualities. It's easy-to-clean, fire-retardant and environmentally-friendly qualities. This is often the first choice in composite decking for both commercial and domestic applications :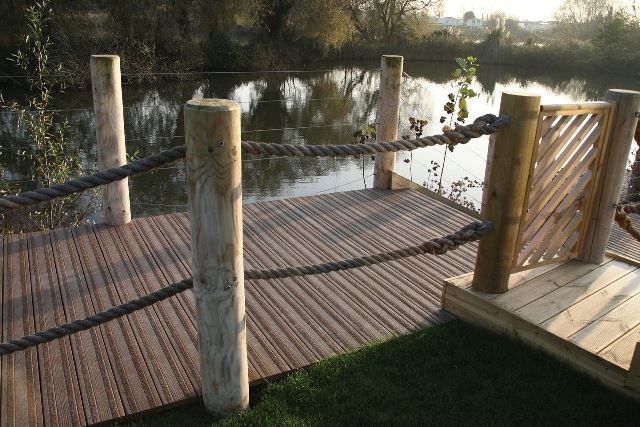 roof terraces
boardwalks
marina decking

sundecks

swimming pool surrounds

balconies

verandas and
garden patios and terraces
| | | |
| --- | --- | --- |
| | | Enhanced Grain is the smoothest of our composite decking textures and fnishes and is a very popular range of decking – with very good reason. It provides you with the option of a smoother wood-grain finish that adds elegance and style to any decking project inside or outside: an alfresco room, classic deck, garden terrace, balcony or roof terrace. Available in five distinctive colours (Coppered, Jarrah, Limed, Smoked, and Golden), Enhanced Grain decking is ideal for complimenting and enhancing both traditional and contemporary settings. Click here for examples |
| | | From Japan comes the traditional art of charring wood to preserve it. Burnt timber cladding has been used in Japan for centuries as this traditional technique has a bonus: it also creates a beautiful decorative effect. Balcony Systems has styled "carbonised" oak decking textures from that traditional Japanese art of Shou Sugi. This composite decking texture and finish perfectly replicates this appealing effect. With a choice of the "charred" look or the deeper "embered" to provide a more gnarled and aged style, you have the option of incorporating darker and even more textured authentic-looking effects into your decking designs. Click here for examples |
| | | Weathered oak captures the charm and beauty of real weathered oak but eliminates the typical problems of wood for outdoor environments. Balcony System composite decking boards are carefully crafted from hand-picked real weathered prime oak samples over 100 years old. Harmonising gracefully in either contemporary or traditional settings, their appearance is stunning. Available in two natural but distinctive colours (Weathered Driftwood and Weathered Vintage) our Weathered Oak decking texture adds character, style and grace your decking with an element of timeless beauty. Click here for examples |
| | | Lasta Grip is an ideal texture and finish when your decking needs extra grip and increased slip-resistance. With textured strips strategically moulded into a soft Lastane® surface, it provides the ideal composite decking board for use in "high risk" areas where public safety is more important and is perfect for children! Lasta Grip achieves the reduced risk of slipping without adding the risk of personal injury from highly abrasive strips of sharp grit which is usually used. Lasta Grip helps deaden the noise of footfalls and furniture movement. Easy to cut and work with, Lasta Grip is great for public places and commercial and leisure applications. Lasta Grip decking is available in Coppered or Golden colours. Click here for examples |
| | | Like our our decking boards, Balcony Systems composite decking textures and finishes include edgings and fascias that combine the beauty and feel of natural wood with added toughness, durability, and fire-retardant and anti-slip properties. They perfectly match or blend with the decking textures of your project and provide the perfect finishing detail to any area of decking. Available in both Bullnosed and Ribbed designs, our step edges provide a tough edge and extra grip where they are most needed. They are also invaluable wherever your decking presents a change of level and can provide an elegant finish to the perimeter of a decked area. Our fascias meanwhile add yet another option for adding a neat finishing touch to your decking structure that brings it all neatly together. Both fascias and step edges are supplied rigid as standard but they can also be provided in a flexible material when you need to fit a curve into your structure or simply enhance your design. |
To make things complete, our edges and fascias come in a carefully created choice of natural and contemporary colours and finishes to harmonise with or compliment your decking: Carbonised, Coppered, Golden, Jarrah, Limed, Smoked Driftwood and Vintage. Click here for examples
Order your Composite Decking online or call us now on 01342 410411 where a friendly adviser is on hand to answer any questions you may have, to take your request for samples of our various decking textures or even arrange a visit to our factory.
Please note: there is a nominal charge for decking samples which is refundable once your order is placed.