GLASS BALCONY BALUSTRADES - FREQUENTLY ASKED QUESTIONS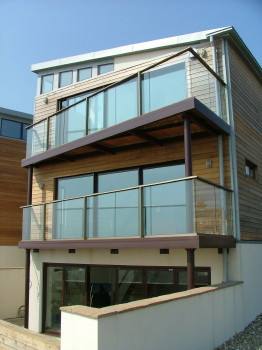 Glass balcony balustrades look very simple but there are a lot of technical details to understand when specifying and installing. Here we answer many of our frequently asked questions to assist you in their specification and installation.
WHAT KIND OF GLASS DO YOU SUPPLY?
We predominantly supply 10mm Clear Toughened glass but can offer tinted and also laminated glass as well.
HOW WIDE ARE THE SECTIONS OF GLASS YOU PROVIDE?
To make transportation and installation simple, we divide the glass balustrades panels so the largest pane does not exceed 1.2 metres in length.
WHY DO YOU LEAVE A GAP IN BETWEEN THE GLASS PANELS AND HOW BIG IS THAT GAP?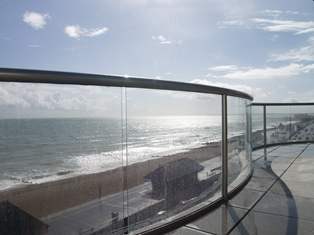 We leave a 30mm gap to the right and left of every panel for three reasons: 1. To be large enough that fingers and rings cannot be trapped between glass panels. 2. To allow space for heat expansion. 3. To make the panels easy to install and wide enough apart that any minor mis-alignments won't show.
CAN WATER DRAIN AWAY UNDER THE SYSTEM'S BOTTOM RAIL?
As part of the system, we can supply 5mm packers to sit beneath each fixing point to create a 5mm gap that allows water to pass underneath the balustrade.
DO YOU MANUFACTURE THE BALCONY STRUCTURE?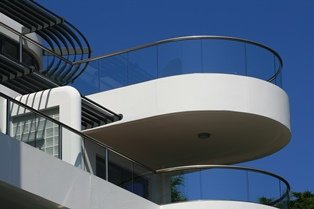 We only manufacture the glass balustrade, not the balcony structure on which the balustrade sits. Our balustrades will work with almost any balcony structure though.
ARE YOUR SYSTEM STRUCTURAL GLASS BALUSTRADES?
The answer is no. It's a hybrid system. A Structural glass balustrade means that the glass itself acts as the structure, and resists outward forces by being cantilevered from the ground.
IN WHAT COLOURS DO YOU MAKE YOUR HANDRAILS?
We supply our handrails in 4 standard colours: White, silver, Bronze and our unique "Royal Chrome" finish, plus we can make many other custom colours as well.
WHAT IS THE DIFFERENCE BETWEEN YOUR ROYAL CHROME FINISH AND STAINLESS STEEL?
Despite the name, "stainless" steel requires polishing to keep its appearance, as it does tend to tarnish. Our Royal Chrome finish is made of anodised aluminium and is virtually maintenance free, as well as being a lot more lightweight than steel.
HOW ARE THE HANDRAIL CORNERS JOINED, ARE THEY WELDED?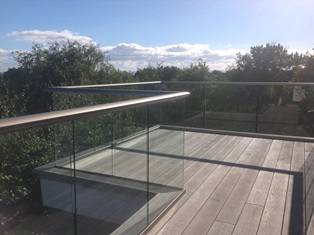 They are mechanically joined with a special internal aluminium plate. They are not welded. Read more about postles corners.
HAVE YOUR BALUSTRADE SYSTEMS BEEN TESTED?
Yes, thoroughly, on and off-site. In June 2004, we commissioned independent testing and consulting engineers, Sandberg LLP, to test our systems with regard to compliance to BS 6180:1999 and BS 6399:1996 and here you can see their findings.
WHAT IS THE APPROXIMATE WEIGHT PER METRE OF THE SYSTEM WITH THE GLASS?
How Much Do Glass Balustrades Weigh? The balustrade system at 1.1m height and with 10mm glass weighs approximately 34KG per linear metre, which is the same for our Juliet balcony system.
IS THE BALCONY SYSTEM BALUSTRADE A STRUCTURAL GLASS SYSTEM?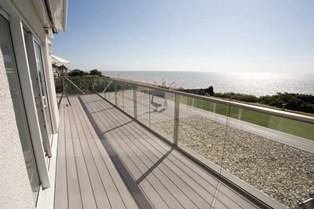 No, it is a composite system utilizing both the glass and handrail to take the loads, which makes the whole system a lot lighter and allows the balustrade to span certain vertical lengths without the need for vertical posts.
HOW DO THE BALCONETTE GLASS BALUSTRADES SYSTEM POSTS WORK?
The Balconette glass balustrades posts are made from two parts. The first is the structural post, which is a galvanised steel tube with a welded baseplate. The second part is the cover post. This slides all the way over the structural post.
WHY IS THERE A 30mm GAP BETWEEN GLASS BALUSTRADE PANES?
There are four main reasons why there is a 30mm gap wetween the glass balustrades panes: expansion and contraction can cause cracking, prevent a finger trap, easy to handle and install and is has great tolerances and good looks.
WHAT ARE THE HANDRAILS SYSTEMS MADE FROM?
Glass balustrades handrails are made from anodised aluminium. Stainless steel is correctly named in that it stains less, but anodised aluminium is actually more corrosion-resistant, and that's why we use it.
If you questions have not been answered in our glass balcony balustrades frequently asked questions, or you just want to get in touch, please contact us.