Frameless Glass Balustrades
For a frameless balcony - with nothing in the way of your view
Our frameless glass balustrade system (also known as 'SG12') needs no handrail or other visible support - it is securely anchored to the ground - so there is absolutely nothing to interrupt the view.
Frameless glass balustrades are a true premium product, ever popular with architects and designers. In a home environment there is no better way to remove all obstacles between the indoors and the outdoors, while maintaining comfort and safety. Where balustrades with handrails are a less expensive option, if an uncompromising high-end look is the goal, there is no substitute for frameless.
*Click a picture to see our balustrades gallery
Frameless glass (also known as structural glass) gives the ultimate in unobstructed, wide-open views.
They use double-sheet laminated glass, and require a bottom support channel which can mounted in different ways - see below
No handrail is required, but a thin eliptical rail can be attached to the top of the balustrade.
Recessed mounting
The support channel sits beneath floor level, so is completely invisible.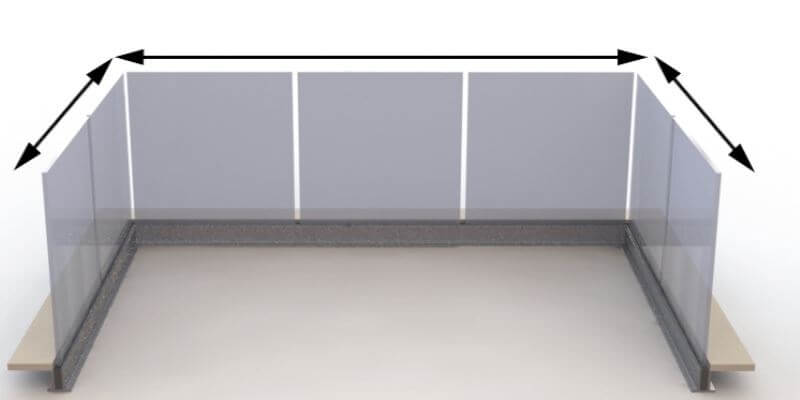 Surface mounting
The support channel sits on top of the floor level. This option is more suitable in cases where digging a channel into the floor is not practical.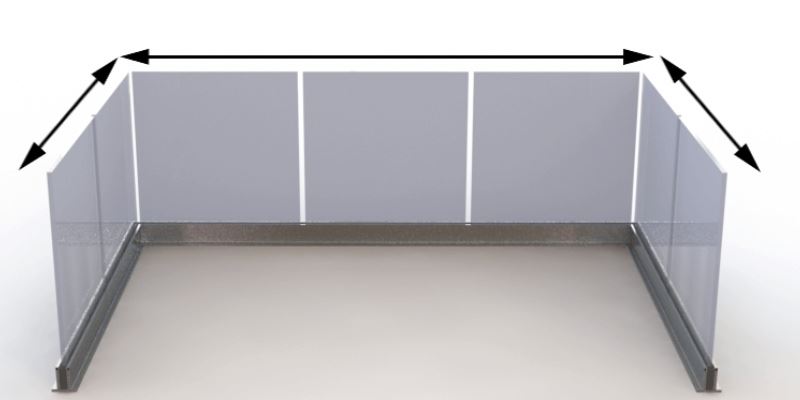 Frameless systems are usually supplied with 2.15mm Laminated Toughened clear glass. Other options are only available by special order - talk to one of representatives for details
Fully Frameless and Semi-Frameless Glass Balustrades
We offer options for 'Fully Frameless' (with no handrail) and 'Semi-Frameless' (with a narrow anodised aluminium handrail, suitable for comfortable leaning on).
Both options are made of 21.5mm laminated and toughened glass - sometimes called 'structural glass'.
There are no limitations of length or size, and no requirement for vertical support posts.
Installation of the fully frameless alternative requires more time for glass alignment and positioning, as there is no handrail on top to hold the glasses straight.
Surface or Recessed mounting
Our Fully Frameless Glass Balustrades: Enjoy the View!
Frameless glass balustrades for balconies, a decking area or mezzanine create an almost invisible barrier between the viewer and the view.
The pictures here of some of our projects using these top-of-the-range glass balustrades tell the story better than any superlatives or poetry could hope to do.
Relying on the strength of the glass that is secured to a sturdy base rail, without any vertical supports or even a handrail, our frameless glass balustrades use thicker and heavier super-strong laminated and toughened safety glass. This naturally makes this the most expensive of our glass balustrading options.
But what you get is the considerable aesthetic benefit of virtually limitless expanses of pure uninterrupted glass without supports, clamps or corner posts - or even the line of a handrail.
Looking outwards, this means views as uninterrupted as views are likely to get until someone invents the invisible force field. And, within, it means more light, more sense of space and a feature that will blend with virtually any architectural or decorative style or design.
Glass is a material that will last for all intents and purposes almost forever. The safety glass of our frameless glass balustrades includes two panels that are both toughened and bonded together by a plastic safety interlayer. The reason this interlayer is used is so that if one of the glasses should break the other will remain in position. This is a relatively new addition to BS 6180, added in 2011, which allows the omission of a handrail in these cases.
As a recommended but optional extra you can choose to have the BalcoNano coating applied to the glass. The added benefit of this is that it is virtually self-cleaning so you don't have to clean it very often either – and when you do the job is an easy one.
You can work out the cost of our pure frameless glass balustrades or any of our glass balustrade systems and get a quote for your own requirements online. Or follow this link to see the technical details of our glass balustrades.
If you have any questions or want more details about our frameless glass balustrades then please contact us.
Balustrades with handrails: System type options
Choose below from the different systems, each system gives its own advantages and options, ranging from the classic Balcony System through to the fully frameless.
| | |
| --- | --- |
| The SG12 Fully Frameless system allows for 100% uninterrupted views without even a handrail line. There are no limitations of lengths or sizes and requires no posts or handrails at all. | The Frameless glass balustrade with top rail has only a beautifully designed elliptical handrail on top and uses 21.5mm clear toughened glass. |
| Frameless glass balustrades for balconies, a decking area or mezzanine create an almost invisible barrier between the viewer and the view. | The Frameless glass balustrade with top rail has only a beautifully designed elliptical handrail on top and uses 21.5mm clear toughened glass. |
Structural glass balustrades - Types and methods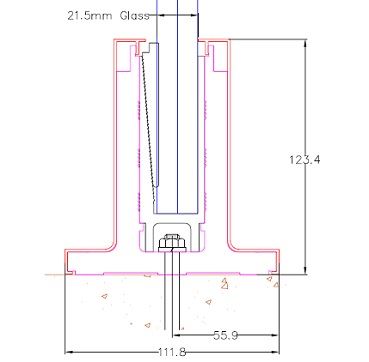 When the glass of a balustrade is not just used as an infill panel but is also used as the actual structure of the balustrade, it is often referred to as a structural glass balustrade. It is also sometimes referred to as a frameless glass balustrade or a cantilevered glass balustrade.
The basic idea is simple and is based on two engineering principles; a strong base that can clamp thick and strong glass panels that can resist the bending moments and loads imposed on it.
Frameless glass balustrades - Things to consider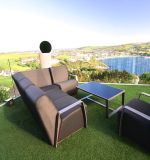 We supply frameless and semi frameless systems. From our customer feedback and our many years of experience in this field, we feel there are some important things to consider when making a choice of type of glass balustrade you wish to install. These are listed in this article below.
Frameless glass balustrades may provide a contemporary look which is ideal for some homes and people but for other it could be a step too far. There is a need for functionality in glass partitions and this may be slightly lost in the some of the modern balustrades. It is a tribute to the design and quality of the new balustrades that many people can mistake them for not being present but if it makes people feel uncomfortable, the addition of a barrier or rail can make a massive difference to the comfort levels of a person.
Semi frameless curved glass balconies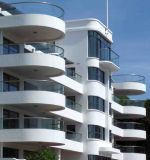 Taking full advantage of extensive views across St Brelades Bay on the Channel Island of Jersey are curved and straight clear glass balconies by Balcony Systems for the prestigious award-winning Chateau Valeuse apartments.
For the architects at Naish Waddington, clear glass balustrading was a key design element. The strong semi-circular balconies are sculptural, dramatic and functional.