JULIET GLASS BALCONY SYSTEMS - FREQUENTLY ASKED QUESTIONS
WHAT GLASS IS USED IN YOUR JULIET BALCONIES?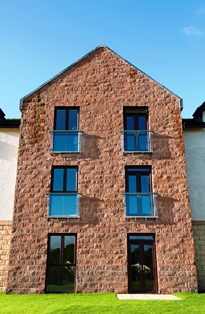 Our Juliet glass balcony system uses 10mm toughened glass. Laminated glasses can be used but are not standard.
CAN I HAVE THE JULIET MADE WITH JUST ONE GLASS PANEL?
We use 2 or more panels on the Juliet Balconies for ease of transport and installation. In some cases it is possible to have one panel. This will make transport and installation more difficult and will cost more as well. If this is critical to you please enquire with our sales team.
ARE YOUR JULIET BALCONIES BUILDING REGS COMPLIANT?
Yes, we can provide you with our system calculations to forward to your local authority.
WILL MY LOCAL AUTHORITY ASK FOR ANY PAPERWORK?
We find that in most cases paperwork is needed. The requirements will be to show compliance to the required forces and will include both horizontal and vertical load calculations. It is recommended to make sure your Juliet Balcony manufacturer has these.
IS PLANNING PERMISSION REQUIRED FOR A JULIET BALCONY?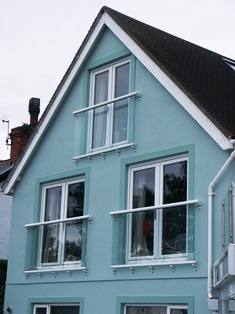 We cannot advise on this as different authorities have different rules and it is best to enquire with your local authority. However we have heard from some customers that they have not required planning to add a Juliet Balcony to their house.
HAVE YOUR JULIET GLASS BALCONY SYSTEMS BEEN TESTED?
Yes, thoroughly, on and off-site. In June 2004, we commissioned independent testing and consulting engineers, Sandberg LLP, to test our systems with regard to compliance to BS 6180:2011 and BS 6399:1996 and here you can see their findings.
WHAT IS THE APPROXIMATE WEIGHT PER METRE OF THE SYSTEM WITH THE GLASS?
Our Juliet glass balcony system at 1.1m height and with 10mm glass weighs approximately 35KG per linear metre.
CAN YOUR JULIETS BE MADE WITHOUT A HANDRAIL?
Our Juliet glass balcony system's strength and design is reliant on the handrails and therefore our systems must have a handrail. We have also found that having a handrail increases the comfort level of users of the balcony.
WHAT IF I CANNOT FIX THE BOTTOM UNDER THE SILL?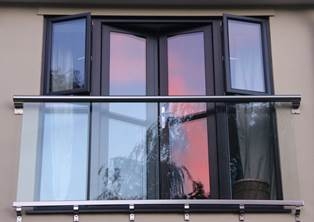 For this reason we have designed the Mirror Juliet system. It does not require any fixing under the sill but is limited to 2.45m wide.
WHAT IS THE LEADTIME FOR ORDERING A JULIET BALCONY?
If you can use our standard sizes then we usually supply within a week. If you need a custom size the lead time is 30 days from signed drawings.
CAN I HAVE A JULIET GLASS BALCONY THAT GOES BETWEEN THE REVEALS OF MY WINDOW FRAME?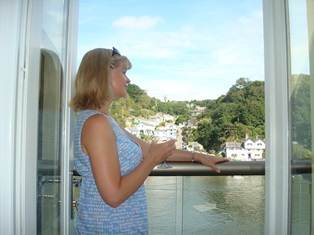 This is not a standard item but this can be arranged if you contact us.
DO YOU MANUFACTURE THE JULIET GLASS BALCONY?
Yes, we manufacture the Juliet balcony along with its handrail.
WHAT ARE THE COLOURS OF YOUR HANDRAILS?
We supply our handrails in 4 standard colours: White, silver, Bronze and our unique "Royal Chrome" finish.
WHAT IS THE DIFFERENCE BETWEEN YOUR ROYAL CHROME FINISH AND STAINLESS STEEL?
Despite the name, "stainless" steel requires polishing to keep its appearance, as it does tend to tarnish, particularly by the sea. Our Royal Chrome finish is made of anodized aluminium and is virtually maintenance free, as well as being a lot more lightweight than steel.
WHAT IS A JULIET GLASS BALCONY?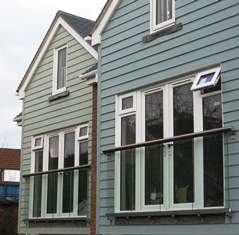 A Juliet glass balcony is a modern option to protect an inward opening French door that is placed above the ground level, to stop people from falling out of above-ground-level door-length windows. It is not a Balcony that one can step out onto per se, but rather a flat barrier across the outside of the opening. French doors are installed to let in more light and give a bigger view. We make our Juliet balconies almost entirely of glass to let in as much light as possible!
For any other questions about our Juliet glass balcony systems, pleasecontact us.