JULIET TECHNICAL SPECIFICATIONS
JULIET BALCONY
Drawings and Tech Specs
Juliet Balconies | Tech Specs | Installation | Gallery | Projects | Articles | Reviews
Technical drawings, elevations and sections of Glass Juliet Balcony models in all sizes. Load Testing and other technical details about Balcony Systems Juliet Balconies.
SECTIONS AND ELEVATIONS
You can view here our PDF downloads displaying elevations and details of all 36 Fast-Track Juliette balcony models. Simply click on the size under the model type and the relevant PDF will open in a new tab.
Please note that the "width" of a Juliette refers to the length of the handrail (see diagrams)
| | | | |
| --- | --- | --- | --- |
| Orbit (Bal 1) Juliet | Aerofoil (Bal 2) Juliet | Orbit Mirror Juliet | Frameless Juliets |

TECHNICAL SPECIFICATIONS
Here are technical specifications for the Juliette balconies we manufacture. Included below is the material specification, technical drawings, elevations and sections, structural calculations and other details you may need in relation to our glass Juliette balcony systems.
MATERIAL SPECIFICATION:
Balustrade structure:
6063 T5 extruded aluminium profiles
Anodising:
15 micron high-quality anodizing in Matt Bronze, Matt Silver or our proprietary "Royal Chrome" finish.
Powder Coating:
60-100 micron polyester powder coating in white colour. RAL colour options available for large projects only.
Glass:
Orbit, Aerofoil & Mirror - 10mm clear toughened is the standard but laminated and toughened options are available. Tinted or opaque glass options are available.

Frameless: 21.5mm Laminated and toughened glass.
Permitted Loading on Balcony:
Our systems are designed to withstand horizontal imposed load of 0.74 kN/m and all the required loads as specified in BS6180:2011 for domestic and residential activities and areas not susceptible to overcrowding (This includes classes (i), (ii), (iii), (iv), (v), (viii) and (ix) of Table 2 on P9 of the standard).
Permitted Loading on the Glass infill:
The glass infill is designed for a uniformly distributed load of 1.0 kN/m2 (220 pounds per square metre approximately) plus a point load of 0.5 kN (110 pounds).
Brackets:
6063-T5 Extruded aluminium wall brackets
Gaskets:
EPDM (ethylene-propylene rubber)

LOADING TESTS
Juliette Balcony Systems in the UK must comply with building regulations, BS6180 and the loadings in BS6399.
In addition to calculations, the Juliette Balconies have been load tested by independent engineering companies to physically test the ability of the system to bear the loads.
This includes testing the deflection under maximum load, uniformly distributed loads and point loads.
All of these loads and deflections were tested on the handrails as well as the glass infill panels.
Test results confirm the systems meet and exceed the required criteria.
Juliette Balconies: Structural Calculations
Each of the Four Types of our Glass Juliet Balconies has a relevant Structural Calculation that validates conformity of the parts and the system as a whole to Building Regs and to current British Standards & Eurocodes:
Fire Rating
This classification report defines the classification assigned to Balconette's Hybrid® Balustrade Systems, in accordance with the procedures given in BS EN 13501-1: 2018. Balconette Hybrid® Balustrade Systems including the systems listed below:
Hybrid® Aerofoil Juliet
Hybrid® Orbit Juliet
Hybrid® Orbit Mirror Juliet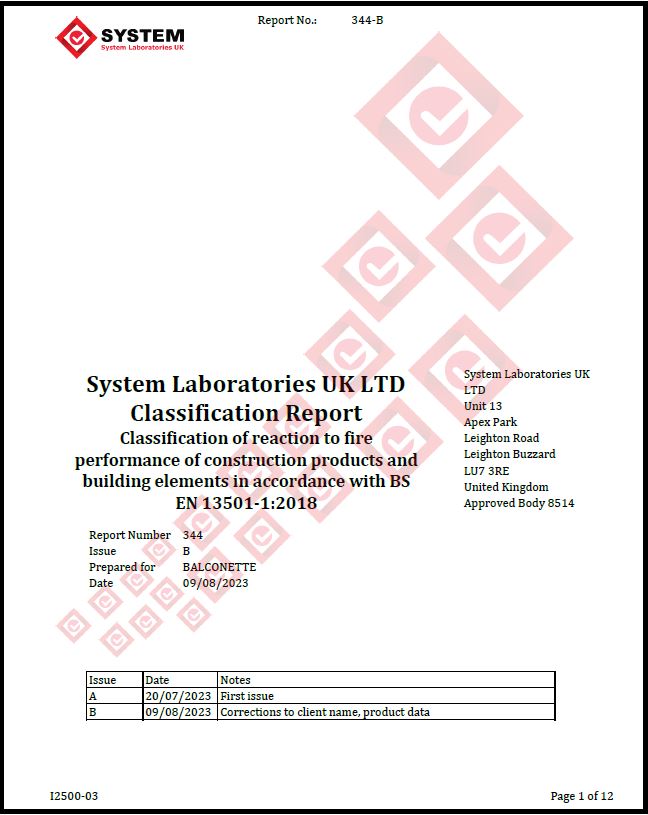 If you have any questions concerning our Juliette balcony selection, please contact us for more information.