Curved Doors and Curved Balcony - Case Study
Curved Doors and Curved Balcony - Case Study
Glass Balustrades | Juliet Balconies | Curved Glass Doors | Decking | Projects | Galleries | Articles | Reviews
Port Solent, Portsmouth
Architect: Robert & Alison Marsh
Contractor: Self-Build
Balcony's products add space and privacy to marina home
An impressive curved sliding patio door, glass balustrading and composite decking, all supplied by Balcony Systems, have added the 'Wow factor' to this Portsmouth home overlooking a marina.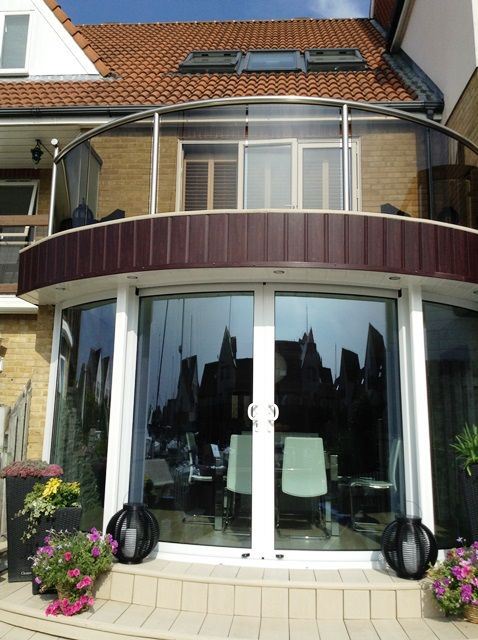 Creating more space and outdoor privacy were prime requirements for Alison and Robert Marsh when they started the extensive refurbishment project at their Port Solent home in January 2014. And the Balcony Systems' products have done exactly what they promised.
Having lived in their three-bedroomed terraced property from new, the couple felt the time was right, after 19 years, for upgrading it and to make more of the water views just yards from their doorstep.
When Alison and Robert saw Balcony's curved door and glass balustrading products at Grand Designs two years, they were smitten. "We just loved them and thought they'd look really great at the back of the house," says Alison. "Everyone admires the door and we can't fault the quality; it reminds us of the bow of the boat and we're really pleased with the result."
By extending the rear of the house to accommodate the four-panel door, they have created more space in the kitchen/diner area, which has also been extensively refitted. The door with aluminium white polyester powder-coated frames measures 5.44 metres by 2.21 metres high and replaces an original back door and window.
Two sliding panels open out to the rear courtyard where Balcony's composite decking in a Limed Oak finish gives this outdoor space a smart new appearance, with the added benefit of being low-maintenance.
An old wooden picket fence has been replaced with glass balustrading and features Balcony's proprietary Royal Chrome anodised handrail and BalcoNano® self-cleaning glass coating on the panels, which dramatically reduces cleaning cycles.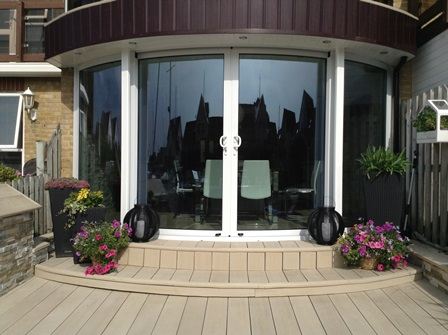 ​
A lockable glass gate provides secure access to the waterside.An existing balcony from an upstairs lounge has been extended to create a 'viewing platform' above the curved door with a curved balustrade and bronze tinted glass panels following its shape. "It's a private comfortable area where we can relax and enjoy the views. The self-cleaning coating does help to keep the glass cleaner and the tinted glass is in keeping with our neighbours," continues Alison.
"As the original timber balcony posts were rotten after nearly 20 years, replacement was essential. The glass keeps the views to the outside, while letting more light to the interior and, of course, there's no on-going maintenance to worry about," explains Alison.The whole project was completed in six months.
Although Robert did much of the installation himself, the curved door was fitted with help from local builders who had shop-fitting experience of handling heavy doors.Using a template recommended by Balcony Systems enabled the installation to proceed 'like a dream'. Alison adds: "Balcony was extremely helpful throughout, from ordering to delivery. We've had many compliments and the end result is just fabulous!"