Curved Doors, Balustrades, Case Study, Norfolk Luxury Home
Curved Doors, Balustrades, Case Study, Norfolk Luxury Home
Glass Balustrades | Juliet Balconies | Curved Glass Doors | Decking | Projects | Galleries | Articles | Reviews
Norfolk, England
Architect:LSI Architects
Contractor:Encompass Project Management Ltd
Set in 11.5 acres of Norfolk countryside, this impressive bespoke dwelling showcases to great effect every product from Balcony Systems' extensive range of low-maintenance clear glass balustrading and curved sliding patio doors.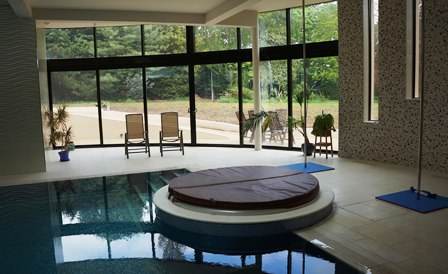 The four-storey building's modern architectural appearance is complemented by more than 20 metres of straight balustrading, plus 15 metres of curved balustrading above the indoor swimming pool, which overlooks the garden. All the handrails have been supplied with Balcony's proprietary stainless steel-effect "Royal Chrome" anodised finish.
Light floods into the pool room through a six-panel curved patio door, measuring eight metres across, which makes a striking statement on this multi-million pound, five-bedroom home with its distinctive curving roof structure. It's practical too, with four sliding panels that create a two-thirds opening aperture to connect the inside with the outside patio area outside.
Two further straight external glass balconies provide additional outdoor space while keeping clear views to the grounds from the master bedroom and a first-floor office.In the conservatory, two made-to-measure Juliet balconies have been installed on straight eight metre-wide patio doors overlooking the pool below to provide the necessary security. On the front elevation, Balcony also supplied and installed a three-metre curved, glazed foyer entrance with the aluminium frames powder-coated in a dark green RAL 6016 finish.
David Groucott, Director of Suffolk-based developers Encompass Project Management Ltd selected Balcony Systems for their ability to supply the required glazed elements that met the demands of the building's unusual and contemporary design.
He said: "Not only do the Balcony products work extremely well on this highly-individual property; they also deliver the required design criteria very cost-effectively making them excellent value for money. The curved patio doors from the pool room, in particular, make a statement that adds to the overall impact and enjoyment of living in this home for the client and his family."
Louise Knight of LSI Architects commented: "It's the first time we had worked with Balcony Systems and they delivered to the required timescales as well as produced additional items, such as extra handrails, at the client's request. This is a project to be proud of and we will include them in future quotations."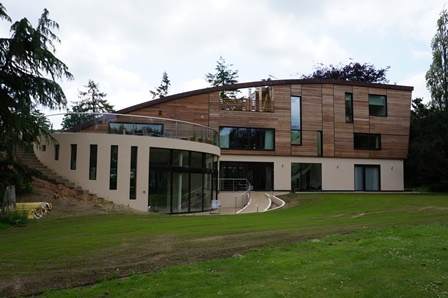 Completed in 2012, the new property replaced an original 1940s house on the site and took two years to build. It was developed on sustainable design principles to achieve Code for Sustainable Homes Level 4 and incorporates a ground source heating system to provide heating and hot water for the building and pool.
Balcony Systems is a specialist in sophisticated glass and aluminium balustrading solutions and stunning curved patio doors. Straight or curved external and Juliet balconies are supplied to exact client specifications - from single balustrades to multi-apartment developments - delivering a cost-effective, stylish and durable balustrade solution.