Curved Doors and Large Balcony, Case Study, Soulbury
Curved Doors and Large Balcony, Case Study, Soulbury
Glass Balustrades | Juliet Balconies | Curved Glass Doors | Decking | Projects | Galleries | Articles | Reviews
Soulbury, Buckinghamshire
Developer: Greg Freiberg and Lindsey Russel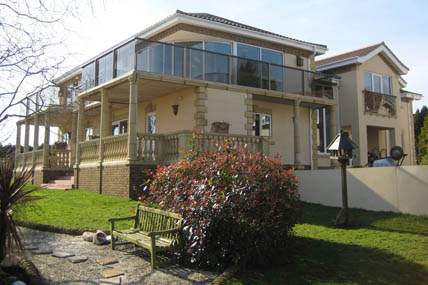 Designed to make the most of its beautiful countryside setting, this luxury five-bedroomed house incorporates extensive glass balustrading and a distinctive three-pane curved sliding patio door supplied by Balcony Systems.
Owners Greg Freiberg and his wife Lindsey Russel selected Balcony's products to realise their vision of maximising views and natural light at the stunning, spacious property they built on the site of a former 1960s bungalow at Soulbury, Buckinghamshire.
The couple, who run their own construction company GPF Brickwork & Scaffolding Ltd, lived in their adjacent office/garage block during the two year build programme. They moved in just before last Christmas.
Situated on the first floor of the 'upside-down' house, the open-plan kitchen features a dramatic full-height curved sliding patio door opening onto a corner dining terrace, taking full advantage of the far-reaching views.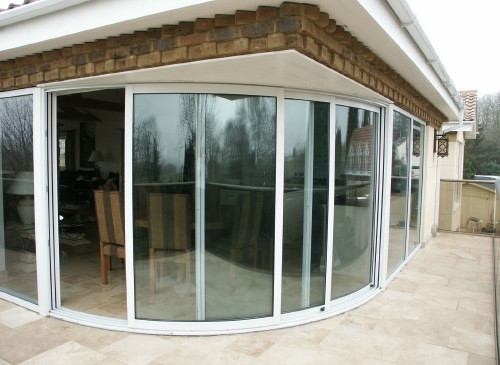 From the terrace, the glass 'wraparound' balcony spans two sunny elevations overlooking the garden and fields beyond. A glass Juliette balcony across a full-height French Window provides the necessary safety, while enhancing interior light into the first-floor galleried landing above the front entrance.
Installation of the patio door and balcony was straightforward and completed by Greg and his brother Jason in just a few days. "We wanted minimum visual interference so that when you enter the room, you are drawn straight through to the view outside," explains Lindsey. "We were going to have a stone-pillared balcony to match the ground floor one, but that would have spoiled the views.
The Balcony system appealed to us as it is unobtrusive and literally appears to 'brings the outside in'." As a niche product for the UK market, Balcony's curved patio door range is creating a lot of interest from homeowners seeking an original, inspiring and different solution. Using curved glass, instead of segmented or straight glass adds extra beauty, space and light to any property.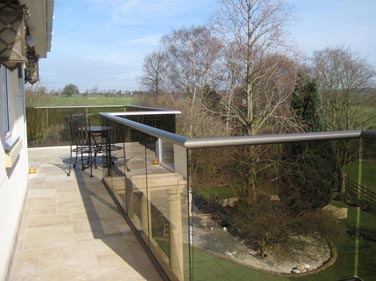 Lindsey continues: "The patio door is quite a talking point. A couple considering a curved door travelled from Devon to look at ours, having discussed some options with Balcony. Our neighbour who has seen it also wants one!"
She adds: "Balcony was extremely helpful, with plenty of ideas and technical advice - right down to the positioning of posts to maximise the clear outlook. It was 100% exactly what we wanted; the bronze handrail and tinted glass complements the property perfectly."