Curved sliding doors are the 'heart and soul' of our project
Curved sliding doors are the 'heart and soul' of our project
Glass Balustrades | Juliet Balconies | Curved Glass Doors | Decking | Projects | Galleries | Articles | Reviews
---
CURVED DOORS - END OF PRODUCTION
Please note that due to a refocusing of business priorities and expansion of our balustrade business we no longer manufacture curved sliding doors (the Curvaglide® range).
We continue to offer support to previous buyers of our doors, and all documentation and installation guides are available in the pages linked here.
For our existing Curved Door clients, should you need to contact us, please call 01342 410411, or email enquiries@balconette.co.uk quoting your order details, and we will be back in touch.
---
Adding a curved sliding patio door to their Victorian home in Epping Forest has added impact, opened up views to the garden and created a highly-valued new living space for Nick Bowman and his partner Anne.
Fed up with a lack of natural light in their kitchen and a conservatory that suffered from temperature extremes, the couple decided to demolish the conservatory and back wall to build an extension incorporating a 7.19 metre-wide curved sliding door supplied and installed by Balconette.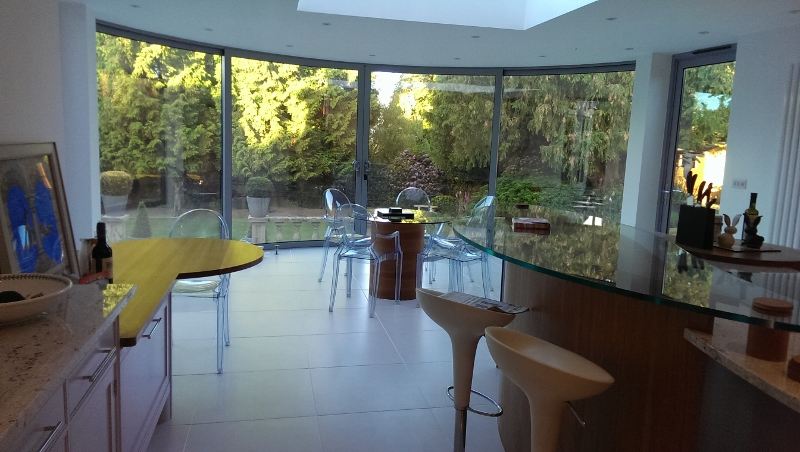 They engaged an architect to draw up plans from their design for a room with a curved rear glass wall to give a better view of their garden and that would have 'more visual impact internally and externally'.
"The idea of a curve then informed the rest of the design," explains Nick, "so there is a curved ceiling detail that gives the appearance of a complete circle from the curved glass doors round through the ceiling, curved kitchen units and dining table."
Completing the theme is a curved tiled roof, linking the new extension with the existing structure and striking a balance between the 'distinctive' door and its integration with the house.
During the quotation process, Nick found Balconette's website cost calculator was 'really important' in giving them a good start.
"We had no idea of cost when we first started, so that opened up communication with them. We also visited the company's stand at Grand Designs Live – seeing and feeling the product was very important to us so that we could gauge the quality."
Having liked what they saw and impressed by the team's helpfulness and technical knowledge, the couple decided on Balconette. Nick continues: "Curved glass is significantly more expensive than a standard product…but the effect more than justifies that.
Costings from other suppliers were higher (in one case by three times), so Balconette is clearly competitive on pricing.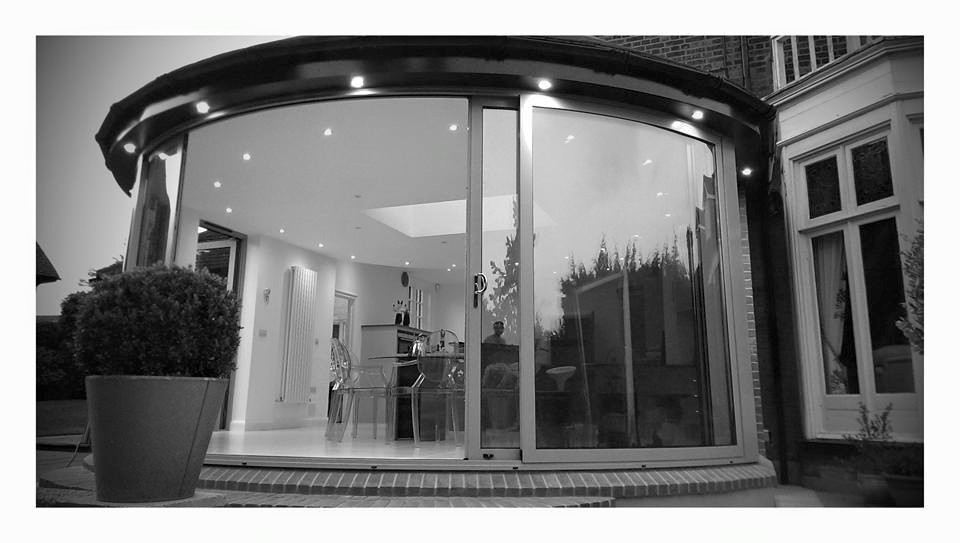 "The units feel well-made and very solid, and after six months in situ we have no reason to doubt our judgement. The service we received was always friendly, helpful and down-to-earth. The reflective coatings on the glass were an excellent recommendation – they also create some interesting reflections of a night-time, which is quite a talking point!"
Specific challenges relating to the supporting structure beneath a heavy tiled roof were overcome by using a structural engineer who devised a 'very neat and elegant solution' that does not obstruct the glazing.
Delighted with the result, the couple say the curved sliding doors are the 'heart and soul' of their project – once those were decided upon, everything could and did follow that.
"Now they are the first thing that visitors comment on – everyone loves them, and also the view of the garden. We sit in the curve for breakfast and dinner and find it a very relaxing space to talk about life, the universe and everything," adds Nick.