Hayling Island Art Deco Curved Doors, Case Study
Hayling Island Art Deco Curved Doors, Case Study
Glass Balustrades | Juliet Balconies | Curved Glass Doors | Decking | Projects | Galleries | Articles | Reviews
Hayling Island, Hampshire
Contractor: Slydell Develeopment
All aspects of an innovative curved glass solution from Balcony Systems have been used to enhance the unique appearance of a contemporary Art Deco-influenced property on the South Coast.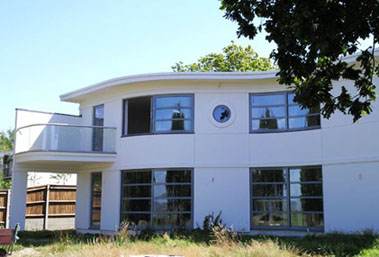 The system's ability to achieve smooth curved glass doors and windows perfectly met the challenging 'grand piano' double-curve design of the four-bedroomed luxury seafront home overlooking Langstone Harbour at Hayling Island.
Two curved sliding glass and aluminium patio doors provide direct access from the living room and kitchen to the outside. Both sets of doors measure 3.3 metres across by 2.4 metres high, with one set curving inwards and the other set outwards to follow the sinuous shape of the building's southern elevation.
Complementing the doors are curved windows to two bedrooms above, again following the wall's curving line. Completing the theme is a curved glass balcony off the master bedroom. No-maintenance clear glass keeps the harbour views beyond.
The contemporary interpretation of original 1930s styling, seen in some of the neighbouring homes in the area, also features a dramatic curved glass entrance and hallway that spans the full two-storey height of the house. This 'entrance drum' comprises a quarter-circle of curved glass curtain walling, also supplied by Balcony Systems. All the low-maintenance extruded aluminium polyester powder-coated profiles are finished in a RAL 7000 shade of grey.
Homeowner and property developer, Nigel Slydell says: "The Balcony system attracted my interest because it is the only one in the UK that could supply exactly what I was looking for. It has certainly exceeded my expectations in delivering the aesthetics for the house. In addition, the curved glass provides some really interesting reflections of the outside scenery that change with the varying light levels."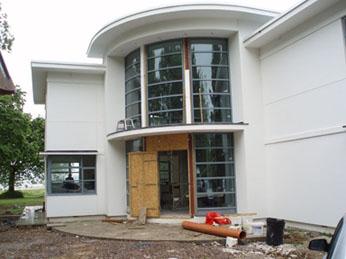 Achieving smooth curves, rather than using a 'traditional' alternative such as a faceted design, was a crucial factor in the specification of the Balcony system, according to architect Jeffrey Douglas, of Jeffrey Douglas Chartered Architect.
"Curved glass is a major feature of this stunning house and what the Balcony system has brought is absolutely key to the overall design and aesthetics. Before we discovered Balcony, we were unable to find anything comparable on the UK market. We are absolutely delighted with the result," says Jeffrey.
"Curved glass doors and windows lend a much more refined and elegant appearance as they follow the flowing lines of the southern elevation and entrance. The effect would not have been the same using a faceted method," he adds.
The Balcony Visio Glide 100 system with curved glazed units was specified for the doors. It is manufactured to exacting tolerances for straightforward installation, durability and ease of use.
Balcony's technologically-advanced, yet affordable patio door system suits curved openings of virtually any size and radius, making it ideal for newbuild and renovation projects. Available in any colour, the system allows for configurations of two, three, four and six panels in various sliding and fixed combinations, offering myriad creative opportunities.
Balcony also offers full technical advice and a back-up service, along with a step-by-step installation guide on the website at www.balconette.co.uk
Email: enquiries@balconette.co.uk
Tel: 01342 410411
Fax: 01342 410412