Curved Patio Doors light up The Lighthouse
Curved Patio Doors light up The Lighthouse
Glass Balustrades | Juliet Balconies | Curved Glass Doors | Decking | Projects | Galleries | Articles | Reviews
Added on: 19/09/14
South Devon
A visually-stunning curved sliding patio door supplied by Balcony Systems forms part of an impressive two-storey glazed façade, creating a bright interior for The Lighthouse, an aptly named self-built home owned by Michael and Lynette Oram on the South Devon coast.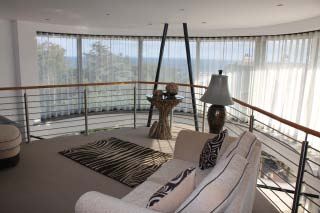 Measuring nearly 10 metres in width, the six-panelled door's aluminium frames are finished in an RAL 7016 dark grey powder-coated finish to match the windows.
It was installed (with help from his builder) by Michael, an architect and property developer, at the five-bedroomed Budleigh Salterton property, which was fully completed in summer 2014.
Directly above the door, more light enters through a separate fixed glazed curtain wall, also supplied by Balcony Systems.
Self-Cleaning Glass provides protection for coast house
Being just 60metres from the sea, Michael specified Balcony's BalcoNano® self-cleaning glass coating for the door's Low-E double-glazed panels and glass balustrading to reduce the need for cleaning. This protective coating creates a smooth, water-repellent surface, causing dirt and other deposits to be easily washed off by rain or wiping with a wet cloth.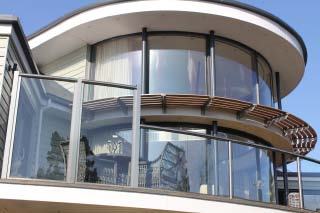 Two sliding panels in the Balcony Visioglide 100-W4F door allow access onto the first-floor balcony featuring a curved balustrade and two privacy screens, also supplied by Balcony Systems. Using the Balcony 1 system, this 15 metre-long glass balustrade has a circular-shaped handrail in Balcony's proprietary Royal Chrome anodised finish.
A second 5.55 metre-long straight balustrade was installed on a balcony providing an attractive and practical feature above the front entrance door."I'm exceptionally pleased with how the door both looks and performs," says Michael, Managing Director of Badger Homes (Budleigh Salterton) Ltd. "It's an unusual product and value for money. I'm delighted. It also adapts to the seasons; during the hotter weeks in June and July, we had the door open for welcome ventilation.
"Conversely, situated as we are here on the Jurassic Coast, the winter storms of 2013/14 with 110-mph winds and lashing rain were a fantastic test of the robustness of Balcony's products. Given our coastal location with salty south-westerly winds and seagulls, I expect the door and balustrades will stay cleaner thanks to the self-cleaning coating on the glass panels."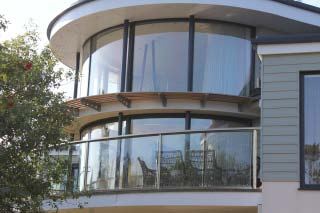 Curved Doors flood the house with light
More light floods the double-height interior through large curved 'lantern-top' semi-circular glass panels above the curved door. South-facing sea views can be enjoyed from this cantilevered second floor, supported by trusses representing the spars at the front of the ship. An inner wired balustrade further reinforces this nautical theme.
Access to this upper level is via a twisting helical staircase, forming a dramatic central focal point of this spacious living space influenced by the design of American open-plan homes.
To combat tremendous solar gain, even in winter, and to reduce the effects of sunlight on furniture and flooring, a 'Wave' system of electrically opening and closing 'voile' curtains has been installed round the curve on both levels.
"Our main aim was to have a light and airy home, and with the help of Balcony's products we have achieved this," adds Michael, who has used the company's balustrading on previous projects.
Set in a half-acre plot that was formerly the garden of an existing home, The Lighthouse took 18 months to build and boasts nearly 7,000 sq ft living space over three levels. It also has solar panels for hot water and to generate power, along with a 6,000-litre rainwater harvesting system.