Curved Doors for indoor Pool extension, Case Study
Curved Doors for indoor Pool extension, Case Study
Glass Balustrades | Juliet Balconies | Curved Glass Doors | Decking | Projects | Galleries | Articles | Reviews
Broxbourne, Hertfordshire
Stunning curved patio doors supplied and installed by Balcony Systems transform the appearance and enhance all-year round use of a swimming pool extension at a Hertfordshire home.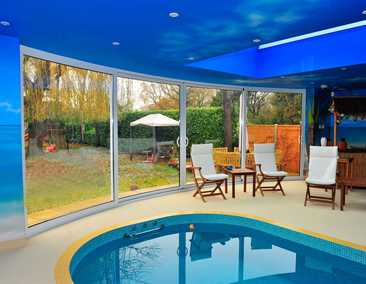 Adding tremendous space and light, the doors have three sliding panels that allow Margaret and Andy Demetriou of Broxbourne to 'bring the outside in' during hot summer days. Panoramic views to the garden can be enjoyed when taking a dip or relaxing - whatever the weather.
Curved glass was an essential part of the specification and the couple's decision was firmly sealed after seeing another Balcony curved patio doorinstallation at apartments in Bexhill on Sea, East Sussex.
Installation of the doors - the Balcony Visioglide 100 thermally broken aluminium system - took about one and a half days. Measuring 2.2 metres high and 7.5 metres in curved length, the four doors use curved 28mm low-e toughened double-glazed panels. Three doors slide open and one is fixed. Balcony provided the builder with a curved template to match the brickwork and the doors.
"The curved doors are wonderful; they're so much prettier than conventional options and the smaller frame profiles leave more glass area to enhance the view. Everyone who sees them is stunned by how beautiful they look," says Margaret. "Once you've seen them, you don't want flat glass!"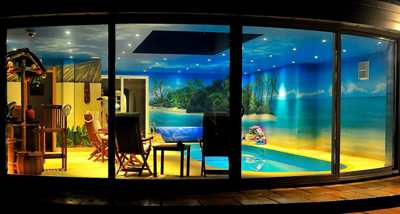 The project presented a number of challenges, not least in finding a builder who would take on the job. "It was difficult getting someone, but eventually a carpenter/builder friend agreed to help us," says Andy. "It looked an impossible job, but once he'd broken the back of it, everything progressed very well and we're absolutely delighted with the result. Our six grandchildren use the pool the most; they love it!"
Working with their builder, Balcony's team completed the installation process smoothly and on time. The couple have since hosted visits from several potential purchasers of curved patio doors.