Curved Doors in a YURT, Case Study
Curved Doors in a YURT, Case Study
Glass Balustrades | Juliet Balconies | Curved Glass Doors | Decking | Projects | Galleries | Articles | Reviews
Bath, England
Contractor: Cherry Wood Project
Versatile curved sliding patio doors from Balcony Systems add impact, light and can be installed in virtually any building - even a canvas-walled yurt.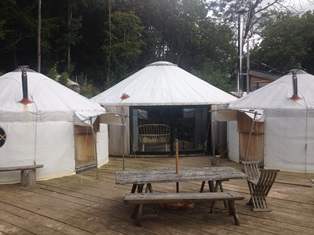 The two-panel curved door, with 28mm Low-E toughened double glazed units set in black powder-coated aluminium frames, was installed in the largest of three inter-connecting yurts. Measuring 20 metres in circumference, this yurt forms the main living space with two smaller adjoining ones used as bedrooms. Tim Gatfield, who runs the sustainable woodland management Cherry Wood Project, self-installed Balcony's semi-circular door with a three-metre girth in the family yurt, sited in woodland near the City of Bath.
"It's a fantastic feature that makes our home unique, and crucially, it lets in more light and allows connection with the outdoors and indoors more easily," said Tim, who teaches green woodwork, bushcraft and a variety of coppice skills from a 40-acre sustainably-managed woodland in St Catherine's Valley.
The whole design and construction of the highly-individual property was planned to accept Balcony's curved sliding patio door, as Tim explained: "Yurts are built with a wooden frame, an insulating layer between two canvas walls and generally only have two or three small circular windows - typically only 40cm wide. So they can be quite dark.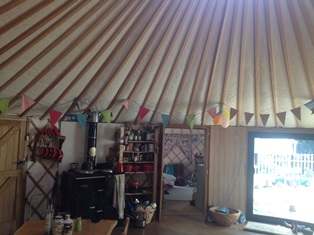 "Being curved, Balcony's sliding patio door complemented the yurt's circular shape perfectly and has really solved the issue of letting in more light into what was quite a dark interior. It has totally transformed the enjoyment of our unusual home."
Precise specification of the curved door also impressed Tim and this made for a straight-forward installation. He added: "The door fitted exactly and works well with living in a circular space. It's certainly watertight, having been thoroughly tested in the wet 2012 summer - and is probably the most permanent thing we own!"
Balcony Systems is a specialist in sophisticated glass and aluminium balustrading solutions and stunning curved patio doors, supplying straight or curved external and Juliet balconies to exact client specifications.
From single balustrades to multi-apartment developments, the company works with architects, specifiers and homeowners to deliver the most cost-effective, stylish and durable balustrade or curved patio door solution.