Curved Door makes the connection at Hardy's Birthplace
Curved Door makes the connection at Hardy's Birthplace
Glass Balustrades | Juliet Balconies | Curved Glass Doors | Decking | Projects | Galleries | Articles | Reviews
Thorncombe Woods, Dorchester
Architect: White Design Associates Ltd
An impressive inward-curving sliding glass door supplied by Balconette is making the right connection for visitors to Dorset discovering more about the life and works of one of the nation's great authors and poets, Thomas Hardy.
Measuring more than five metres across, the four-panel door has been installed at the £1 million Hardy's Birthplace Visitor Centre at Thorncombe Woods at Higher Bockhampton, near Dorchester, close to the cottage where Hardy was born and wrote some of his early novels.
The centre, officially opened in March 2015, aims to provide visitors with more information about the novelist and the landscape that influenced his work. Mr Angus Campbell, Lord-Lieutenant of Dorset is pictured at a 'ribbon-cutting' ceremony at the centre.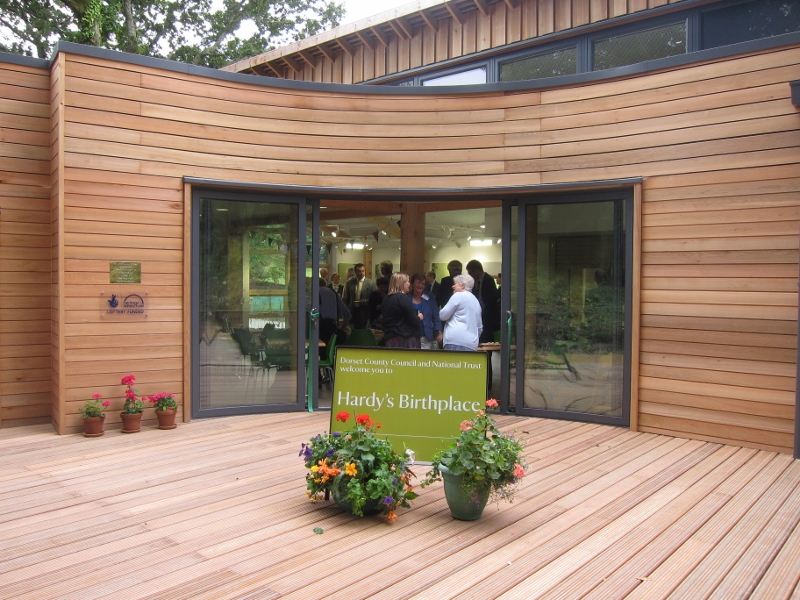 The project, which secured a £525,000 grant from the Heritage Lottery fund, is a joint partnership between Dorset County Council and the National Trust.Balcony's curved door was specified by project architects White Design Associates Ltd of Bristol so the building and its use could 'engage with the natural landscape'. Balcony's BalcoNano® factory-applied self-clean glass coating was also specified for the clear double-glazed units to reduce the amount of cleaning.
Commenting on the door and its unique concave shape, Project Manager David Crudgington of Dorset County Council's Dorset Property, said: "It's great and does the job exactly as it is meant to. It fits the space very well and is part of the visual link between the inside and outside. This connection fits the design brief perfectly."
David, who oversaw the design and build of the centre on behalf of the County Council and the National Trust, said the curve was an integral part of the multi-functional building's design so that visitors could enjoy views of the woodland beyond and enjoy seamless access to the outside terrace.
"The door is a key connecting feature with the woodland and its beautiful bluebells that come very close to the building. White Design looked at several options, but Balcony Systems came up trumps," he said.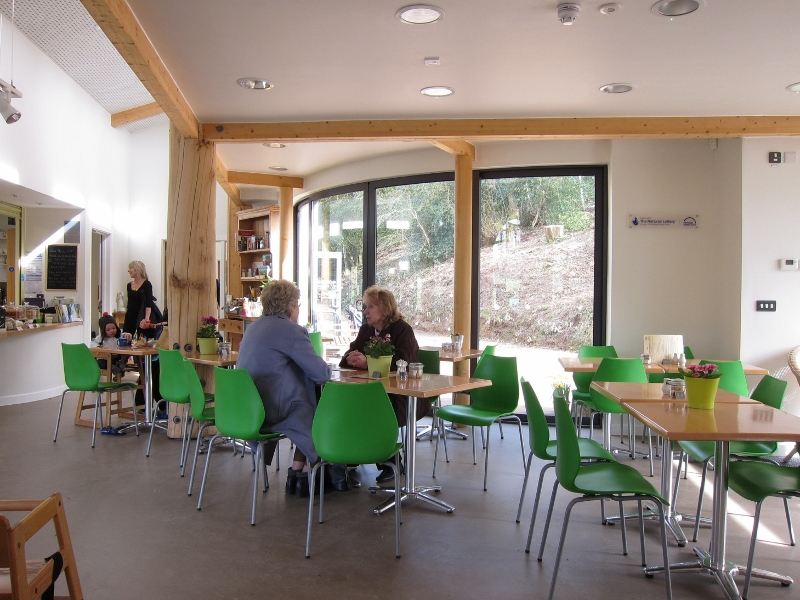 "The facilities were badly needed as they didn't exist before. The building has been very well-received by the public and is proving to be a very popular refreshment stop - with the added 'wow' factor of a fantastic and practical curved door leading out onto a terrace," added David.
The visitor centre's one large room combines several functions; a 'meeting and greeting' area, an educational space, shop, café and workshop for the Dorset Countryside Rangers and woodland workers.
Sarah Key, who runs the Under the Greenwood Tree café, said many visitors have admired the door, adding: "It looks lovely and really brings the views inside. It will be great to open up on hot sunny days, so we're looking forward to summer!"