19 Metre Long Stunning Curved Doors
19 Metre Long Stunning Curved Doors
Glass Balustrades | Juliet Balconies | Curved Glass Doors | Decking | Projects | Galleries | Articles | Reviews
Folkestone, Kent
Developer: Godden Allen Lawn
Contractor: Epps Construction Ltd
One of Balcony Systems' largest-ever curved sliding glass doors has been installed at a new £3.5 million visitor and education centre dedicated to the Battle of Britain overlooking the English Channel in Kent.
The cliff-top site at Capel-Le-Ferne near Folkestone is dedicated to Churchill's famous 'Few' who fought in the skies overhead to keep Britain from invasion.
Comprising ten curved panels and measuring 19 metres across by 2.55 metres high, the Balcony Systems door is a striking design element at the Battle of Britain Memorial Trust's new Wing building where it provides commanding panoramic sea views from the first-floor Cockpit Café.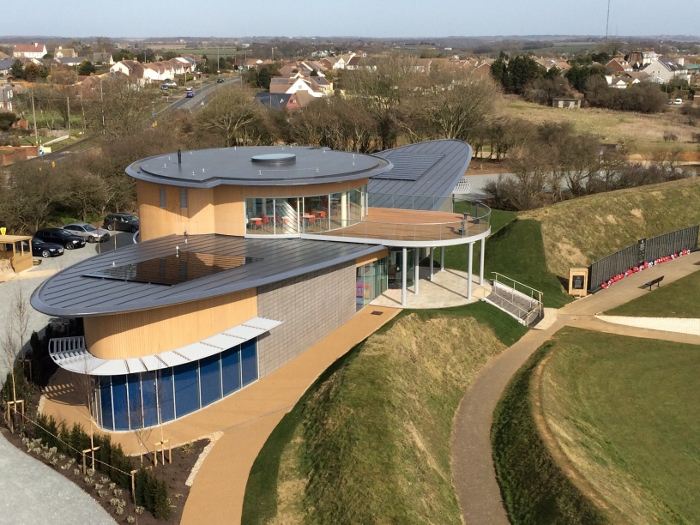 The background of the building's beauty
The Wing, which is home to the interactive Scramble Experience, was officially opened by Her Majesty The Queen and the Duke of Edinburgh in March 2015 during the 75th anniversary of the Battle of Britain.
The iconic building takes its name - and its unique shape - from the wing plan of RJ Mitchell's best-known fighter, the Supermarine Spitfire - one of the two aircraft credited with doing the most to win the Battle of Britain in 1940.
The building echoes the Spitfire's uplifted wing shape, while the curved door resembles the aircraft's cockpit windows - looking directly across to France from where enemy aircraft would have appeared 75 years ago.
The building's architectural designer and specifier, Nick Lawn, partner at Folkestone-based Godden Allen Lawn, commented: "The door looks fantastic with 180-degree views of the sea; you couldn't ask for a better location for it. When the four sliding panels are fully open, the eight-metre opening really connects with the outside terrace, which is just what I wanted."
​
Praising Balcony's technical expertise and help with the concept, he added. "What I particularly liked was the door's ease of operation and it was valuable to see this first-hand on a similar installed door which their team showed me at the specification stage. The installation process all went very smoothly and I would work with Balcony Systems again. It's been a great project!"
The Wing was constructed over 18 months by main contractor Epps Construction Ltd. Project Manager Nick Hamer said: "The door looks impressive and it's a very good system, the door operates really well which is very important in a public building. The product is top-notch and you can't fault it all. We would definitely work with Balcony Systems again."
A spokesman for the Battle of Britain Memorial Trust said: "The Wing is built in the shape of a Spitfire wing, with a central 'cockpit' area on the first floor housing a café with unbeatable views out over the channel.
"The café's curved glass doors, which lead out on to a large balcony, allow visitors to enjoy the view even when the weather is bad. They can easily be slid back during good weather to allow access to the great outdoors, and they lend real style to the building," he added.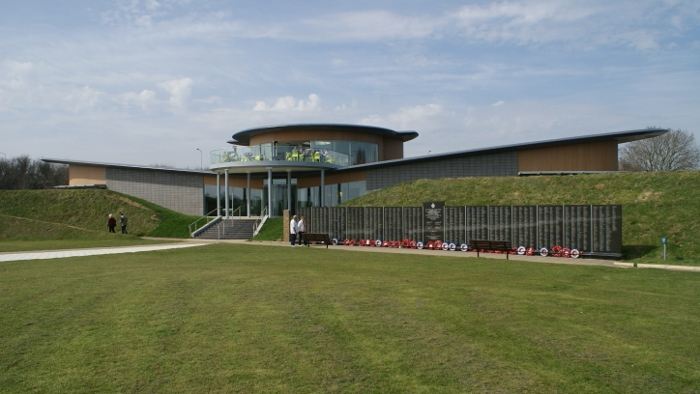 ​
Effi Wolff, Managing Director of Balcony Systems concluded: "The curved door forms a spectacular central feature at this iconic national memorial building which will be visited by thousands of people every year. So understandably before placing an order for such an important part of the building, the client wanted to see a similar installation and learn more about our innovative and specialist curved door system.
"We were happy to show them a uniquely-designed property with curving shapes that feature several of our curved doors, including a large six-panel door. The products' function, aesthetics and our ability to deliver on a significant bespoke scheme all really impressed the team and their order soon followed.
"At 19 metres wide, this is certainly one of our largest curved doors and it looks absolutely amazing! The Battle of Britain Memorial Trust's Cockpit Café must have one of the best views in Kent and we are delighted to have helped the client realise their vision with this prestigious project."
Curved Doors Review | Glass Balustrades Review | Balcony System

Double-fronted Edwardian end-of-terrace house with a curved patio door and balustrading. An excellent product that is not only pleasing to l...

Curved Glass Patio Doors Review | Curved Sliding Doors Review | Balcony System

A double curved glass patio door fitted exactly in place. Good service and excellent quality for products....

Curved Doors Review | Curved Patio Reviews | Curved Sliding Doors Review | Balcony System

Balcony system supplied curved sliding patio doors with great first class service from beginning to end....