CURVED GLASS SUPPLIERS TO THE TRADE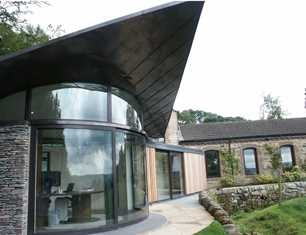 CURVED GLASS SUPPLIERS OF BALCONY BALUSTRADING
As curved glass suppliers of balcony balustrades, we understand the need for good customer support. We not only deliver on time but we are there at the other end of the phone or email to answer your technical needs and questions.
In fact, we are happy to advise from the beginning to the end of the your project to assist you in ensuring that your measurements for curved glass components are correct and that you have the fixings and information you need for successful installation.
CURVED GLASS SUPPLIERS OF STAIR BANISTERS
Glass banisters can make a big difference to stairs in a residential or commercial project.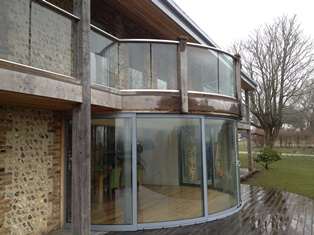 Saving time and money on such a project only happens when it is well planned and no mistakes are made.
Adding curved glass with straight runs adds a bespoke touch at surprisingly affordable pricing. We can often recommend installers in your area who have done good work for previous clients and we are happy to answer questions.
We pride ourselves in being there for our clients which is the reason those in the trade come back to us again and again with their project needs, as well as our affordable pricing, even on curved glass.
CURVED GLASS SUPPLIERS OF CURVED PATIO DOORS
We have become the curved glass suppliers of choice to many professionals due to our innovative manufacturing processes allowing us to bend glass and metal to the exact correct measurements to ensure a perfect fit when installed.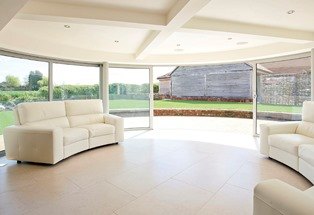 CURVED WINDOWS
We also make curved windows at surprisingly good prices using our same engineering breakthroughs to ensure that they work properly and look fabulous.
Clients have installed our curved windows on turrets and other rounded structures to great effect.
WHAT MAKES US GREAT CURVED GLASS SUPPLIERS?
We create finished products that are relatively quick and simple to install, with easy-to-follow instructions. See our 3D animated demonstration of how to install our curved patio doors.
We provide advice with problems such as correct measuring and assistance with technical details, as well as pricing and can often recommend a good installer in your area.
We provide beautiful brochures with clear representations of our curved door systems and how they will look once they have been installed. These are available through our online brochure.
As curved glass suppliers, we pride ourselves in bringing affordable balustrades, windows and doors within the reach of many more projects, all backed up with great customer care.
For more information from us as curved glass suppliers, please contact us.