Composite decking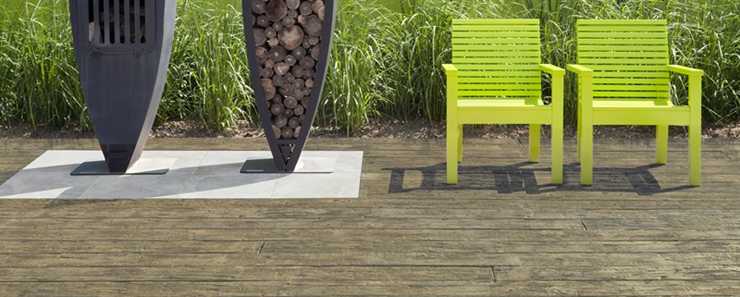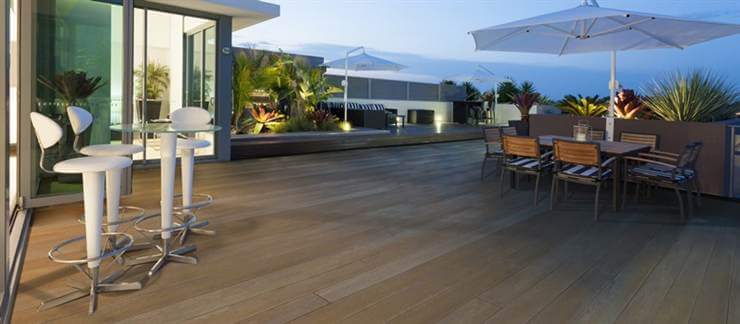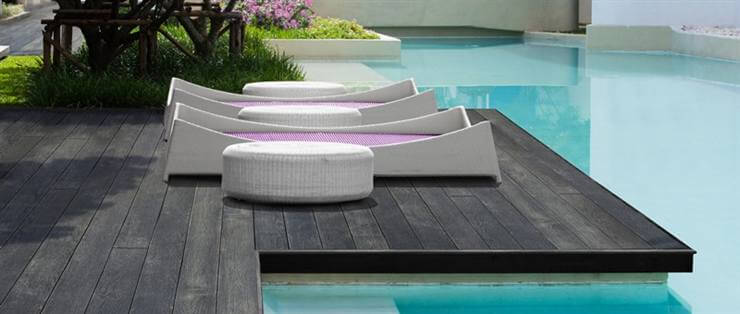 Composite Decking
Decking | Tech Details | Colours and Finishes | Accessories | Galleries | Prices | Articles
Composite Decking is a new generation of external flooring - innovative decking solution made from a unique polyurethane and mineral blend providing long-lasting durability with minimal maintenance.
COMPOSITE DECKING TEXTURES AND FINISHES
WHY CHOOSE COMPOSITE DECKING OVER NATURAL WOOD?
Balcony Systems Composite Decking is a system of state-of-the-art and authentic-looking replicas of prime-quality heart of oak boards. They are first made of polyurethane with up to 50% recycled fillers. Then the boards are coloured by hand to perfectly replicate the detail of natural oak with almost no repetition of the design from board to board.
Balcony System's Composite Decking boards have a similar hardness to hardwood but are low-slip, non-porous, repel algae, never rot, warp or gives you splinters. Our composite decking, which comes in many different finishes, is perfect for home or commercial use.
We back this practical and versatile alternative decking material with thorough and cheerful customer service. While saving on your long-term costs, we can help you avoid headaches as well.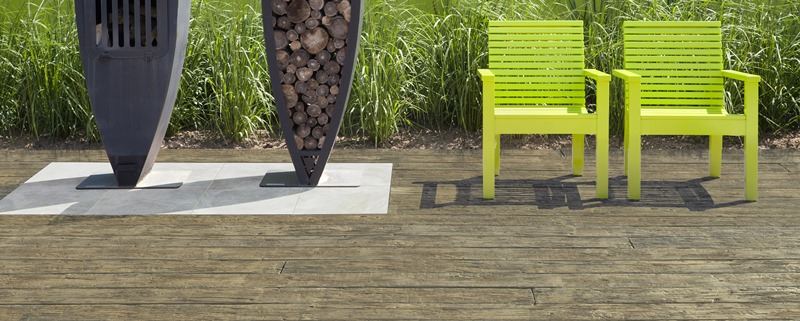 GUARANTEE ON OUR COMPOSITE DECKING
We are so confident of the durability of Balcony System's Composite Decking that we back it up with a 25-year residential guarantee.
COMPOSITE DECKING IS USEFUL IN MANY WAYS
The technology behind the development of our decking material brings you many advantages over natural wood while opening up a wide choice in what you can design and construct.
As well as adding an attractive and eye-catching decorative feature to any property, our products are well suited to areas where safety and low maintenance are vital. Balcony Systems' Composite Decking's non-slip surface, presents a highly attractive safety feature, an important point with kids running around, guests to entertain or health and safety issues to consider.
Some types of building or renovation projects where Balcony Systems decking works very well are:
Wood flooring for patios, balconies or roof terraces
Outdoor flooring for public recreational areas.
Verandas and decks for increasingly popular timber-built lodge homes or chalets
Jetties and boardwalks beside swimming pools, rivers, ponds or lakes
Schools and outdoor class and play areas – where its non-slip, scratch, stain and splinter- resistant properties are a real bonus.
ADVANTAGES OF COMPOSITE DECKING
The advantages of our polyurethane and mineral blend make composite decking a safer, low-maintenance alternative to natural wood decking. This highly durable light-weight material is easy to work with and the list of advantages are:
Resistance to rot, warping or cracking
The slip-resistant surface is also tough and durable and therefore easy to clean
Our composite decking does not easily mark, scratch or stain
It doesn't get faded or weathered from ultraviolet light
It does not have cracks that encourage the mould and algae growth associated with natural oak
Fabulous authentic good looks, durability, versatility, resistance to wear and tear and the elements, plus cost are all things to consider when you are choosing your composite decking materials. With our new man-made decking materials, we offer you an alternative to natural wood that confidently overcomes those problems.
Happy building!
Get a free quote now or visit our online shop to purchase our composite decking products online.