Boardwalks and Wetlands Decking
Composite Decking | Technical Details | Colours and Finishes | Accessories | Galleries | Prices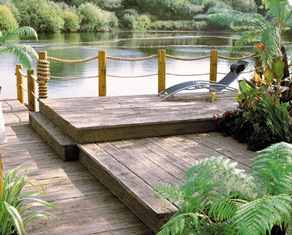 LETS LOOK AT PLASTIC DECKING
Plastic decking boards are the sensible solution to the problems of using natural wood decking, boardwalks or landing stages in wetlands or besides ponds, lakes, rivers and the sea.
ADVANTAGES OF PLASTIC DECKING
Wood rots as nature intended but plastic wood doesn't: it provides a viable non-rot decking material that lasts virtually forever even in the wettest of environments.
So far so good!
But the use of recycled plastic decking brings with it another problem: the finished boardwalk or decking area looks like plastic! One has to sacrifice the natural beauty of wood decking for the durability of plastic decking.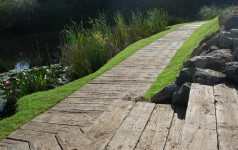 The good news is that now you can have the best of both worlds
ADVANTAGES OF COMPOSITE DECKING
Balcony Systems composite decking solves the problem. Manufactured from polyurethane and recycled natural products, it gives you the imperviousness to rot, moisture and fungal growth provided by plastic decking AND the look, feel and beauty of natural wood decking.
Then we take it to a new level by incorporating several more advantages over both the natural wood and plastic and recycled plastic decking systems.
The advantages of Balcony Systems's Composite Decking make it the ideal material for jetties and boardwalks over wetlands or beside swimming pools, rivers, ponds, marinas or lakes.
It is coloured and textured to perfectly reproduce the detail of natural oak and given a protective coating so as to provide an exceptionally tough and durable surface that keeps its stunning appearance year in and year out throughout its long life.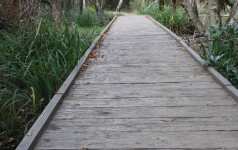 The hard surface has an extremely high low-slip quality and provides a non-porous protective barrier that repels algae, never rots, warps or splinters. These qualities make it a safe, long-lasting, low-maintenance product ideally suited for a wet environment.
Composite decking provides you with a range of appealing alternatives to natural wood or plastic wood while giving you the beauty wood and durability of plastic decking.
To find out more about the advantages of plastic decking over our composite decking or to ask any specific questions, please contact us.