Unique Glass Balustrades Used Today
Unique Glass Balustrades Used Today
Glass Balustrades | Juliet Balconies | Curved Glass Doors | Decking | Projects | Galleries | Articles | Reviews
Point Resolution Bridge – Glass Balustrades and Textured Concrete
Glass balustrades today can be incredibly exciting! Point Resolution Bridge in New Zealand is a case in point. Completed in 2013, it was designed by architectural firm Warren and Mahoney. This is a wonderful example of using the strength of glass to create a sculptured piece of architecture, which is used as a walking bridge and connects the Parnell baths with the headland of Point Resolution/Taurana in New Zealand. Wrapped in a steel exoskeleton with etched concrete and glass details, this lovely bridge appears to float, while providing pedestrians with an extraordinary view.
This marvelous bridge along Auckland's waterfront is a very innovative and fresh approach to using toughened glass in a waterfront setting.
Glass Balustrades Today in High Rise Luxury Apartments Along the River Trent
Glass balustrades in today's world can be spectacular when used in a modern setting. We are very proud to be able to present our own curved balcony and glass balustrades in the River Crescent project in Nottingham, designed by architects, Franklin Ellis. This riverside property was completed in 2008.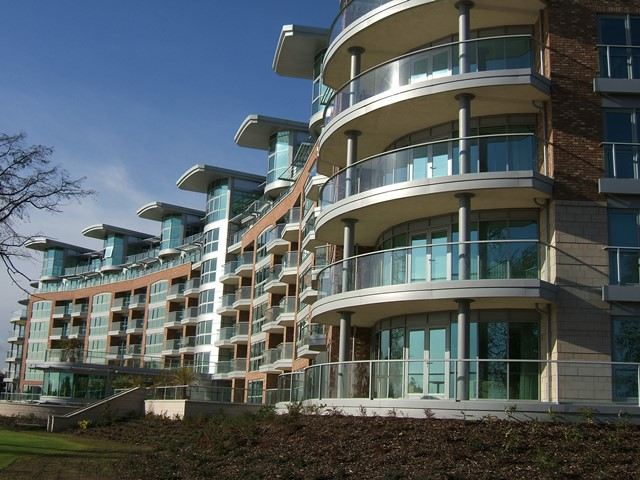 More information about this project can be viewed here.
Working With the Architects and Developers to Create Bespoke Balustrades
Glass balustrades today or tomorrow can be very different from what they were yesterday, depending on what is needed and requested by our clients. We have been known to innovate an entirely new type of glass balcony, as they are sometimes called, to fit the budget and vision of the architect and assist the developer to save a lot of time and money while giving the architect what he originally wanted and at an affordable price.
If you have a vision you'd like to make happen, no matter your budget or the stage of the project, then please feel free to call 01342 410411 and speak to one of our friendly experts about your glass balustrades today!