Glass Balustrades Refurbishment
Glass Balustrades Refurbishment
Glass Balustrades | Juliet Balconies | Curved Glass Doors | Decking | Projects | Galleries | Articles | Reviews
Grand Avenue, Worthing
New smart and contemporary balconies
Two years of painstaking research into the specification of their new balustrading has paid off for residents in a sought-after area of Worthing. More than 217 metres of glass balustrading supplied by Balconette has transformed their apartment block following the completion of a major refurbishment project.
Owners of the 30 apartments, including two penthouses, at Cardinal Court in Grand Avenue are delighted with their building's smart new contemporary appearance. And the system's low maintenance is another welcome benefit.
Tony Foster, Chairman of the residents' management committee, said the old balustrades, constructed of a concrete 'shell' with a half inset glazed panel to the front, were getting 'tatty' and needed upgrading.
Two years research was well worth the wait!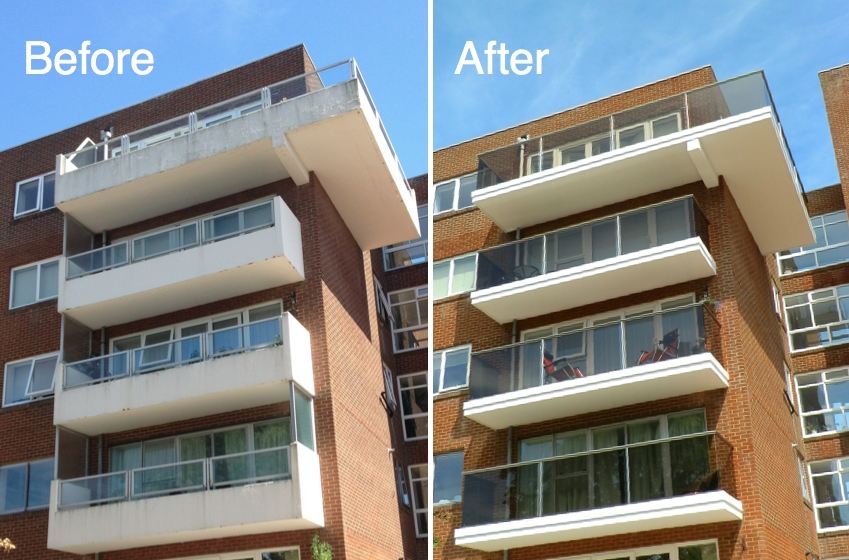 "These balustrades had to be painted every four to five years and as scaffolding was required to do this job, it was getting expensive," he explained. "Initially we were just going to get them refurbished and have new glass panels inserted."
Before embarking on the project, Tony researched a number of balustrading companies and recalled: "There were quite a few. I did a lot of research and it was quite time-consuming. It took me around two years!"
The stainless steel offerings were a main concern for the residents. "As we're near the coast, we were worried about corrosion from the salty air. Stainless steel was ruled out as it was deemed too high risk."
Structural glass with no handrail was another option. "However, as we have a number of elderly residents we thought we'd play safe. Balconette's aluminium handrail provides a reassuring visual reference, as well as being corrosion-resistant," said Tony.
Before the refurb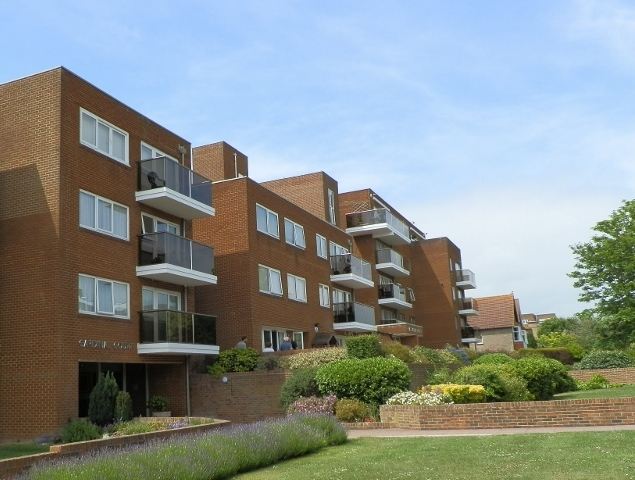 After the refurb
Product quality and value-for-money were also key factors in the residents' specification decision. "As an engineer, I was impressed with the engineering quality of the Balconette's balustrade," continued Tony. "It's simple, effective and looks good. As we were also under pressure cost-wise, the system also delivered in terms of price for the residents."
The refurbishment project was carried out by Woodmans Construction, an established construction and renovation firm, operating throughout London and the South East.
Woodmans initially removed the old balustrading, which comprised 500mm high concrete upstands supporting old obscure glass panels that were secured by end-of-life metal frames.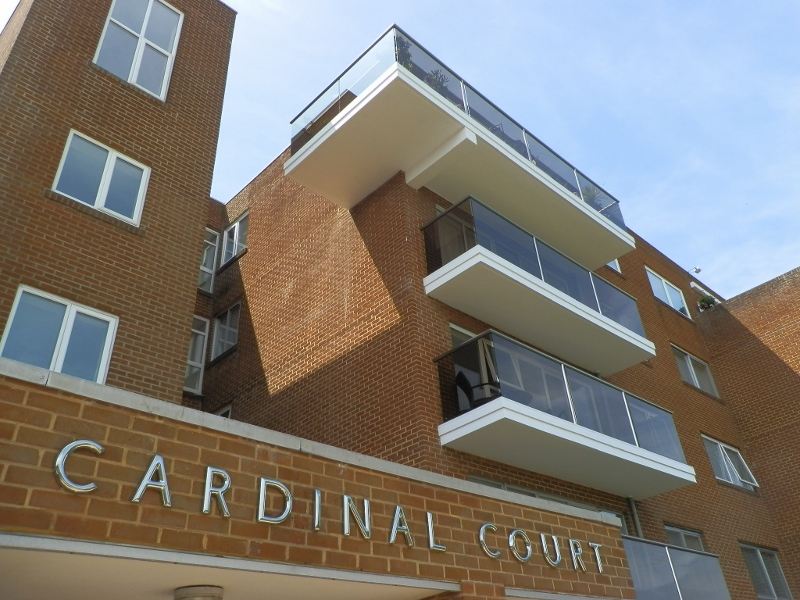 "The glass was very old-fashioned and the balustrading system was in desperate need of upgrading," commented Renata Makosz, Woodmans Construction Operations Manager.
"The residents specified Balconette for its low-maintenance balustrading that won't need regular painting. And, of course, to provide better views, especially as the top-floor penthouses enjoy far-reaching coastal views."
Having removed the old structures and prepared the asphalt decks to the existing balconies, Woodmans installed the Orbit Balustrade System with a circular handrail in Balconette's proprietary Royal Chrome anodised finish. The toughened 10mm glass panels were specified with a bronze tint for additional privacy.
Renata added: "The new balustrading is sharp, modern and the tinted bronze glass really blends with the brickwork. It looks really nice and lifts the building entirely; the clients are really pleased!"
Concluding, Tony added: "Everything has been very good and very positive. The balconies have been well-received and we are pleased with the result. Even residents in neighbouring blocks have expressed interest, having seen the scaffolding and watched the project progress to completion."
The project was fully completed in Spring 2015.