Glass balustrade, Composite Decking, Surrey Case Study
Glass balustrade, Composite Decking, Surrey Case Study
Glass Balustrades | Juliet Balconies | Curved Glass Doors | Decking | Projects | Galleries | Articles | Reviews
Reigate, Surrey
New glass balustrade and composite decking add 'wow factor' to Reigate home.
Practical and smart
A smart new glass balcony and composite decking, both supplied by Balcony Systems, add the perfect - and practical - finishing touch to a basement extension in Reigate.
Paul and Alison Swain have created an extra 57m² of useful living space by enlarging an existing basement at their 1930s home. The extension houses a new family room, study/spare bedroom with shower and a utility room.
Accessed via bi-folding doors from the kitchen/diner, the new South West-facing terrace and balustrade sits on the roof of the new accommodation, providing valuable extra outdoor space from which to enjoy garden views. An older deck on stilts was demolished as part of the works.
Delighted with the result, Paul says they're pleased they chose glass over the original wooden spindles specification for the balustrade, which measures just over 20 metres including a stair balustrade leading to the adjacent driveway.
"When we look at the glass balcony, we get an unobstructed view across the garden. Our Balcony Systems balustrade just 'melts away'; you're not really aware it's there. Other types, such as those with clamps to hold the glass, just don't compare to this," said Paul, who works in destination and event management marketing.
Unique composite decking solution
The new decking, in a mellow Coppered Oak finish, is made from a unique polyurethane and mineral blend providing long-lasting durability with a slip-resistant surface and minimal maintenance. It is complemented with the Balcony 2 balustrading system using the aerofoil-shaped handrail in Balcony's proprietary Royal Chrome anodised finish.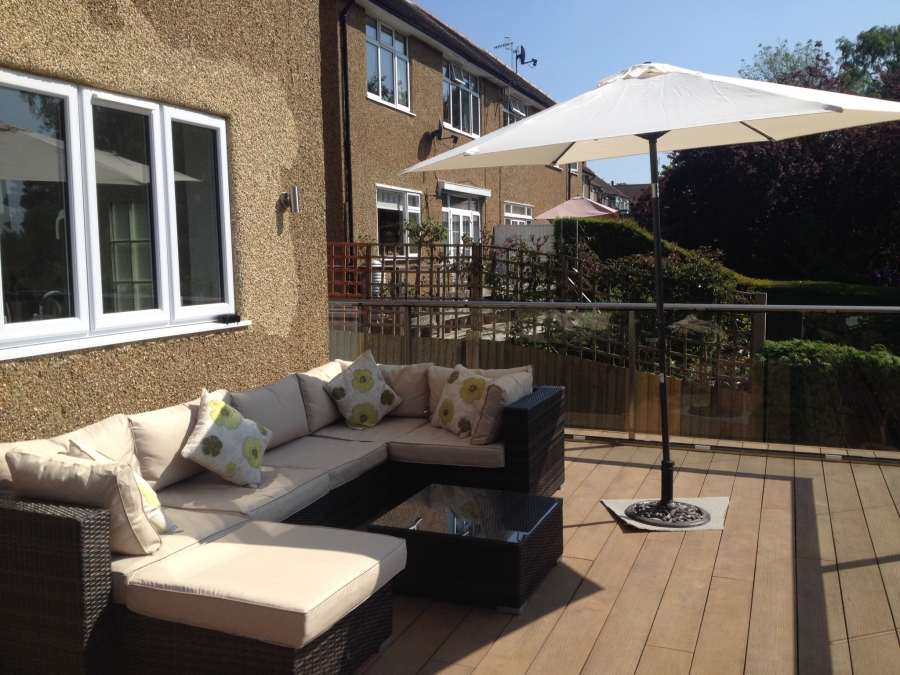 The couple also specified Balcony's BalcoNano® self-cleaning glass coating on both sides of the panels to reduce the need for cleaning. The protective coating creates a smooth, water-repellent surface so dirt and other deposits cannot cling and are easily washed off by rain or wiping with a wet cloth.
Having heard about Balcony Systems from Grand Designs Live, the couple visited their Lingfield showroom to view Balcony's products first-hand, after which they obtained a quote.
He was then put in touch with Peter Leck and Simon Ritchie's Tunbridge Wells construction company, one of Balcony's Approved Installers around the UK, who installed the balustrade and decking system.
A true transformation
"After seeing Balcony's products and how they can transform properties, our minds were made up," continues Paul. "Peter and Simon did a fantastic job and paid great attention to detail and getting the measurements spot on."
For Peter, the main challenge was building a deck on top of the extension that wasn't completely square. He explains: "By building the deck sub-frame and balustrade square, we were able to correct all the issues and these now work together. Stopping the balustrade short of the edge has also created an 'outer walkway' to facilitate easier cleaning of the glass.
Paul adds: "Both the balustrade and decking deliver the 'wow' factor for us. We use the deck all the time and it looks lovely. It's what we wanted and I'm glad we didn't scrimp on the balustrading; it was well worth the extra expense!"
Before and after the refurbishment