Curved Glass Balustrade Case Study, SW16, London
Curved Glass Balustrade Case Study, SW16, London
Glass Balustrades | Juliet Balconies | Curved Glass Doors | Decking | Projects | Galleries | Articles | Reviews
7 Streatham High Road, London, SW16
Developer: Merc Investment & Construction Ltd
Architect: Hart Associates
Contractor: Merc Investment & Construction Ltd
Curved clear glass balconies from Balconette make a distinctive architectural statement on luxury apartments at The Picture House, a Grade 2 listed Art Deco former cinema at 7 Streatham High Road, London.
Opening in 1938 as The Regal, it was designed by the architect William R Glen to incorporate Art Deco lines and a spacious, light foyer. Glass was chosen for the balconies, division screens and internal balustrading to complement the unique character and contemporary appearance of the building.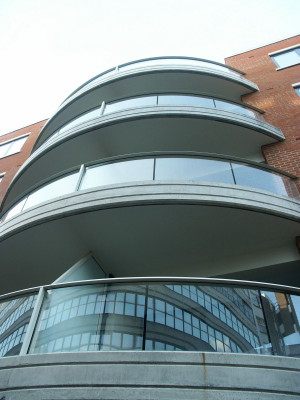 Its striking Grade 2 listed façade, fronting onto Streatham High Road, has been fully retained, sympathetically blending the nostalgia of a bygone age with modern materials and construction techniques.
Balustrading specialists Balconette worked closely with project architects Hart Associates to devise a cost-effective and elegant balustrading solution for The Picture House, developed by Merc Investments and Construction Ltd.
The use of curved clear glass for balconies on 47 of the 62 apartments creates a striking visual impact on two elevations and allows for unobstructed views to the outside for the occupants. Each balcony spans 7 metres across two apartments with a single central post supporting a full height glass division screen for privacy.
Replacing an original bespoke specification of faceted glass, posts and handrails, the Balconette system met the architect's requirements for an aesthetically-pleasing, yet more competitively-priced solution.
600 metres of glass balustrading in a cream powder-coated finish was used throughout the entire building. This included a glazed balustrade for a spiral staircase access to a fifth-floor penthouse terrace.
Unlike conventional structurally-glazed systems, the Balconette solution is unique in not requiring vertical or corner posts for up to 4.0 metres as the aluminium hand-railing provides all the required strength and support for safety. The system's versatility enables it to be incorporated at any stage of the project specification.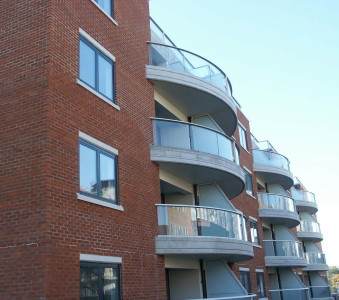 Commenting on the balcony specification requirements, project architect James Baskerville says: "By offering a curved glass, rather than faceted solution, Balconette gave us the stylish, neat appearance we required. Installation was also very straightforward as having only one fixing into the concrete upstand per balcony, this offered both time savings and less scope for error.
"As a balustrading solution, glass was the perfect choice as its clean and neutral appearance complements the contemporary design and exterior of the apartments. Unlike bars or railings which require re-painting, the glazed system has the added advantages of being low-maintenance and corrosion-resistant."
Balconette also supplied a tailored glazing solution for the stepped concrete parapet to maintain even flowing sightlines on balconies to the top floor penthouses, despite a 200mm height difference with a brick cavity wall. Internally, the use of Balconette's staircase balustrades echoes the external glazed theme. Within the development, there is also some affordable housing and commercial use includes a fitness centre.