Panoramic views from Glass Balustrade in Shetland Islands
Panoramic views from Glass Balustrade in Shetland Islands
Glass Balustrades | Juliet Balconies | Curved Glass Doors | Decking | Projects | Galleries | Articles | Reviews
​
Panoramic views from this 4-star self-catering accommodation in the scenic Shetland Islands bring to mind lyrics from a certain song by the famous rock band, The Who. Indeed, from the new deck at Seaview you can see for 30 miles right across to the 100-metre rocky Sumburgh Head located at the southern tip of the Shetland Mainland in northern Scotland.

For owners Shetlanders Kathleen and Hamish Balfour, keeping the view was paramount and this was achieved using a clear glass balustrade supplied by Balconette.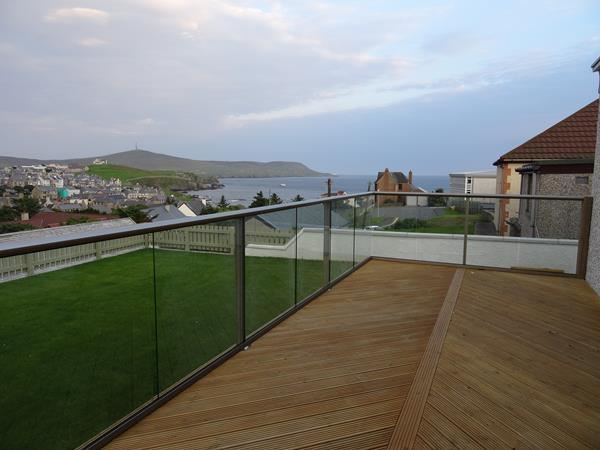 A big 'plus' for the couple was the minimal use of posts for the balustrade, which protects a new deck and seating area at the four-bedroom detached bungalow close to Lerwick town centre.

"Instead of the usual fence around the deck, we decided to go with glass as we didn't want to spoil the amazing view. Having only a few posts to provide the required support maximises what you can see through the balustrade," explained Kathleen, who had researched a number of balustrading companies before deciding on Balconette.

The couple also highlighted the curved shape of the 'aerofoil' handrail and specification of Balconette's BalcoNano® self-cleaning glass coating on both sides of the balustrade panels, which reduces the need for cleaning, as additional key reasons for choosing the system.
"The balustrade looks really neat, unlike other systems that use clamps to hold the glass in place," continued Kathleen, "and its low-maintenance is another big 'plus' for us. We can get plenty of interesting weather in the Shetlands!"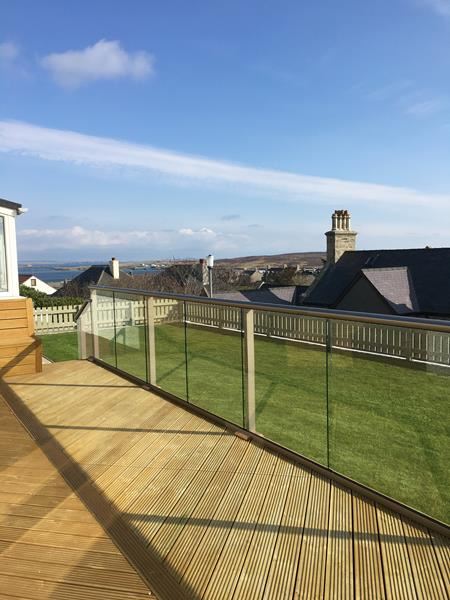 The balustrade is one of Balconette's most northerly installations in the UK and Kathleen testified to the company's efficient service and delivery. "Everything was fine. It was delivered to Aberdeen and my husband, who owns a transport business, collected it from there and it came up by boat."
She added: "We love the fact you can be in the living room and the view is not obscured. The balustrade really enhances the property; it's something different. Since it was installed in April, guests have commented on what a difference it has made."