Large Clear Glass Balconies in Hereford, Case Study
Large Clear Glass Balconies in Hereford, Case Study
Glass Balustrades | Juliet Balconies | Curved Glass Doors | Decking | Projects | Galleries | Articles | Reviews
Aylestone Hill, Hereford
Developer: IE Developments Ltd
Contractor: IE Developments Ltd
Aluminium and glass balconies supplied by Balcony Systems complement the clean lines and contemporary appearance of a new luxury residential development situated at the 'gateway' to Hereford.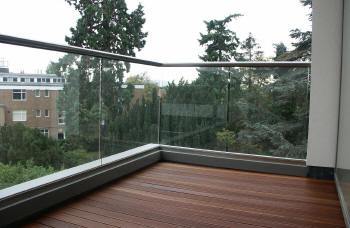 Developer IE Developments Ltd selected Balcony's new 'Royal Chrome' aluminium handrail finish for the 88 metres of balustrading at The Point, which comprises 12 apartments, two penthouses and two townhouses on a prominent 1.25-acre site at the top of Aylestone Hill.
According to Managing Director Tim Evans, the elegance and simplicity of the Balcony system perfectly matches the ethos behind the project's specification to offer a practical, stylish and high quality living environment with minimal maintenance requirements.
"The finesse and clean lines of the system made it the ideal choice to enhance the angular architecture of the development," he explains. "Unlike alternative glazed balustrading products, the Balcony system does not use corner posts or glass clamps that spoil the clear aesthetics. It is also very cost-effective.
"Balcony also advised us on some of the technical aspects and the whole system was very straight forward to install. The result is visually stunning. With the added benefit of no maintenance, the balustrading fits perfectly with our philosophy to deliver quality homes that offer the ability to 'lock and go' with confidence," says Tim.
From a developer's point of view, Tim highlights the significant advantage of fixing the glass panels from the inside. If a panel should need replacing in the future, this can be done easily and safely from the balcony itself, rather than hiring costly and time-consuming scaffolding or 'cherry pickers'.
Tim adds: "Recent changes to the Construction (Design & Management) Regulations 2007 put the onus on builders and designers to incorporate greater health and safety considerations into what they build.
"The Balcony system addresses the long-term practicalities and maintenance issues to ensure compliance with the regulations, providing peace of mind for all from the outset. This is a real plus, as no one wants to go back to a job if things go wrong!"