Luxury Retirement Complex Glass Balconies
Luxury Retirement Complex Glass Balconies
Glass Balustrades | Juliet Balconies | Curved Glass Doors | Decking | Projects | Galleries | Articles | Reviews
Sienna Court, Oldham, Lancashire
Developer: Renaissance Living
Contractor: Wiggett Construction Ltd
Curved patio doors and glass balustrading supplied by Balconette met the architect's specification to maximise light, satisfy strict aesthetic requirements and enhance the feeling of spaciousness at this luxury apartment complex for the over-55s in Lancashire.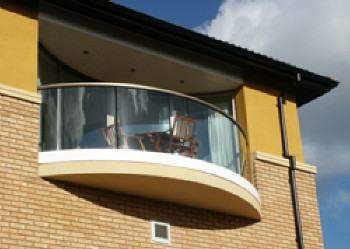 According to Renaissance Living, the elegance and simplicity of Balconette's Juliet Balcony system provides the secure 1.1 metre high balustrade to satisfy Building Regulations, but without any 'visually intrusive' bars and "at very reasonable comparative cost."The Renaissance Living development at Sienna Court in Oldham offers stylish and modern retirement accommodation, with a mix of 53 apartments, of these six two-bedroom penthouse apartments.
The complex is built to exacting high standards by contractor Wiggett Construction Ltd and makes extensive use of glass. Glass was specified to maximise residents' views; both internally overlooking a large communal lounge/bistro area and externally from Juliet balconies to a central Piazza within the complex.
The company adds: "Balconette's systems have enabled us to make our original vision a reality - particularly as they occupy such highly visible positions, making them a key factor in the overall appearance of the development."
Balconette also provided the technical advice and design criteria for curved balconies and curved sliding patio door access for two large penthouse apartments. "Having discussed the technical aspects with Balconette and learned about the curved sliding door system, which again was very reasonably priced, we had our solution," explains Dave Higgins, Projects Director at Wiggett Construction. "Up to then, we had not been able to find an answer to the structural curves in glass/aluminium on the British market."
Curved glass balustrading supplied by Balconette also fulfilled the safety requirements for a large opening with curved ends in the first floor of the communal area, giving a visual interlink with ground floor lounge below.
"Minimum visual interference, minimum structural supports and curved glass were again the defining factors. Balconette's solution is both aesthetically satisfying and achieved considerable economies on other quoted systems - none of which could deal with the curves. Balconette's installation teams also integrated well with the contract programme and we are extremely satisfied with the company's contribution to this successful project," adds Dave.