Replacing Rusting railings, Case Study, North Wales
Replacing Rusting railings, Case Study, North Wales
Glass Balustrades | Juliet Balconies | Curved Glass Doors | Decking | Projects | Galleries | Articles | Reviews
Mold, Flintshire, Nth Wales
Developer: Self Build Refurbishment
From rusty railings to clear views, this glass balcony from Balconette has completely transformed the appearance and enjoyment of a North Wales home with an elegant no-maintenance, corrosion-resistant balustrading solution.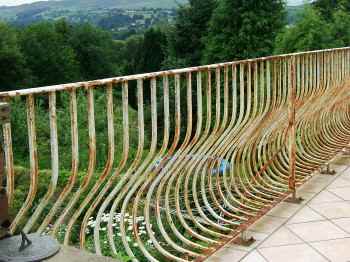 Simple to install, the six metre aluminium balustrade and glass panel system has restored scenic views previously obscured by old wrought iron railings, which required regular and time-consuming painting.
According to homeowner Charles Blackwood, the original spindles were in a bad state and obscured the views 'with a vengeance'. Installing the glass balcony has given his 1960s dormer bungalow, situated a few miles from Mold, a new lease of life.
He commented: "It has made a tremendous difference in terms of aesthetics and we can really enjoy the panoramic views over the countryside. Nor is there any need for painting, which is a big advantage.
"The Balcony system is much neater as there are fewer vertical supports and it's much more cost-effective compared to alternatives we looked at," he added.