Installing a Juliet Balcony
Installing a Juliet Balcony
Juliet Balcony installation options, spans, and limits: With numerous choices at your disposal, we've outlined the most common ones below. If you have any questions, we're always delighted to assist. Feel free to reach out to us, and we'll be more than happy to help.
Juliet Balcony installation guide >>
Openings that require Juliet Balconies
Juliet balconies, or barriers (technically known as 'Edge protection' by building control), are required on full-height and openable openings where there is a risk of falling or drop that endangers the users of the building when the doors are opened.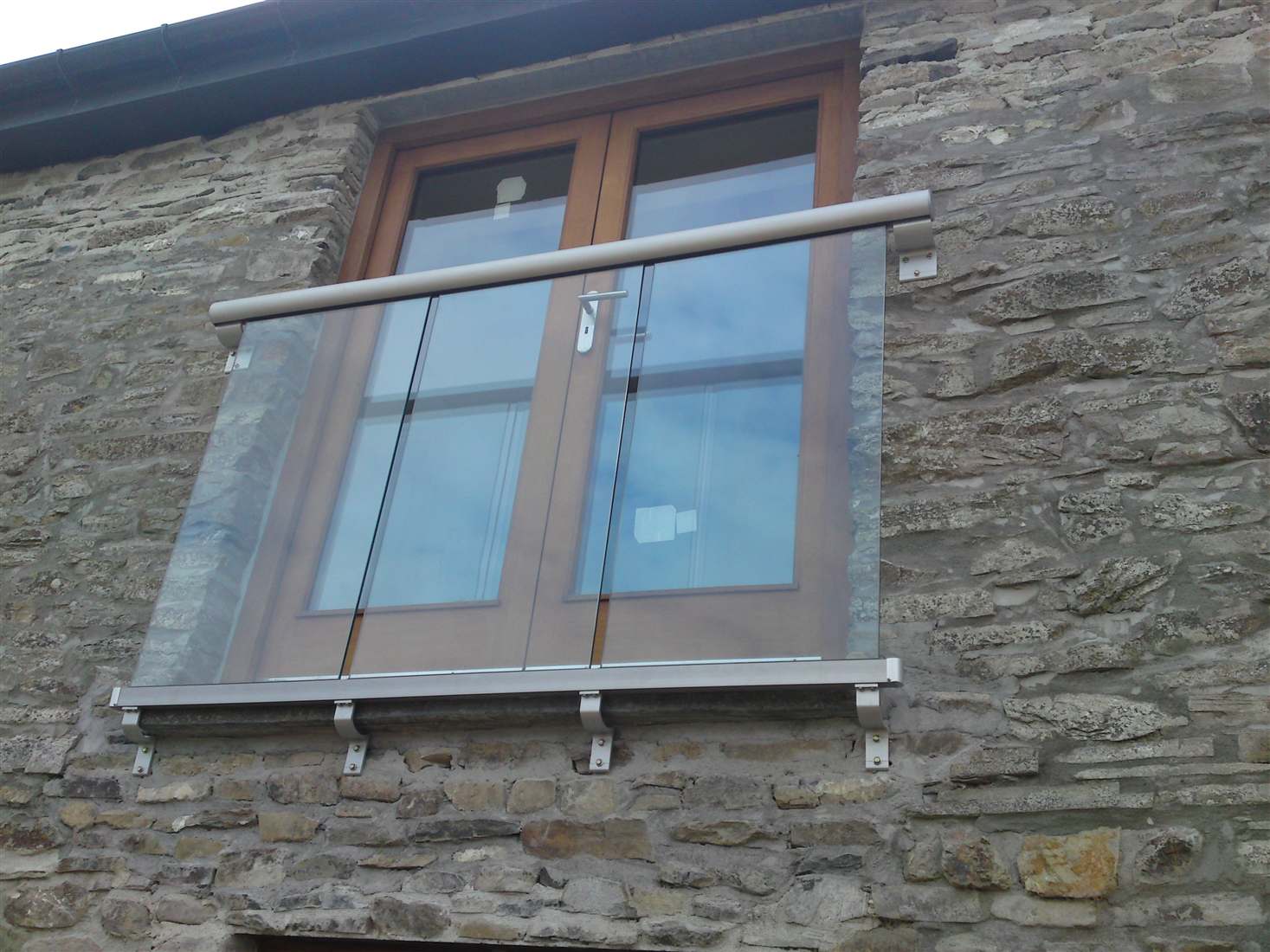 There is growing use of first floor and above modern and full height glazing that opens up. Giving more light and air to a property it is an attractive solution.
Balconies and balcony structures are complex to install and get planning for and therefore there is a wide use of simplistic barrier solutions known in the UK as Juliet Balconies.
Types of doors and glazing solutions
The different glazing solutions used on these openings effect which Juliet balcony solution can be used and how to configure them solution.
Two part French Doors
In the majority of cases, double-door, inward-opening French Doors are used. These doors typically range in width from 1.2m to 1.8m. Since these French doors are relatively narrow, there is a wide variety of Juliet balcony options available for them. These options include traditional metal designs, combinations of glass and metal, as well as glass-only panels that are bolted to the sides of the walls.
Wider glazing solutions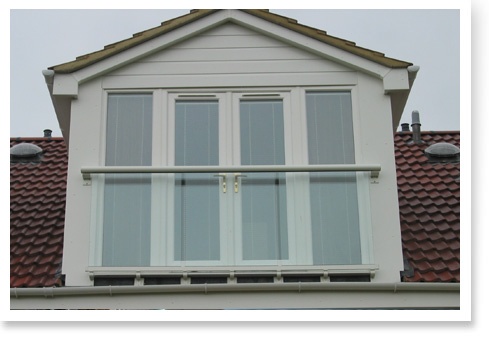 Wider glazing options allow for more options when it comes to implementing Juliet balconies. In some cases, the glazing may include fixed panels, which can actually reduce the length of protection provided, even if the chosen Juliet solution spans the entire width of the opening.
When a railing is installed across the full length of the glazing and includes fixed areas, the loads that need to be calculated for building control are limited to the lengths of the open-able areas only. For instance, consider a large door on the first floor measuring 3.5m in width, with 2 fixed panels of 0.75m each at both ends. If a Juliet balcony that spans the entire width of the opening is installed, the load calculation for the balcony should only consider the 2.0m central part that can be opened.
In situations like the one mentioned above, an alternative solution could be to install a balcony railing that spans the entire width of the glazing. However, another popular approach frequently used is attaching a Juliet Balcony to the glazing mullions (vertical elements on the glazing). This reduces the required width for the balcony, focusing solely on the open area. This method transfers the loads to the glazing frames, which necessitates a thorough assessment of the frames' load-bearing capabilities, as well as an examination of how the frames are fixed to the opening and the structure. This approach introduces some complexity and calculation challenges and must be thoughtfully planned in advance. Ensuring the glazing frames can handle the required loads on the balcony rails may require reinforcement.
A T-shaped Juliet balcony is a type of Juliet balcony that is fixed to the mullions of the glazing. The mullions are the vertical bars that divide the windowpanes. T-shaped Juliet balconies are typically smaller than traditional Juliet balconies and are often used in apartments or townhouses where there is limited space.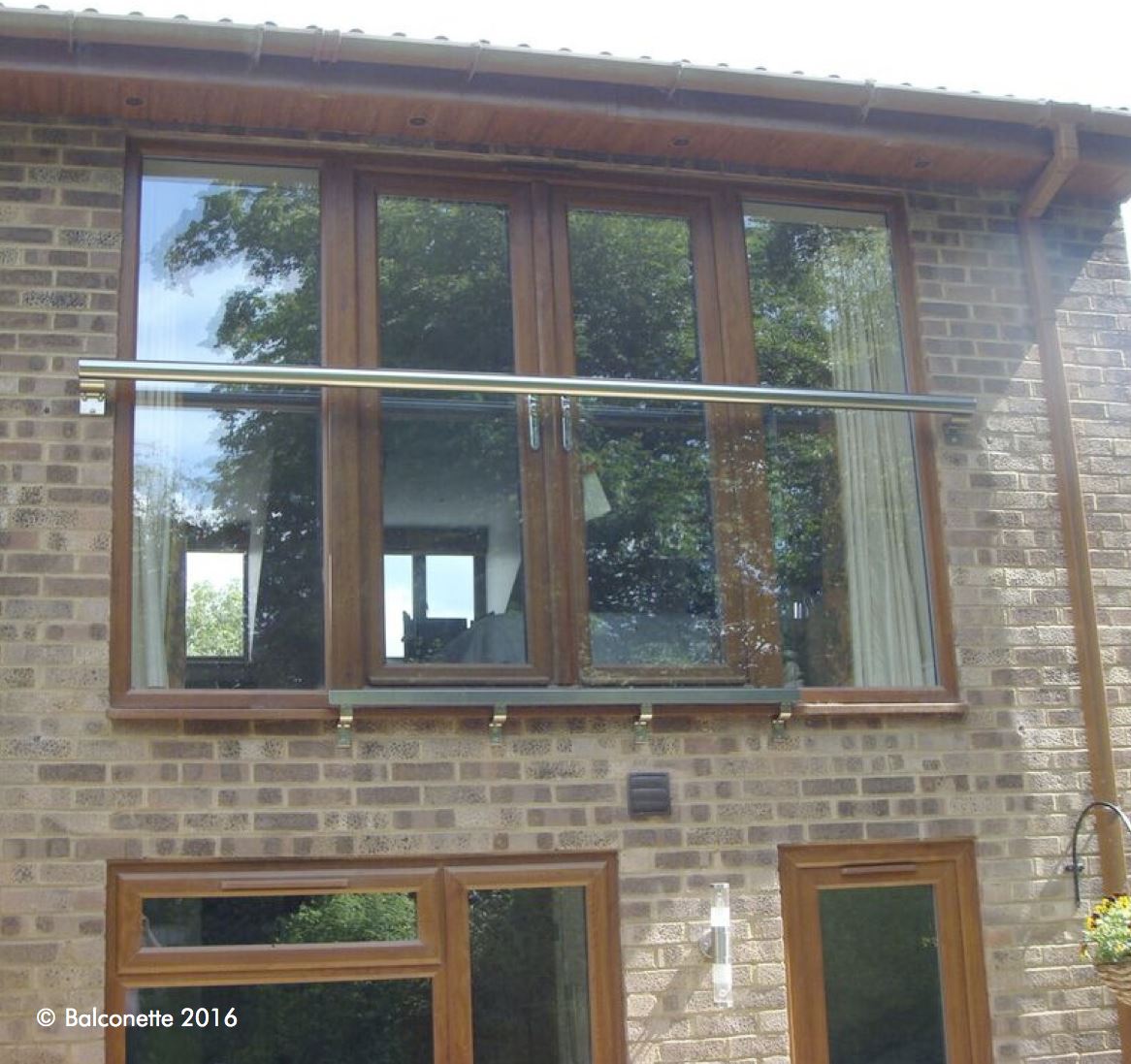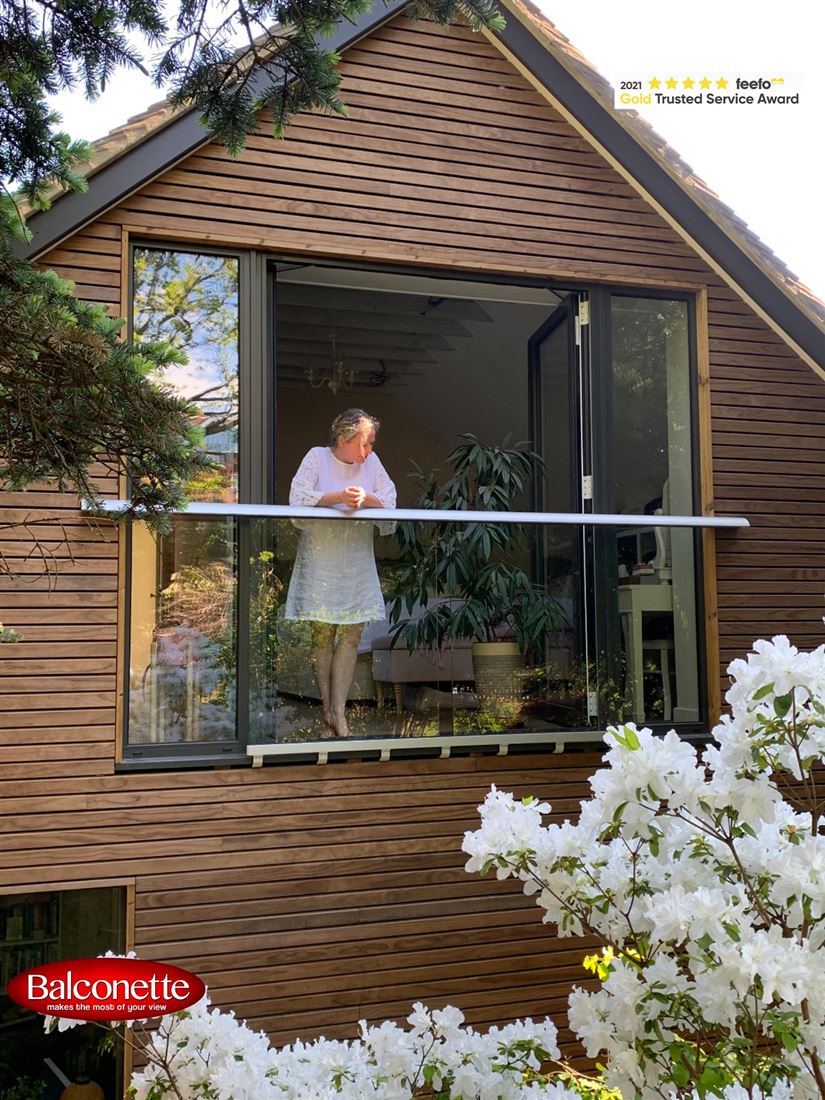 T-Shaped Juliet Balcony
Fully opening glazing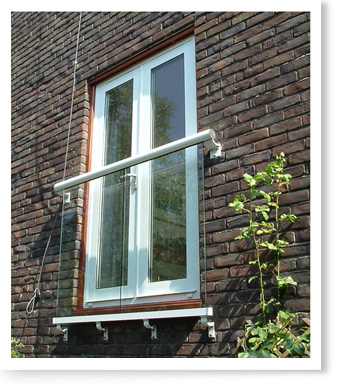 A highly popular glazing solution in the market is folding sliding doors, commonly known as 'bifolds.' These doors require the Juliet balcony to span the entire door letngh, as these kind of doors allow for the whole door to be opened, leaving only the walls above and below the opening for fixing. Juliette balconies typically depend on the strength of the handrail or horizontal members to withstand lateral loads. The wider the gap or distance between fixing points, the greater the challenge in creating an aesthetically pleasing yet practical solution.
Solutions for Juliet Balconies on wide fully opening glazing are limited and include a variety of post-based solutions (railings supported by posts) or a handrail that can bear these loads across its length. However, this is generally restricted to around 3.5m to 3.8m of glazing width.
Cill protrusion
Most window/door sills typically extend between 25mm to 45mm from the wall's surface. This range offers a variety of options for securing fixtures under the opening. These options include brackets, circular glass fixing points, extended post fixings, and more, all of which clear the cill.
However, when the cill protrudes further or when there is no cill or underlying structure to fix to underneath it. In such cases, fixing can only be applied to the side walls, which further restricts the available choices.
Side-fixed systems come in the form of 'Glass only Juliet balconies,' 'Mirror Juliet Balconies,' metal railings, and others. Fixing the railings in this manner is typically limited in width, usually around 2.0m to 2.2m for the structural opening. Or a "Frameless" Juliet with vertical profiles fitted to the external walls and a thick (21.5mm) single rigid glass panel that spans the entire opening.

Frameless Juliette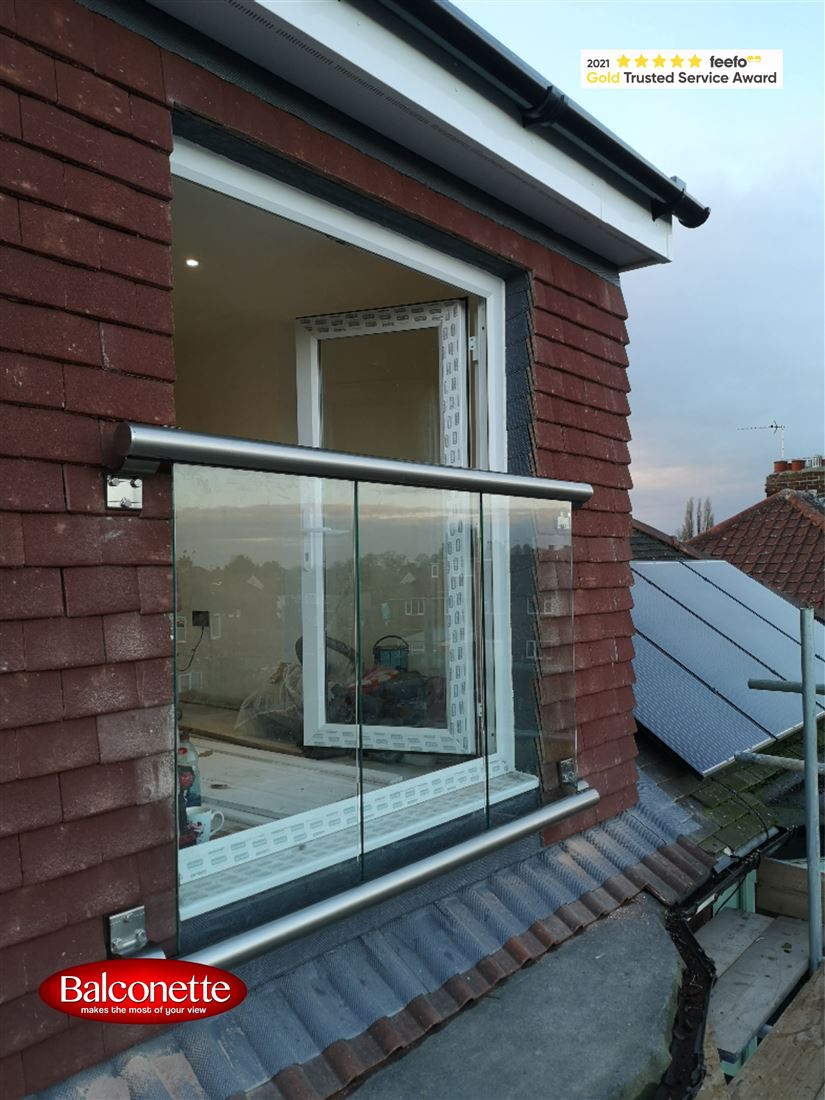 Orbit mirror
Our solutions
At Balconette, we consistently face demands for solutions in all the mentioned scenarios and conditions. To address these, we've developed four Juliet Balcony Systems that cater to over 90% of arising situations. Most of these solutions can be provided within just one week.
Our systems offer choices for fixing under the cill or without it. With eleven (11) Fast-track sizes available in four colours, we can fulfill most requirements. Additionally, we often craft custom-sized Juliet balconies, going up to widths of 4100mm.
You can instantly obtain an online price for any of these fast-track sizes or a customized Juliet balcony on our website.
Juliet Glass Balcony Options below
Select the Juliet Balcony option you need, receive a price, and place your order online: We offer 11 Fast-Track Juliet sizes (manufactured in 7 days) or you can create your own custom Juliet Balcony, up to 4100mm wide, without vertical posts.