Garden Decking
Composite Decking | Technical Details | Colours and Finishes | Accessories | Galleries | Prices
GARDEN DECKING IDEAS
Whatever your garden decking ideas, it is probably true to say that if you can imagine them, they can be built. Balcony Systems composite decking provides a material that not only looks and feels authentic and is tough, durable and safe but combines those qualities with a versatility that enables almost any garden decking designs to be built with relative ease.
Whether your garden designs are for a patio, balcony, pool surround, landing stage, play area, landing stage, decking for garden boardwalks, stairs or steps or any one of a hundred other possibilities, your garden decking ideas do not have to be constrained by limitations of the materials.
WHAT IS THE IDEAL GARDEN DECKING?
Consider for a moment the ideal qualities required of any home or garden designs with decking: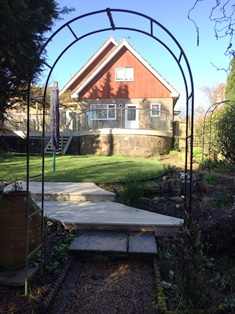 It must look beautiful, combining the authentic look and feel of real oak with fire retardant and non-slip properties real oak cannot provide.
It must be at least as strong as oak
It must not rot, warp, crack, splinter or play host to algae
It must be resistant to knocks, scrapes and scratches
It must last a lifetime
It must be lightweight and easy to work with during construction
It must be easy to clean and virtually maintenance-free
It must not discolour, fade or "weather" and stay looking as fresh as the day it was built, year in and year out.
The materials must provide a broad choice of natural and pleasing colours and finishes
We are pleased to be able to tell you that Balcony Systems composite decking, steps and edges tick all the above boxes.
You can see for yourself how faithfully we have reproduced the look and feel of real oak by contacting us to arrange to see samples.
Or you can view our range of colours and textures on line.
Our decking boards are moulded from real weathered oak samples and hand coloured to reproduce its natural colouring without the mass-produced repetition that can create a look of artificiality.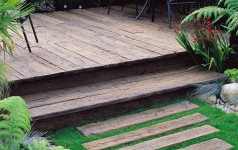 DECKING IDEAS ARE BROUGHT TO LIFE AND STAY ALIVE WITH OUR COMPOSITE DECKING MATERIALS
They endure whatever Mother Nature can throw at them without warping, cracking, rotting, discolouring or fading and come with a 25-year residential guarantee.
They endure whatever human beings can throw at them too: they are resistant to scratches, scrapes, stains and spills.
Their fire-retardant and highest anti-slip properties add much-needed safety features for peace of mind.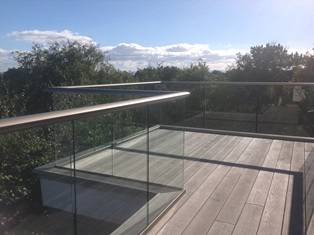 And very importantly, they are lightweight and easy to work with, taking much of the customary sweat and frustration out of the construction process.
We back all that up with a team, always on hand to go over your unique garden decking ideas and give you advice and tips on how to get the best out of our decking materials.
Decking ideas for gardens cover a broad range of possibilities, almost as many as there are imaginative people to dream them up. Yet whatever your own garden decking ideas, here is the material to take them from imagination to reality, a design for your home and garden that will be a source of pride and pleasure for many years to come.
Start making your garden decking ideas come true by contacting us now.