Decking for Commercial and High-Traffic Areas
Composite Decking | Technical Details | Colours and Finishes | Accessories | Galleries | Prices
DECKING BOARDS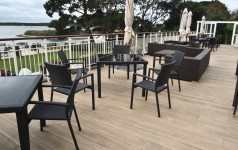 Decking boards used in the construction of boardwalks, landing stages, balconies and other decking designs for commercial and high-traffic areas can take quite a pounding: from the passing of busy feet, to knocks, bumps, scratches, scrapes and spills. So they have to be tough. But they have to look good and possess an air of quality too.
Ideally, you want commercial decking that is more resilient even than the mighty oak, yet which retains all of real oak's natural beauty. Generally speaking, building with run-of-the-mill recycled decking materials won't cut it.
Well, Balcony Systems composite decking has got you covered.
RISK ASSESMENTS AND SLIP RESISTANCE IN DECKING BOARDS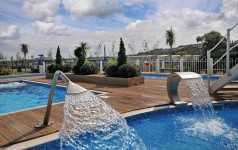 If you are responsible for a commercial area, you know very well that reducing the risk of falls and slips is a high priority.
Our commercial decking is not only beautiful and practical but also is the most slip resistant decking on the market. It will never grow algae and moss and so greatly reduces your liability while satisfying these aspects of health and safety.
MAINTENANCE FREE DECKING
Engineered from a polyurethane and mineral blend, our decking construction materials provide a safer, virtually maintenance-free alternative to both natural wood and other man-made materials. The light-weight composite material is easy to work with and the list of its advantages includes virtues that make it ideal for areas that have to withstand constant use:
it is resistant to rot
it does not warp, splinter or crack
it has a very tough, slip-resistant coating for added safety
it does not easily mark, scratch or stain
it does not fade, discolour or "weather".
it is highly durable and very easy to clean
it does not have the cracks or grain that encourage slippery mould and algae growth
NATURALLY HANDSOME DECKING BOARDS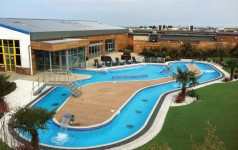 While it provides perhaps the best of the alternatives to decking made from natural wood, in terms of its toughness, safety and maintenance-free aspects, our composite decking is unlike other wood-imitation products in one other very important aspect:
Balcony Systems composite decking boards, fascias and edging are moulded replicas of natural prime oak.
With great attention to detail, the pre-finished decking boards are carefully coloured to perfectly reproduce the grain, texture, feel and look of natural hardwood before the coatings are added that provide their long-lasting toughness and durability. Nothing matches up to it in terms of capturing all the natural beauty of real wood while overcoming its drawbacks. And it keeps its stunning appearance throughout many years of constant use and pounding by people and the elements – and even children!
Our materials are available in a range of colours and finishes to suit virtually any requirement.
So take a closer look at the best and most convincingly natural decking boards, steps and edges available. We are confident that you will like what you see.
For more information about Balcony Systems decking boards or for a free quotation, please contact us now.