Lodge Homes Decking
Composite Decking | Technical Details | Colours and Finishes | Accessories | Galleries | Prices
DECKING MATERIALS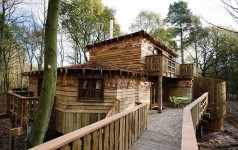 Choosing the right decking materials for your lodge home is a crucial decision. Perhaps more than in any other style of home, the decking is an important feature of luxury and holiday lodges.
Our composite deck boards, steps, edges and fascias can compliment any lodge in terms of adding a highly aesthetic and durable usable space to the main structure that does not deteriorate like natural wood, requires virtually no maintenance and is easy to clean.
CHOOSING THE RIGHT MATERIALS
It is vital to choose the right decking materials against two key criteria:
They must harmonise with the natural wood of the main structure.
They must also be able to withstand the inevitable pounding they will receive from constant use and from relentless exposure to the elements.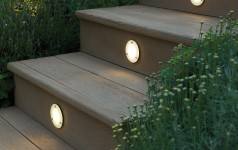 STATE-OF-THE-ART SYNTHETIC DECKING
Engineered from a polyurethane and mineral blend, our materials represent a technical break-through in terms of comprehensive decking solutions.
They are moulded from samples of real prime oak so as to reproduce the grain, texture and feel of real wood, then hand-coloured to perfectly replicate the look and colour of natural hardwood. We have carefully produced a variation in the colour and grain that approximates the infinite variations of the real thing. This enables the decking to be laid with virtually no tell-tale "pattern repeats".
OUR DECKING MATERIALS TICK THE RIGHT BOXES
Our composite decking materials are given a clear, non-porous coating that provides extreme durability. All this makes it the ideal decking for any lodge home because it ticks the boxes on a comprehensive list of vital criteria: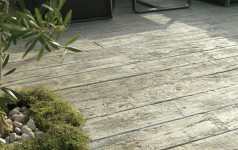 looks and feel like natural wood and is available in colours, textures and finishes that will work and coordinate with the colour and finish of your lodge.
tougher and more durable than natural wood and comes with a 25-year guarantee.
does not rot, crack, warp, splinter or play host to bugs or algae.
has the highest anti-slip rating, which adds an important safety feature.
virtually impervious to scrapes, scratches, stains and spills.
does not need to be painted, stained, lacquered, varnished, sprayed or otherwise treated.
has important fire-retardant qualities.
high anti-slip rating and imperviousness to wear and tear make it the ideal internal or external flooring.
does not discolour, jade, fade or "weather" and remains virtually as pristine as the day it was installed, year in and year out.
maintenance free except for routine sweeping and cleaning. Even here its imperviousness to stains or mould make cleaning a very easy process. The absence of the need for maintenance means a considerable reduction of cost in the long term.
Balcony Systems composite decking materials provide state-of-the-art decking solutions that are the very best choice for lodge home decking and flooring.
For more information about Balcony Systems' decking materials or for a free quotation, please contact us.