OPEN PUBLIC AND RECREATION
Decking Boards for Public and Recreation Areas
Composite Decking | Technical Details | Colours and Finishes | Accessories | Galleries | Prices
DECKING BOARDS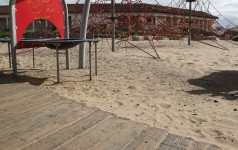 Choosing the right decking boards for any area that is going to be used by the public is a crucial decision for several reasons:
Public safety. For decking that is going to accommodate passing foot traffic or recreational activity, the deck boards must have the highest anti-slip rating possible so as to avoid accidents and injury.
Toughness and durability. Decking in public areas has to be able withstand constant use and abuse. For reasons of cost and convenience, it must not be prone to wear and tear that demands constant maintenance and repair.
Longevity. You do not want the continual cost of having to replace deck boards that have become rotten, jaded, stained, discoloured or weathered or accumulated marks, mold, scrapes and scratches. This is particularly so because with many man-made types of decking boards, such as PVC, it is often a matter of having to replace entire sections, while timber decking demands regular re-painting or staining to keep it in good condition.
Beauty. The aesthetics and appeal of your decking structure is important. Does it look beautiful? Will it stay looking beautiful year in and year out despite the pounding it is going to take from the elements and from the people who are going to use the space you have created? If you are going to use synthetic decking because of its many advantages over natural timber, does it convincingly replicate natural timber's charm and warmth?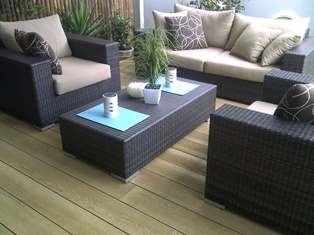 TECHNICALLY ADVANCED DECKING BOARDS
Technical advance has enabled us to produce state-of-the-art composite decking boards that thoroughly satisfy the above needs.
Created from a blend of polyurethane and certain minerals, our deck boards are tough, light and easy to install. Molded from samples of real weathered hardwood, they accurately replicate its grain and texture. Careful hand-colouring enables each deck board to convincingly reproduce the subtle and infinitely varied hues and shading of mature natural hardwood.
The deck boards are given state-of-the-art, non-porous coatings that combine toughness and durability with powerful mold- and rot-resistance and the highest anti-slip rating.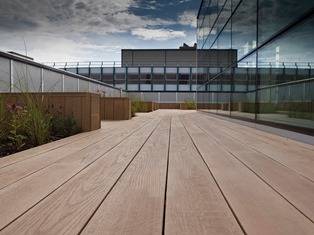 What all this amounts to is composite decking boards that have all the advantages you need for any decking construction in areas used by the public: boardwalks, mezzanines, balconies, patios, recreational areas, landing stages, pedestrian bridges, pool sides and so on. Those qualities include:
Has top-of-the-range anti-slip rating
Is highly resistant to scuffs, marks and scratches
Does not fade, discolour or tarnish
Does not require any painting, staining, varnishing or preservative treatment
Does not play host to mold, bugs or algae
Requires virtually no maintenance
Is very easy to clean and keep clean
Very accurately captures the look, feel and texture of real seasoned hardwood.
Is available in a range of textures and colours from which to select the look and style that is just right for your decking project.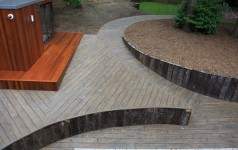 Balcony Systems decking boards, fascias, steps and edges are ideal for any decked area used by the public for service, leisure, recreation or any other purposes.
For more information about Balcony Systems' decking boards and materials or for a free quotation, please contact us now.