Non-Slip Decking is a Must for Schools
Composite Decking | Technical Details | Colours and Finishes | Accessories | Galleries | Prices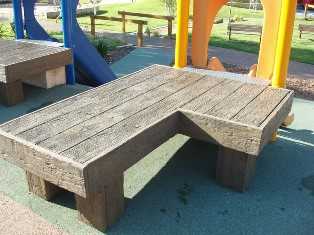 NON-SLIP DECKING
Our non-slip decking is ideal for play areas and recreation areas in schools, playschools or any area where children run around and child safety is a primary concern.
As you will see below, our state-of-the-art composite decking boards, edges, steps and fascias have many other advantages. Yet for anyone considering a cost-effective upgrade or expansion of school or playschool space by the addition of a beautifully decked play area, verandah, balcony or boardwalk, their anti-slip quality is top of the list.
Representing a technical breakthrough, composite decking is manufactured from a polyurethane and mineral mix that is light, tough, durable and versatile. It is molded from samples of real weathered oak, then hand-colored to reproduce the infinitely varied colouring of real natural hardwood.
Most important, however, is that a clear, extra-tough, non-porous coating is added, which has the highest anti-slip rating. It is this that provides the all-important safety factor where children and the school environment are concerned.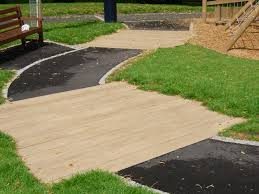 However, our decking materials also incorporate other advantages that are important. Children may be small but, as any parent, teacher or child minder will tell you, they can certainly knock the environment around out of all proportion to their size.
Therefore, some of its other qualities are particularly useful:
The coating makes the decking boards particularly immune to scuffs, scrapes, scratches, knocks and the impromptu artwork of poster paint and felt pens.
The non-porous decking does not crack, warp or splinter, nor does it play host to bugs, fungi and mould, which is further health advantage.
The slightly supple material cushions better than hardwood or solid flooring when the inevitable trips and falls occur.
Finally it has a sound-deadening quality that is handy where the relentless pattering of tiny feet is concerned.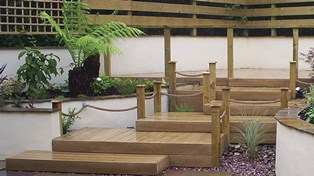 MAINTENANCE FREE DECKING
These features also make the decking virtually maintenance-free. Even routine cleaning is about as easy as it gets.
The finished structure will not peel, flake, discolour or fade over time. Dispensing as well with any need to apply stain, lacquer, paint or varnish or any other protective or decorative finishes, it presents a considerable long-term saving on costs and less pressure on the hard-pressed budget.
We should also add that our decking materials are straightforward to work with and install.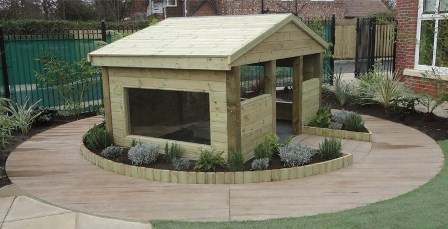 Available in a choice of authentic oak finishes and colours our non-slip decking has all the bases covered where schools and other environments hosting children are concerned.
For more information about Balcony Systems' non-slip decking materials or for a free quotation, please contact us.