Art Deco Curved Doors in Whitstable, Case Study
Art Deco Curved Doors in Whitstable, Case Study
Glass Balustrades | Juliet Balconies | Curved Glass Doors | Decking | Projects | Galleries | Articles | Reviews
Whitstable, Kent.
Two large curved sliding patio doors, supplied and installed by Balcony Systems add light, and space to make a spectacular statement at a detached new build home in Whitstable, Kent.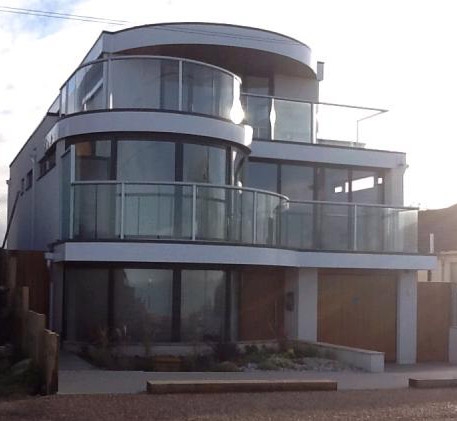 Curved and straight clear glass balustrading on the first and second floors is topped with Balcony's proprietary Royal Chrome anodised handrail, which replicates the look of stainless steel. The project was completed in May 2012. The owners said the doors and curved balustrades, incorporating Balcony's BalcoNano® self-cleaning glass coating, have 'realised their design dreams' in maximising sea views from their Art Deco-style sea front property.
The four-panel curved doors, installed in a ground-floor breakfast room and living room above, form semi-circles that measure more than six metres in girth. Finished in a dark grey powder-coating, the aluminium frames hold two fixed and two sliding clear glass panels with 28mm Low-E toughened double glazed units.
The couple selected Balcony's products as they offered an affordable balcony system that would complement the curves on the rest of the property. Balcony Systems, one of the UK's leading glass balustrading specialists, was also the only company they found that could offer a good quality curved glass solution for both their balcony and patio doorneeds.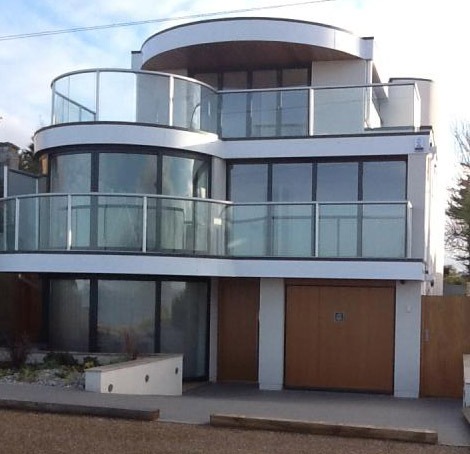 "Their solutions and the minimal posts provided a clean, continuous flow of glass and allowed us to maximise the sea views. We didn't want anything blocking the fabulous views,"
The owner added: "Balcony's products have brought our paper design of curved glass alive and the company has been helpful after the installation. Without these products, we would have ended up with dull flat runs of glass. Balcony has allowed us to realise our design dreams - and everybody loves a curve!"