CURVED PATIO DOORS: WHY CHOOSE US?
CURVED PATIO DOORS
If you are looking for high quality precision-made curved patio doors and similar curved sliding door and window systems that offer superb value, we build and supply them. Each set of our curved glass doors and accompanying fixed double glazed glass panels is made to measure to the exact dimensions you require for easy installation.
Our many years of experience in building and supplying curved sliding glass doors, coupled with technical advances in the development of curved glazing, have enabled us to reduce the process of design, manufacture, supply and fitting of curved glass doors to a relatively stress-free process.
You will be pleasantly surprised at the affordability of our curved sliding doors systems, and at the ease with which they can be fitted. Follow this link to get a price online for the curved sliding door design you have in mind. And to see how easy is the assembly process, click here to view a 3D animation of how our curved patio doors are assembled.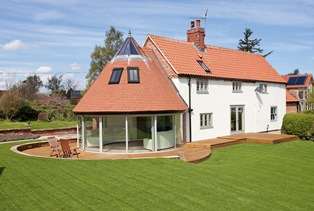 FRIENDLY CUSTOMER SUPPORT
We are pleased to provide assistance and advice, from the initial stages of design and cost calculation right through to assembly of the finished curved glass installation.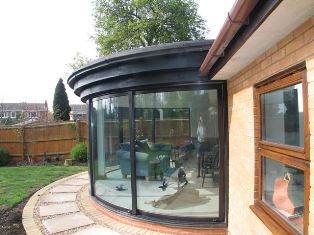 We have many years of experience of working with our customers to make sure all goes smoothly. That experience includes working closely with professionals such as specifiers and architects.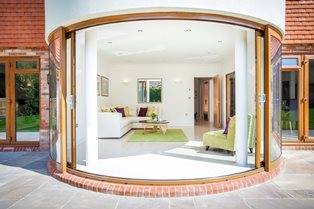 The key to the affordability and ease of installation of our curved patio doors lies in the development of technology for precisely bending both the double-glazed glass doors and accompanying fixed sections along with the aluminium frames in which they all sit. This produces an assembly in which all components are thoroughly integrated to form a highly manageable whole.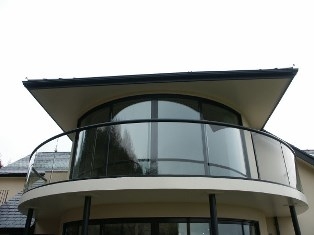 This has brought into the reach of most budgets highly stylish curved glass sliding doors that dramatically enhance any residential or commercial property. See the image gallery of our curved patio doors for an idea of just how good they look.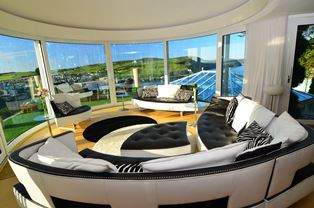 A HOST OF ADVANTAGES
As for our curved patio doors themselves, they offer a host of advantages that include: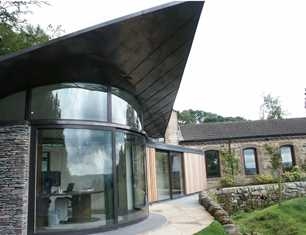 the use of curved glass does away with the need to produce a curved effect by putting together a narrow series of straight-framed sections, a solution that was far less aesthetically pleasing and far more complicated than our state-of-the-art option.
a high weather rating
thermally insulated aluminium frames.
a multipoint locking mechanism on all doors
28 mm double glazing
toughened safety glass on both sides
low E-glass for greater thermal efficiency
the option of self-cleaning glass
SHEER LUXURY
Often in combination with curved balconies and curved glass balustrades, curved patio doors adds affordable luxury that immediately attracts and pleases the eye. What might once have been just another door or window becomes an architectural statement and asset in its own right.
Glass for curved corners or openings in buildings can now be made to the exact radius required. Having curved glass compliments the openings and harmonises with the curves or lines of the building, while giving a much more panoramic, uninterrupted view – a real asset when you want to make the most of splendid rural or sea views.
REDUCING HEAT LOSS THROUGH YOUR GLASS
Our glazed doors and panels come with Low-E double glazing as standard. When compared with a conventional pane of glass, double glazing units reduce heat loss through the glass by about half. We offer the option of a high-performance Low-E coating that can reduce the heat loss even more.
DESIGN OPTIONS OF OUR CURVED PATIO DOORS
W2: divided into two curved glass panels, both sliding.
W2 F: divided into two curved glass panels, one fixed and the other sliding.
W3 F: three curved glass panels where one outer panel is fixed and the other two slide in front and behind it, giving up to two thirds open.
W4: four curved glass panels with all four sliding on two tracks.
W4 F: four curved glass panels, where the two outermost are fixed and two middle panels slide on two tracks.
W6 F: six curved glass panels where the doors lock in the middle. The two outermost panels are fixed, the other four slide in front of them on two fixed tracks, giving two thirds open.
Our curved patio doors provide an affordable boost to the aesthetic possibilities of your project, as well as saving you time, money and stress.
We are here to help if you need more information about our curved patio doors: simply contact us here.