Glass Stair Railings
Glass Balustrades | Juliet Balconies | Curved Glass Doors | Decking | Projects | Galleries | Articles | Reviews
5 Reasons to Complete Your Home with Glass Stair Railings
Stair railings are a critical part of many build and renovation projects, but are often neglected. They're often seen as no more than a glorified "fence", keeping staircase users safe and sound. You could fit something cheap that needs to be replaced in a couple of years' time. Or you could invest in something that not only performs a basic safety task, but also looks good, enhances your home and is made with quality, no-maintenance materials.
We know which we prefer! With years of experience in making our customers' homes look even more beautiful, our range of glass stair railings have many satisfied customers. Here are our 5 top reasons for fitting Balconette's glass stair railings.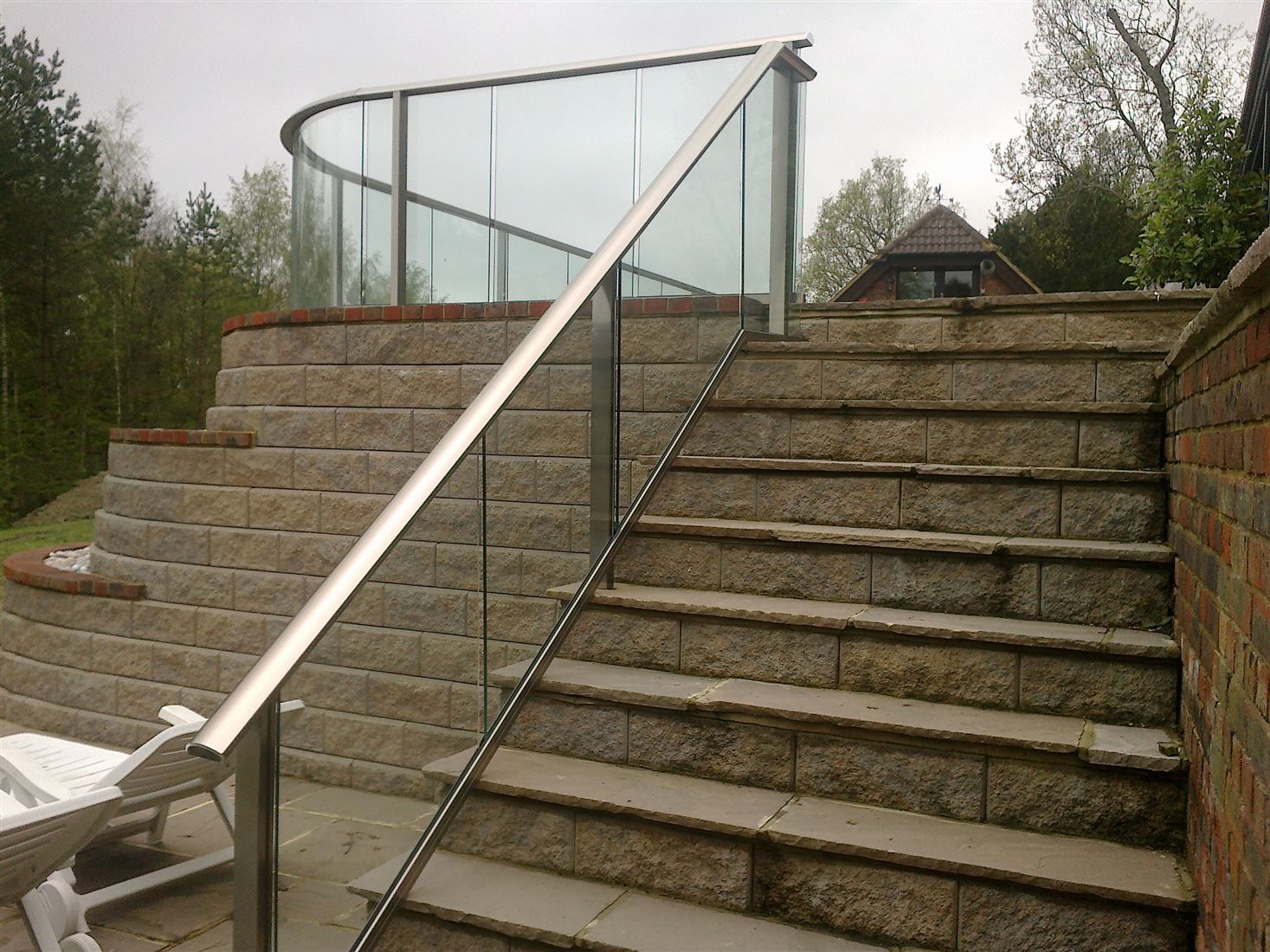 1. Glass Stair Railings for Any Location
Our glass stair railings will make your home look spectacular! Imagine how wonderful your home and decking or balcony will look with natural light flowing across your stairway. Unlike wood or metal stair railings, there's little to obstruct the view of your outside space; Balconette's glass stair railings use minimal posts and completely avoid the use of unsightly lugs.
Your new glass railings will stand up to pretty much anything our changeable weather can throw at them, thanks to their hardwearing high quality. All glass balustrade finishes have a 10-year guarantee and are made of anodised aluminium, which won't rust, even in coastal locations. Unlike wood, metal or even other glass railing solutions, you'll avoid the trouble of annual or twice-yearly maintenance. And, if you choose to use our self-cleaning coating – BalcoNano® - you won't even need to wash the glass; watermarks, dust, algae and grime build-up will be nothing but a distant memory!
2. Customisable Glass Stair Railings
As regular as can be? At an unusual angle? No matter, we can create glass railings to suit your design, just give our experienced team a call and they'll be delighted to help. Regardless of whether your stairs lead down from a balcony or simply to your upstairs landing, we can help you find the right solution for your needs.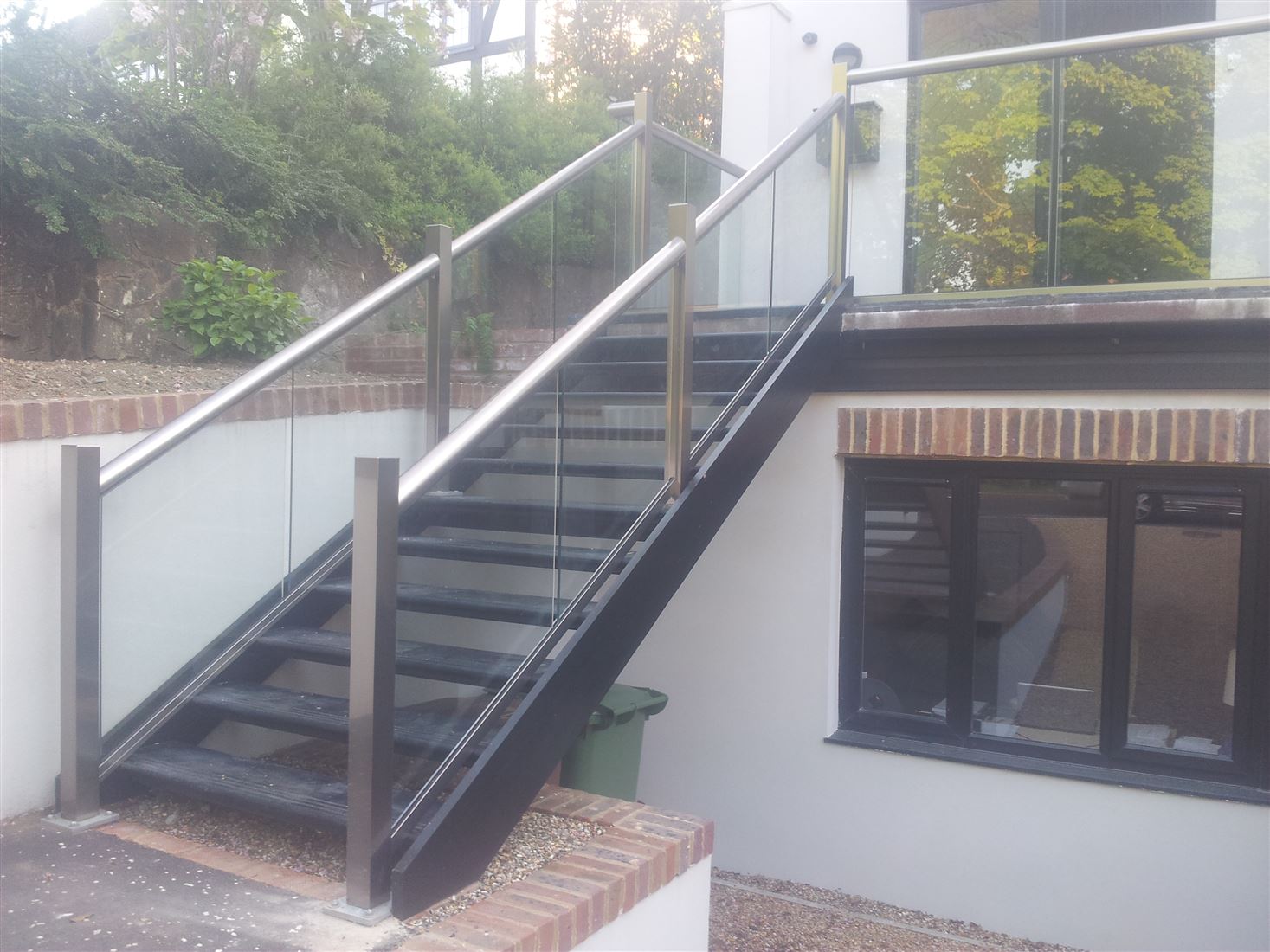 3. Easy-Fit Glass Stair Railings Balustrades
No-one wants a project that's a nightmare to install. Which is why we know you'll love our glass stair railings. Fitting them is a simple job for just two people; we provide detailed instructions, as well as clear and easy-to-follow installation videos that will help you make light work of your task. You can also give our helpful team a call – they're our experts, and can help make sense of almost any situation.
And in case you don't want to fit your glass stair railings yourself, we have a network of approved installers who can do the job for you. What could be easier?
4. Glass Stair Railings in a Choice of Finishes
Choosing your glass stair railings balustrading from Balconette means you can choose from a variety of looks. All stair railings come with our "Orbit" handrail, which is available in a choice of 4 finishes. You can also choose from a clear glass option or 4 other tinted glass options, making your project truly unique. And as all our finishes come with the unbeatable reassurance of a 10-year guarantee, you know your stairs will stay looking good for many years to come.
5. Safe & Secure Glass Stair Railings
Safety is a minimum requirement for glass stair railings, and few types of stair railing can claim to be as consistently safe as ours. Made with toughened glass and anodised aluminium, our glass stair railings are are reliably safe and secure. Our high standards mean we exceed British safety standards – take a look at the safety data if you want to know more. And without the need for regular upkeep, you can reassure yourself that your glass stair railings won't lack safety from missed maintenance – as there's no maintenance for you to do!
So what are you waiting for? Complete your project with the glass stair railings it deserves. Call us today on 01342 410411 for more information, we're looking forward to hearing from you.