Railing and Balustrades Requirements
Railing and Balustrades Requirements
Glass Balustrades | Juliet Balconies | Curved Glass Doors | Decking | Projects | Galleries | Articles | Reviews
What Standards Do Balustrades Have to Follow?
The information below is taken from two British standards; BS6180:2011 "Barriers in and about buildings - Code of practice" which relates to the code of practice for balustrades in buildings and BS6399-1:1996 "Loadings for buildings - Part1: Code of practice for dead and imposed loads" which specifies the information on loadings. In this article we try and simplify into layman's terms some of the information and principles contained in these standards.
Most of the building regulation documents relating to balustrades, railings and balconies is based on these standards.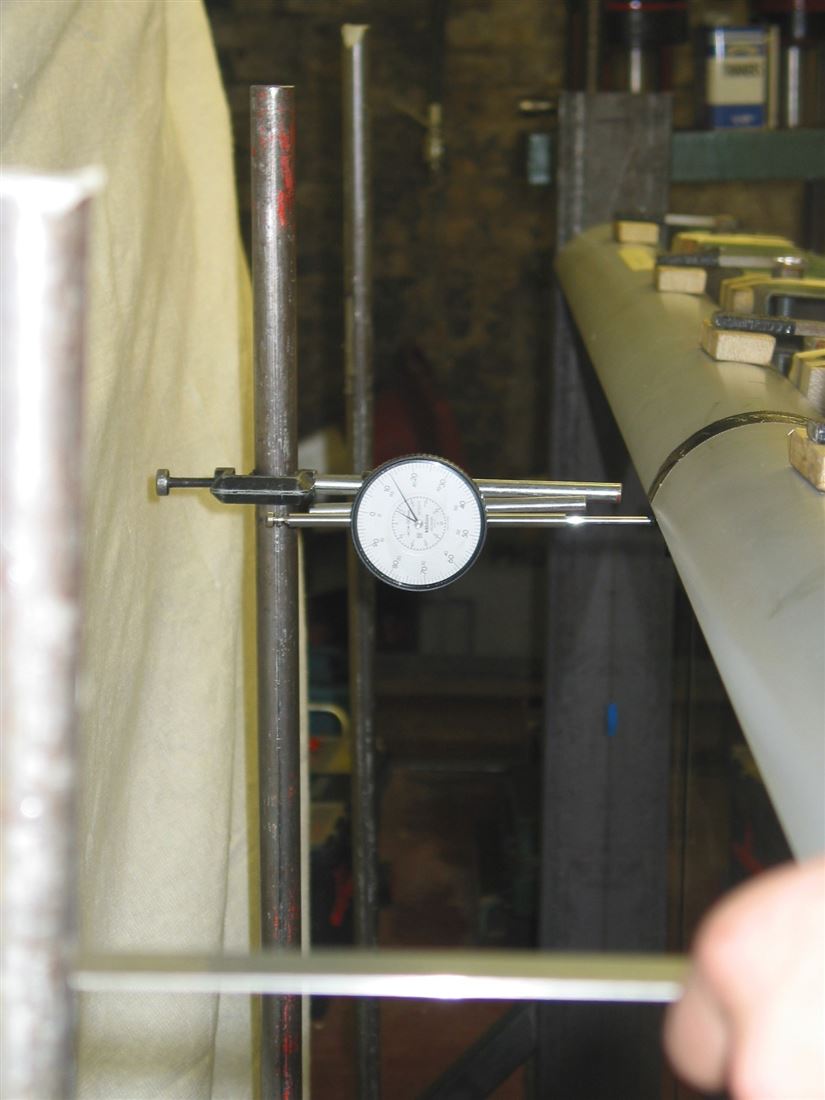 Deflection of balustrade under load
There is no limitation per se which material can be used as the balustrade structure, obviously the material chosen must be:
Rigid and strong, be able to resist and not bend, buckle or break under pressure.
Durable and suitable to the area they are to be applied to.
Plastics are not usually used for balustrade structures, but rather metallic elements such as steel, stainless steel or aluminium. Wood is and has been a popular material but maintenance becomes an element to take into consideration.
Sometimes the balustrade structure includes, and is, the barrier, such as in the case of bars or perforated metal panels, and in many cases in the modern build use is made of glass as infill panels and in the case of structural glass, actually is the barrier.
What Types of Glass can be Used?
When using glass you are obliged to use what is designated as safety glass, this can be either (a) toughened (aka tempered) or (b) Laminated
Toughened Glass
Toughened or tempering is a process that the glass is subjected to consisting of heating the glass to around 700 degrees Celsius and quenching (cooling quickly). The quenching process, which takes about 1 minute, creates a strong layer on both sides of the glass while locking tension insides the core of the glass, making it approximately four times stronger to impact than regular float glass.
Why is it Called 'Safety Glass'?
Why is this called "safety glass" you may ask. Well in answer to that we can explain that toughened glass, if broken, will not break into large pieces with big shards but rather it will "break safely" and shatter into hundreds or thousands of small, and therefore, not so dangerous little bits.)
Laminated Glass
Laminated glass is made from at least two glass panels with an interlayer. The interlayer is usually made of plastic or is resin based. Laminated glasses can be made from two float panels, two toughened panels or a combination thereof. When tested for conformity laminated safety glass is allowed to break under impact but must not allow the impacting body to penetrate the panel.
In the United Kingdom it is toughened glass that is predominantly used. Laminated and toughened glass use is growing in particularly on high rise buildings. Whereas in Europe single pane toughened glass is not allowed. Only laminated glass is allowed.
Thickness and type of glass to be used is varied and greatly depends on the area it must protect, impact class required (there are several classes for impact of safety glass) and size of each single pane used, more on this in the section relating to loadings.

For internal railings or balustrades that are inside a single family dwelling the height required is 0.9m from "datum" ("datum" is defined as the height or point you can stand on) to the top of the handrail. For external balcony or terrace areas the required height is 1.1m from datum to the top of handrail.
Handrail height for stairs, internal or external and all usages is 0.9m from "datum"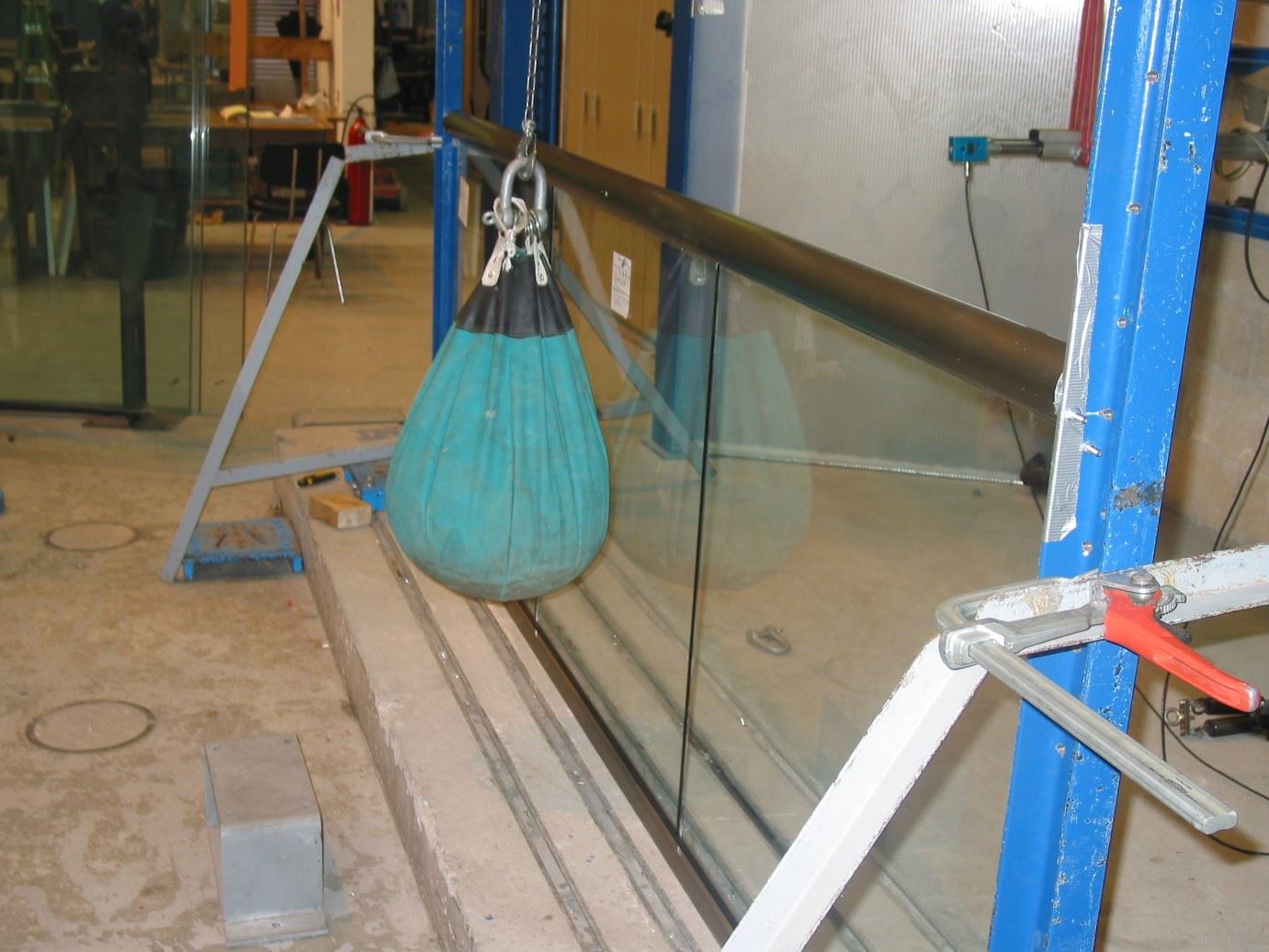 What loadings and forces are railings/balustrades meant to withstand and how are these applied, tested or calculated?
Load Types:
The loads are expressed in kN/m (kilo Newton metre) in simple terms this is a quantity very similar to 100Kg (220lb) of pressure per metre length. If for example it is stated that there is 1.0kN/m it will be approximately the equivalent of one person weighing 100kg putting their full weight on one metre length.
There are three basic loads that are required to be met;
(a) Horizontal loading on the handrail
(b) vertical loading on the handrail
(c) loading on the infill.
The horizontal loading on the handrail is called a "uniformly distributed line load" or UDL (basically meaning that the load needs to be calculated in a fashion that allows for even distribution of the pressure along the complete length of the element, as opposed to the sum of the load applied to one point). The vertical load on the handrail is composed of both a UDL vertical load and a point load. The load on the infill, be it glass, metal or other, is tested and calculated in two separate ways; a distributed load and a "point load". This means the infill of the railing, balustrade or barrier must be able to withstand an evenly distributed pressure as well as a concentrated pressure on a small point.
The loads are tested or calculated whereby the maximum deflection under pressure must not exceed 25mm.

You can divide regulations into these basic areas:
Domestic & Residential (Single Family Home), Internal Stairs/Landings Etc.
In which case the handrail pressure must be able to take 0.36kN/m. For external balconies and in light office areas non susceptible to overcrowding this is doubled to 0.74 kN/m. This can be compared to having one averagely weighing person 75kg applying the full force of their body on every metre of the balcony.
Public Areas Such as Retail Areas, Bars and Restaurants
The handrail pressure must be able to take 1.5 kN/m. This is doubled to a dramatic 3.0 kN/m in areas such as malls, discotheques and areas susceptible to overcrowding.
In relation to the loads that apply in these areas on the glass or infill panels we will show here the severe of the two loads which is the concentrated point load:
Point Load for Domestic & Residential (Single Family Home) Internal Stairs/Landings Etc.
0.25kN/m. For external balconies and in light office areas non susceptible to overcrowding 0.5kN/m.
Point Load for Public Areas
On all public areas such as retail areas, malls, discotheques, areas susceptible to overcrowding, bars and restaurants the point load must be able to take 1.5kN/m.
When dealing with glass barrier one more element must be taken into account and that is impact resistance of the glass. A minimum of 10mm glass should be employed in balcony areas that are wider than 1.5m.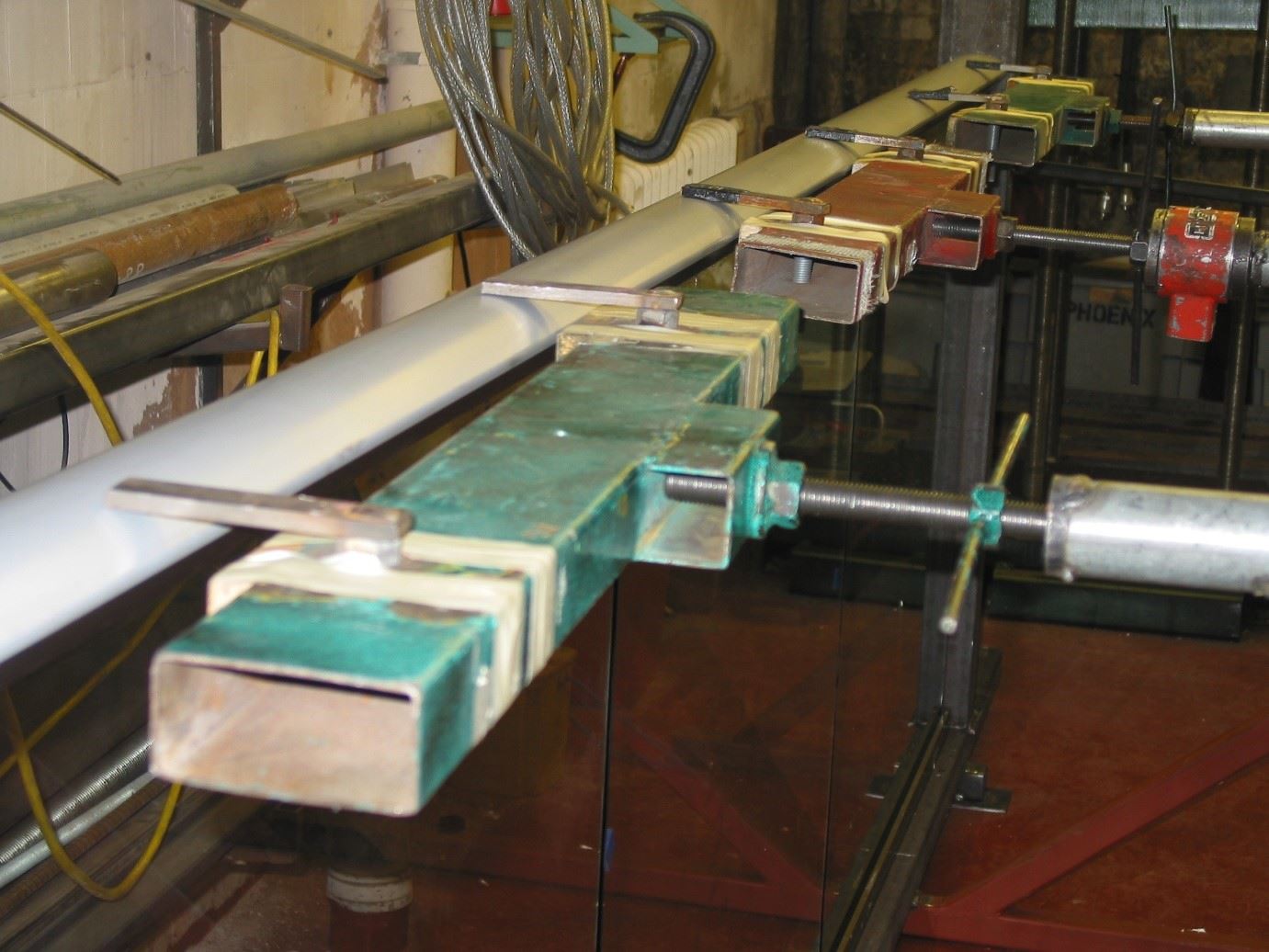 Uniformly distributed load on the handrail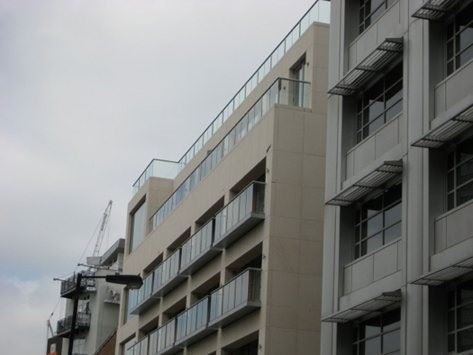 Residential Balconies in London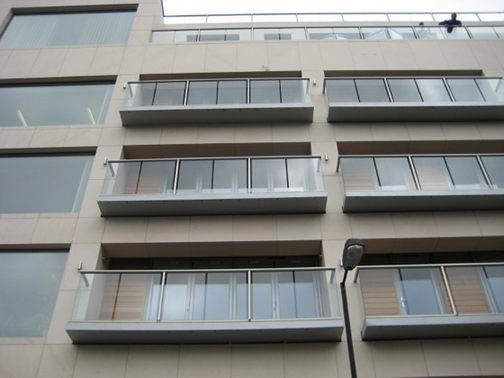 Residential Loading Requirements on Balconies
​