Curved Glass Balustrades in Devon
Curved Glass Balustrades in Devon
Glass Balustrades | Juliet Balconies | Curved Glass Doors | Decking | Projects | Galleries | Articles | Reviews
Mike Webb - Seaton Apartments, East Devon
We were super-impressed with Balconette's service and product
When your home enjoys stunning views along the Jurassic coastline, enhanced by the sweeping curves and clear glass of Balconette's balustrading system, it's clear there are few better places for peace and relaxation than a gorgeous balcony.
Specialists Balconette supplied and fitted their Orbit balustrade on eight luxury apartments in this award-winning, five-storey development on Seaton seafront in East Devon. Echoing the curves of Lyme Bay, the sinuous balconies make a dramatic visual statement on the prominently positioned building.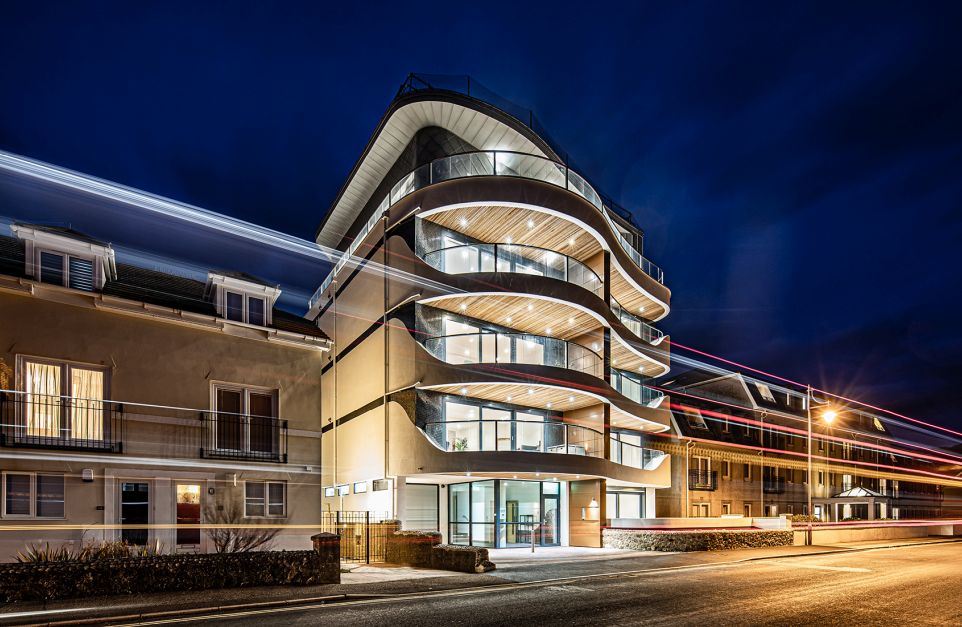 Recently named 'the UK's most sustainable residential new build' by the International Property Awards, the project is also the UK's first multi-block development to be certified Passivhaus Plus. This is a building designed for the future, producing more energy than it consumes, so it is effectively 'carbon positive'. Any extra energy goes back to the grid, and residents get a deemed export payment via the FiT scheme.
In realising his vision for the site, property developer Mike Webb of Seaton Beach Developments Ltd had very specific requirements for the balustrading.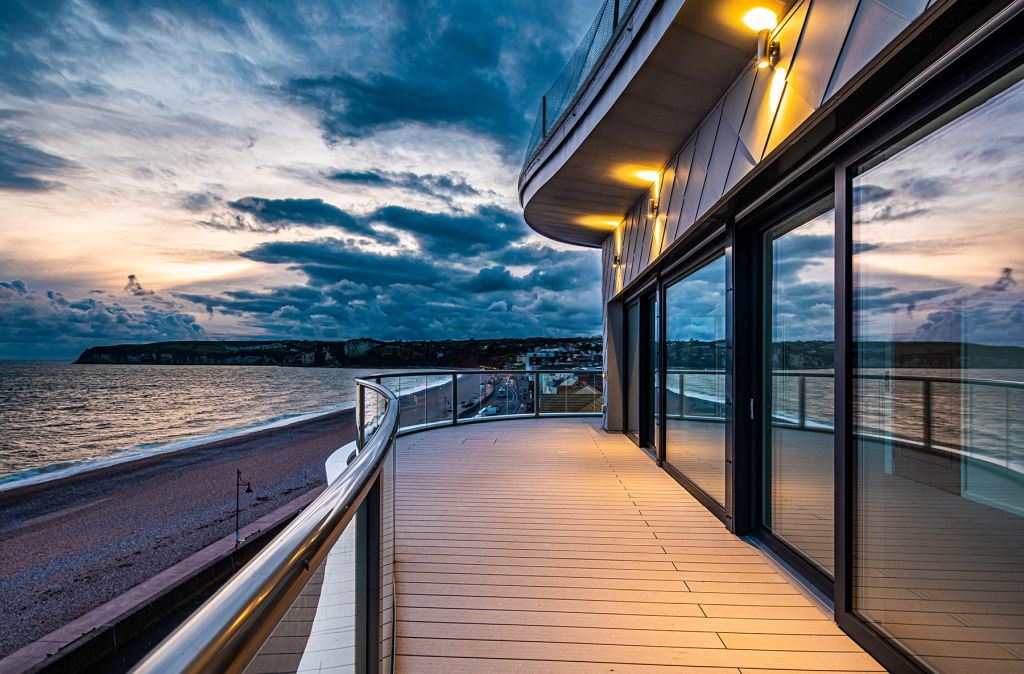 "It was a 'big ticket' item for us because the building has a lot of balconies that cost over £73,000," explains Mike. "Most are south-facing sea view balconies, however the Penthouse had over 63 metres of balustrade with curves and straight sections that provide 360-degree views with a walk around balcony that extends to some 80m2.
"Given the building's position, we wanted to do a really good job in terms of the quality of the finish. Not just for today, but for the longevity of the performance, so we spent a lot of time researching the options. Ultimately Balconette stood out for their professionalism and efficiency with quotations and the ordering process. We were super-impressed with them as a company!"

Mike also visited Balconette's Surrey offices to discuss aspects of the specification process and to see the balustrading first-hand. "We spent time in their showroom working out a solution to a particularly complex detail that we had to think through before we placed the order and they were really good," he continues.
"Balconette's team advised us on features such as their self-cleaning glass coating and, more importantly the anodised aluminium marine grade warranty on the Royal Chrome handrail finish. That's what sealed it for us. It wasn't on price; it was more the quality of the product."
Praising Balconette's expert installation team, Mike adds: "It's the first time we'd used the company and would definitely recommend and use them again in the future. The balconies at Seaton Beach look simply fantastic!"