Advantages of Glass Juliet Balconies
Advantages of Glass Juliet Balconies
Glass Balustrades | Juliet Balconies | Curved Glass Doors | Decking | Projects | Galleries | Articles | Reviews
Glass Juliet vs Metal Grill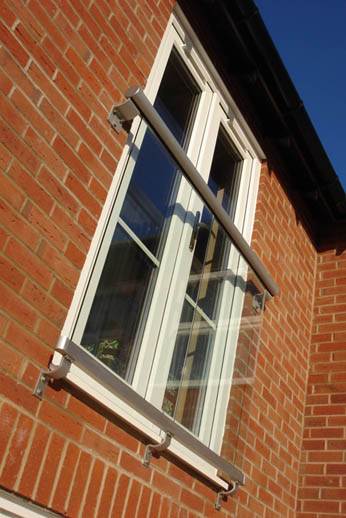 The advantages of glass Juliet balconies to the traditional steel or wrought iron grill type are literally clear. The modern contemporary look of glass balconies, in particular glass juliet balconies achieve a significant advantage on the traditional types of wrought iron ones. This is mainly due to the fact that glass will not obscure your view from the inside, but also will enhance the look of your house or building from the outside. Glass in balconies is considered a relatively modern product. It is very attractive and gives an up-market feel. Glass is modern however you will find that a glass Juliet balcony will suit many building types and ages, from Victorian, Edwardian right up to the ultra-new developments in London.
Less is more appeal
This type of Juliet Balcony combines well with many factors. Clear glass and unobtrusive framework make for an attractive result.
Costs; short and long term
The modern build still utilises the traditional type of Juliet balconies, the ones that are made from painted galvanized steel with vertical bars. The main reason for this is because of the perceived cost saving compared with glass. If you put to one side the aesthetics factor and the disadvantage traditional steel Juliets have to the glass ones, and do a quid pro quo cost analysis you will find that the cost differences on initial purchase are not very large. But then add into your equation maintenance and the scales are topped in favour of the Glass Juliet Balcony which will save you massively on require regular painting, cleaning and replacement costs. This is exacerbated in coastal areas with harsh marine conditions where the traditional and sometimes even stainless steel will need replacing in a short period of time.
Market trends
The market is certainly moving to more eco-friendly and low maintenance solutions such as our Glass Juliet balconies. Both for their contemporary look and low maintenance but also the overall enhancement to the quality of the building. We offer you our Juliet balconies with no posts at all, just clear and polished glass panels with a top and bottom rail. Available in four system options, four colours and ten model sizes you have an amazing 80 options to choose from. if you choose our Fast Track system your Juliet wille be ready for delivery in just 7 days.