GLASS COATING TRADE CUSTOMERS AND DISTRIBUTORS
BALCONANO GLASS COATING | DISTRIBUTORS & TRADE CUSTOMERS
WHY DISTRIBUTE OUR GLASS COATING?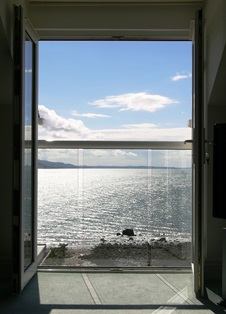 We welcome glass coating distributors and trade customers.
Our BalcoNano® Glass Coating line of products are the exact products we have used since 2008 to turn the glass in our balustrading and railings into self cleaning glass.
What we offer for retail is packaged up as a DIY solution to the annoyances of constantly having to clean glass and similar surfaces, like shower doors, windscreens and windows. Also known as nano coating it creates hydrophobic glass – that is, glass that repels water.
This system uses the latest in nanotechnology to create a coating on glass that makes it so repellent to dirt and mineral build up it has become known as self cleaning.
For more details, see Glass coating-how it works
We also offer bulk containers of in BalcoNano Glass Coating 30 litres and 1,000 litres IBC (barrels). For more details and pricing, please contact us.
This is absolute cutting-edge technology and very few companies have involved themselves in becoming glass coating distributors or trade customers. This is an opportunity to work with and give your customers a far superior product.
WHAT IS GLASS COATING?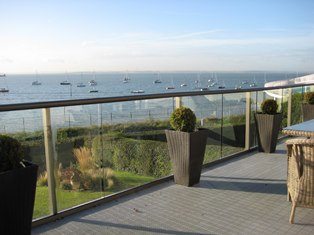 In reality, self cleaning glass has been treated with state-of-the-art glass coating that binds with the surface to create a very smooth finish. Many people do not realise that glass is actually not that smooth. It is pitted and rough when you look at in under a microscope and those imperfections create places for dirt to accumulate and organisms to breed and that is why it needs so much maintenance to keep it shiny and clean. Our glass coating smooths all of that over for about 3-10 years to create a surface that dirt generally just slides off.
We are a respectable company that has been manufacturing and selling glass products directly to the public or via trade customers for many years and have had this product formulated to stand up to the elements and feel we are offering the best on the market. We are very happy to service more glass coating distributors and trade customers.
GLASS COATING AS A GIFT
In addition to selling on to your customers, our BalcoNano® Glass Coating is inexpensive enough that it can be given away as gifts, perhaps as a house warming present, or a thank you for bringing in a new customer and would be welcomed, as this product has many applications around the home.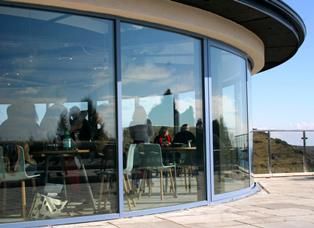 HOW TO BECOME A GLASS COATING DISTRIBUTOR OR TRADE CUSTOMER
This is a very easy add-on product to sell with many construction products like glass, marble or ceramic. With our bulk pricing, we make it easy for you to treat glass, in house.
Note: trade inquiries need to be for a minimum of 500 sachets.
DISTRIBUTION RIGHTS, TERRITORIES AND BRANDING
We can work with distributors and trade customers in many ways. You can promote and distribute our products under the BalcoNano® brand or we can manufacture the same products but under your own label, depending on the country or area you are interested in.
Please contact us with your enquiry and we can discuss the options.
For more information about becoming one of our glass coating distributors and trade customers, please contact us.
IS SELF CLEANING GLASS A DREAM?
Can there really be such a thing as self cleaning glass?
As smooth and perfect as glass may seem, the surface is in fact tremendously pitted. These imperfections and holes fill up and become embedded with dirt, grime, slime, bacteria, calcium and other mineral deposits and that is why windows and shower doors need a lot of cleaning to maintain their brilliance
That cloudy look windows can get is in fact mostly calcium that came from water and got stuck on the surface, after the water evaporated. Also glass continues to deteriorate over time, so is harder and harder to keep clean.
Imagine if you could somehow thoroughly clean glass one last time and then make it self cleaning! While you are dreaming, why not take it a step further and imagine that it could stay that way for a few years without the need to thoroughly clean, polish or work so hard to keep it looking good.
WHAT IS SELF CLEANING GLASS?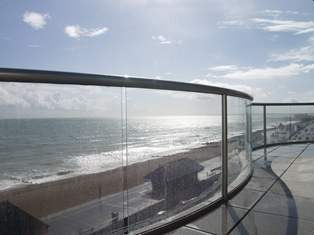 With the latest technology, this dream of self cleaning glass is entirely possible. Our BalcoNano Glass Coating is a transparent shield that is applied to any glass or ceramic surface, giving it a hard and durable water repellent and "self-cleaning" surface. Dirt and other deposits cannot cling to the treated glass surface and either wash away easily or can be simply cleaned with water and a cloth.
What happens is that our glass coating makes the glass water repellent and the water can't get into the pits and valleys of the glass. In fact the water will sit high on the surface and the droplets will tend to curl up and quickly roll away. Dirt, grime, slime, calcium and other deposits will not be able to embed or cling strongly to the surface and will wash away easily.
This is why it is known as self cleaning glass - it does practically clean itself. For more details and a more visual representation of how self cleaning glass works, we advise, watching this film.
THE LIFE SPAN OF SELF CLEANING GLASS COATING
From a practical point of view, if properly prepared by thorough cleaning, your self cleaning glass coating will keep the surfaces smooth and reduce your cleaning cycle by up to 90% for 3-10 years.