Curved Glass Doors - Enviable Quality, Achievable Price
Curved Glass Doors - Enviable Quality, Achievable Price
Glass Balustrades | Juliet Balconies | Curved Glass Doors | Decking | Projects | Galleries | Articles | Reviews
---
CURVED DOORS - END OF PRODUCTION
Please note that due to a refocusing of business priorities and expansion of our balustrade business we no longer manufacture curved sliding doors (the Curvaglide® range).
We continue to offer support to previous buyers of our doors, and all documentation and installation guides are available in the pages linked here.
For our existing Curved Door clients, should you need to contact us, please call 01342 410411, or email enquiries@balconette.co.uk quoting your order details, and we will be back in touch.
---
Installing curved glass sliding doors could be one of the most incredible things you do to your home or project.
But so many people look longingly at such a design; and then settle for something more conventional.
"Too costly" they sigh.
"A nightmare to fit" they mutter.
"You need a real specialist and there's no-one that can supply at a reasonable cost" they think.
We hate to be spoilsports, but they're not quite right.
Curved glass sliding doors by Balcony Systems
A Balcony Systems curved glass sliding door can turn your project into something outstanding, at an achievable price, in enviable quality. Even better, they're deceptively easy to install.
With no less than 6 standard configurations for you to choose from (and of course we'll take on your custom design), our curved glass sliding doors have the potential to breathe magic into your design in a way you never dared imagine.
With so many delighted customers, we have many examples of how well these stunning doors elevate new and existing buildings.
We've supplied Grade 2 listed farmhouses, high profile exhibition centres and stylish private swimming pools. And the one thing they all have in common? The end result is a knock-out.
But it's not just about good looks. Each and every Balcony Systems curved glass sliding door has been developed and created to exacting standards.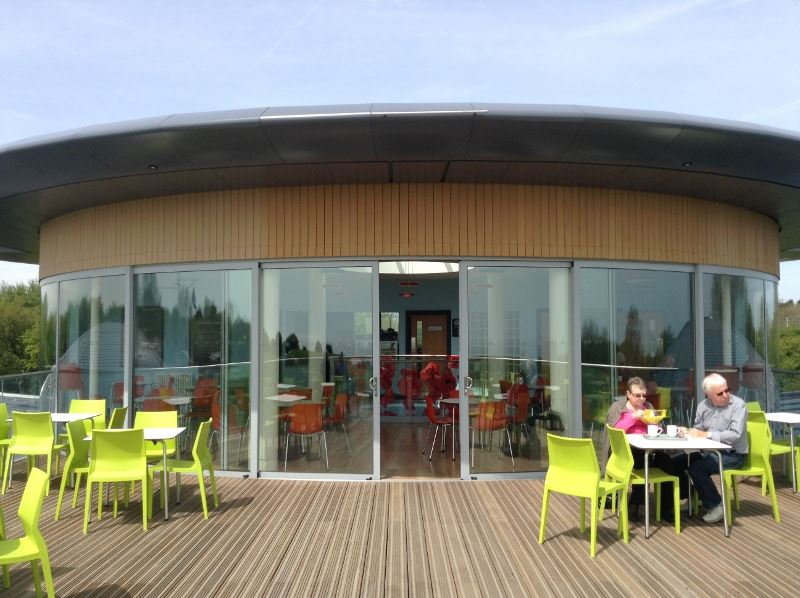 You can rely on:
The reassurance of energy efficiency thanks to the combination of thermally insulated aluminium frames and Low-E double glazing.
Extra light flooding into your home as you enjoy spectacular panoramic views.
Reassuring security thanks to toughened safety glass and multipoint locking systems.
Additional space afforded by the radius of your curved door.
Our unique production technique involves curving the aluminium and glass together for a perfect fit. Tolerances are spot on; there are no sticky spots or draughts for you to worry about. And we'll deliver these doors to your plans – we supply heights up to a lofty 2600mm. Many of our customers have told us we've been the only supplier able to deliver their specifications - "Balcony was literally the only company that could supply the curved elements, which are used to great effect on this bespoke building" (Wildblood Macdonald Architects, Yorkshire).
Many people worry these doors might be difficult to fit. But again this isn't the case; any experienced double glazing installer will be able to fit them for you. We provide full support to all our customers; from detailed installation guides and videos, to one-to-one support if needed. We also have a network of registered partners who can install your curved glass sliding doors for you.
Prices are reflective of the high quality and advanced technology in these doors, but we work hard to make our prices affordable and reasonable. We want for to make these stunning doors abundant and available for everyone. "Curved glass is significantly more expensive than a standard product… but the effect more than justifies that. Costings from other suppliers were higher (in one case by three times), so Balconette is clearly competitive on pricing." Nick Bowman, Epping Forest.
Still think a curved glass sliding door is just a pipe-dream? We hope not. Take a look at some of our completed projects, or call us to talk through your questions.
We're looking forward to helping you make your home or project incredible.