Curved Double Glazing
Glass Balustrades | Juliet Balconies | Galleries |
---
CURVED DOORS - END OF PRODUCTION
Please note that due to a refocusing of business priorities and expansion of our balustrade business we no longer manufacture curved sliding doors (the Curvaglide® range).
We continue to offer support to previous buyers of our doors, and all documentation and installation guides are available in the pages linked here.
For our existing Curved Door clients, should you need to contact us, please call 01342 410411, or email enquiries@balconette.co.uk quoting your order details, and we will be back in touch.
---
Environmental responsibility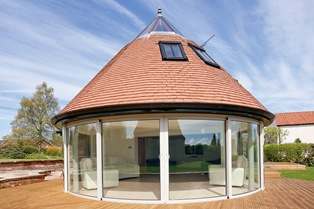 In days gone by, a consumer could make a buying decision based solely on whether they liked the product or not. This has all changed and there are so many different factors to consider and weigh up during the buying process. One of the biggest factors to consider is whether the product will have any environmental impact and being seeing to be green is a huge consideration for many consumers. This is especially true in the double glazing panels market and the impact they can have on the issues that contribute to climate change.
One of the positive aspects of considering the environmental option is that it usually goes hand in hand with saving money, which is enough to convince a consumer of its merits and benefits. Improving efficiency ratings of a home can dramatically reduce the amount of wasted energy, which is essential in driving down costs. Even allowing for the initial outlay of the new product, the long term savings, both financially and environmentally, make the buying decision a worthwhile choice.
Do your bit to lower greenhouse gas emissions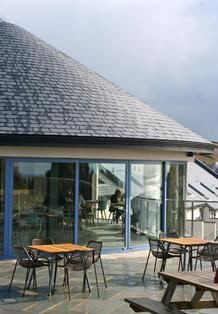 One of the major factors in saving the environment has been based upon reducing greenhouse gas emissions. It is fair to say that the biggest responsibility for this lies with governments and industries but as well as putting pressure on these organisations to evoke change, people can take steps in their own home to reduce greenhouse gas emissions. The work of an individual may not be enough to create enough change to make a difference but if every individual acted, there would be enough of an impact to boost the battle against climate change.
Times have changed (for the better)
The never-ending strive to achieve energy efficient buildings has changed the makeup of glass and glazed units over the last five decades. From single glazed units which had a U value of some 5.6 W/m2K ( U value is a thermal retention/insulating factor- measured in how many degrees Celsius/Kelvin are lost per square metre of surface, therefore the higher the factor the LESS efficient or insulating that element is). Then double glazed units initially achieving around 3.0 W/m2K. With the introduction of part L of the building regulations which required the overall glazing (frame and glass) to be under 2.2 W/m2K double glazing started using coated glass. (Low E). Double glazing is advancing and technologies exist today that can make a double glazed unit achieve as low as 0.6 W/m2K (not triple glazed!)
Curved Glass in Double Glazing
Whilst flat glass and double glazing technologies advance, not all of these can apply to curved glass. Some of the coatings that reduce the U values are applied after the toughening and manufacturing process and therefore cannot be applied to Curved glass. This limits more the scope of coatings that can be applied to curved glasses.
Advantages of Double Glazing.
Double glazed panel improve heating conditions, Double glazing has long been seen as a solution for improving the warmth in a property and to lower the need to run up heating bills. The concept behind double glazing is extremely simple, revolving around two panels of glass being used and the area between the glasses being filled with a gas, which prevents heat escaping from inside the house. Double glazing has long been recommended as a way of improving the heating condition of a home and to hopefully reduce the need to use a central heating system too often.
If you are concerned about heating bills or reducing the amount of heating you use with respect to greenhouse gas emissions, Low-E glass is well worth considering. The glass is clear but it has an extremely thin coat of metal oxide applied to it. This coating ensures that the light and heat from the sun is able to pass through the glass and into the property. However, this coating also prevents heat escaping from the room, which has a considerable impact on the potential heat loss that is suffered in a home.
The larger the glass panels, the more heat and light will be able to enter a house but when it comes to large panels, they are more commonly found in sliding doors. These doors are commonly found leading to garden areas, conservatories, patios and even balconies. Being able to retain heat is important although the nature of sliding doors ensures that they can be opened to allow air to move more freely if required.
Using double glazing or Low-E glass panels on sliding doors can reduce the need for heating to be used on a regular basis. This method is not quite akin to using solar power to heat a property but it is important to make the most of the natural resources that are available to people. The warmth of the sun can be pleasing but with Low-E glass drawing the heat and light from the sun into your home, there may be a notable reduction in the need to turn the heating on at home.
A small big change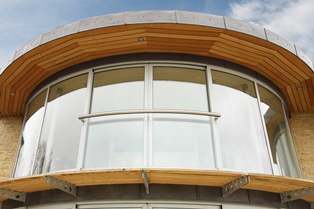 In this sense, there is a high level of thermal efficiency of double glazed panels because they can have a noticeable impact on how a home is run. Anything which lowers the need to use electrical or gas heating but having no notable dip in the heating of a home is of great value financially and environmentally. Making a small change at home may not be enough to change the world but if everyone around the world made similar changes, big changes can occur.
To find out more about our Curved Glass Sliding Doors click here.