Glass doors for patio – letting the outside in
Glass doors for patio – letting the outside in
Glass Balustrades | Juliet Balconies | Curved Glass Doors | Decking | Projects | Galleries | Articles | Reviews
---
CURVED DOORS - END OF PRODUCTION
Please note that due to a refocusing of business priorities and expansion of our balustrade business we no longer manufacture curved sliding doors (the Curvaglide® range).
We continue to offer support to previous buyers of our doors, and all documentation and installation guides are available in the pages linked here.
For our existing Curved Door clients, should you need to contact us, please call 01342 410411, or email enquiries@balconette.co.uk quoting your order details, and we will be back in touch.
---
Pure added value
Glass patio doors are a great way to get full value from your home and the area around it. Whether these doors lead onto a decking area or the garden, these full height curved doors are a great way of maximising the amount of light and air that can be brought into the house. This means that as well as providing a quick connecting section between the inside and outside of the home, it allows the outside in to the house.
Although patio doors may be more commonly associated with decking on the ground floor, if you have a balcony, they can be easily installed in a bedroom. If your bedroom gets the sun in the morning, there is no better or more natural way to be awoken than by natural sunlight and patio doors can ensure this light fills the room. It may also encourage people to have breakfast in bed while reading the papers, which is the perfect start for a lazy Sunday morning.
Although more expensive than flat patio doors, curved doors will be worth the extra expense by adding he pure wow factor and value to your property.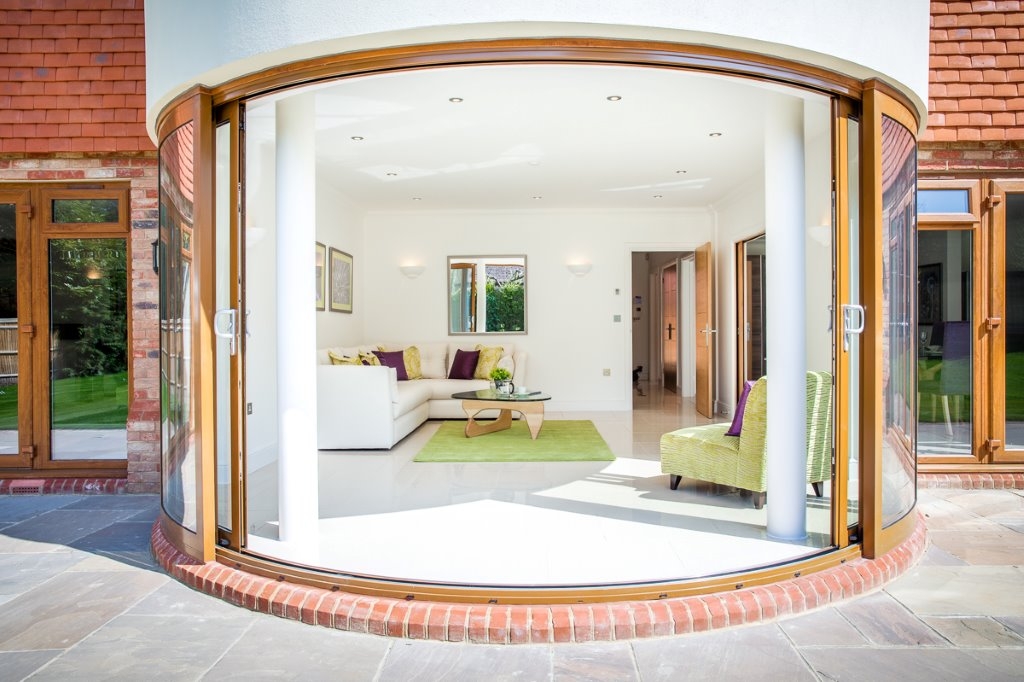 Natural light is a great addition
One of the best things about patio doors is that they allow for a great amount of natural light to come into the house. If you are fortunate enough to have a house that receives a lot of natural sunlight, it makes sense to make the most of it and patio doors are a great way of harnessing the light and heat from the sun.
The connecting door also makes it easier to move between the areas, which can add to the occasion when socialising with friends. When the weather is suitable, spending times with friends on the patio is a great way to catch up and mingle but having patio doors ensures that quick access to the house could be had. This leaves the outside area tidier and ensures the food and drinks remain chilled, which is always of benefit when having a party.
When it comes to increasing the lighting in a room and creating a talking point amongst friends, curved patio doors are an ideal addition to the home. The increased glass area allows more light to flood into a room without compromising on safety or quality. Not only that but the look and finish of the curved patio doors will stimulate conversation amongst guests as well as being a great addition to any stylish home or property.
Glass doors bring vibrancy
A major reason for having patio doors is that they help to create freshness in the home with so much air being allowed to circulate. Air freshener companies spend a lot of money on promotional campaigns telling people of the benefits of fresh air and how it can brighten up a room but the opportunity to have the real thing is available to many people. Using patio doors can bring freshness to your home that can be of great benefit.
Good for children, pets and people with allergies
Fresh air circulating around a room is great for families with children or small pets as it provides them more air from the outside. If anyone in the home suffers from allergies, opening patio doors and allowing air to circulate can provide a great benefit for sufferers although people who suffer from hay fever should ensure they take any medication in case the pollen count is high.
When it comes to children or pets in the home, there is always the need to combine safety with the style of the home. This means that glass railings and balustrades can feature heavily in a home. Many people are choosing to install a handrail or fitting at the top of any glass railing or balustrade to increase the safety element of the partition but it is possible to find models that are fashionable. There is no need to compromise between safety and style when redesigning your house, which means you can have the glass railings or balustrades you dream of and still protect everyone at home.
It is easy to see why patio glass doors increase the value and comfort of a home, making them an ideal purchase if you have the space and budget. There are few things in life more pleasurable than basking in warm sun and with patio doors; you can do this from the comfort of your bedroom or living room. Getting the best of both worlds is not something that is readily available but when it comes to installing patio doors, people can experience the best of the outside, inside!
Curved Juliet Balcony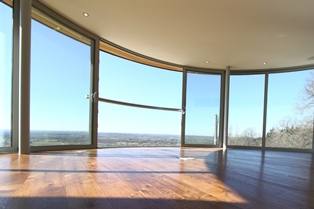 One great way to let light into a room is to introduce a Juliet balcony to your home. This shallow balcony allows windows to be replaced with patio doors, which allows for a greater degree of sunlight and airflow to enter the home. Curved glass doors can be supplied with a curved Juliet glass balcony to suit.