ARE THERE LIMITATIONS TO THE SIZE OR LENGTH A CURVED DOOR SET CAN BE MADE?
---
CURVED DOORS - END OF PRODUCTION
Please note that due to a refocusing of business priorities and expansion of our balustrade business we no longer manufacture curved sliding doors (the Curvaglide® range).
We continue to offer support to previous buyers of our doors, and all documentation and installation guides are available in the pages linked here.
For our existing Curved Door clients, should you need to contact us, please call 01342 410411, or email enquiries@balconette.co.uk quoting your order details, and we will be back in touch.
---
Are There Limitations to the Size or Length a Curved Door Set can be Made?
​
Curved Glass Patio Door Size Limitations
We have developed a large variety of options and models to choose from. These models combine between sliding and fixed panels. In this way very large openings can be made. We have made door openings of 19.0m in curved length. Please contact us to discuss your requirements and we can help design the best combination for your needs.
​
Related FAQ Videos: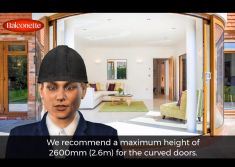 ​
What is the Maximum Height You Can Make Your Curved Glass Sliding Doors?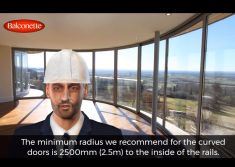 What is the Minimum Radius You Can Have in Your Curved Glass Sliding Doors?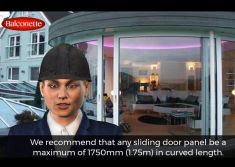 What Size of Curved Sliding Door Panel do You Recommend?
Related Links for Further Information:
Technical SpecificationsCurved Door Size Options
Get a QuoteGet a BrochureBack to Curved Doors FAQs