---
Curvaglide® Curved Glass Sliding Doors – Frequently Asked Questions
Our Curvaglide® doors are designed to be easily installed; however, if you require a full supply and install solution then, depending on the size, scope and location of the project, we do have installation teams who are able to install your curved doors. We also have a network of registered installers & partners around the country. Please enquire specifically with details of your requirements.
We have many delighted customers that have bought directly from us, some have installed themselves, some have used their builder and some have used other experienced tradesmen. It's really down to what you feel comfortable with. Whichever way you choose we will ensure your project is a success and that the curved doors fit and add that special quality and aesthetic to your property that only Curvaglide® Curved Glass Doors can.
We have a very good and streamlined technical process to ensure dimensions are correct and that everything suits and fits. In the majority of cases where we 'supply only', the customer conducts the survey and this is achieved in liaison with our technical team. If however you require a site survey we can, in most cases, accommodate. Please enquire with our sales team. This will be an additional and paid service.
There is also an option to order a formed template made from a laser cut aluminium sheet that will represent the exact shape and length of the curved tracks. This can be used to check sizes and also give guidance to other trades on site for the exact dimensions of the curved doors that will be manufactured.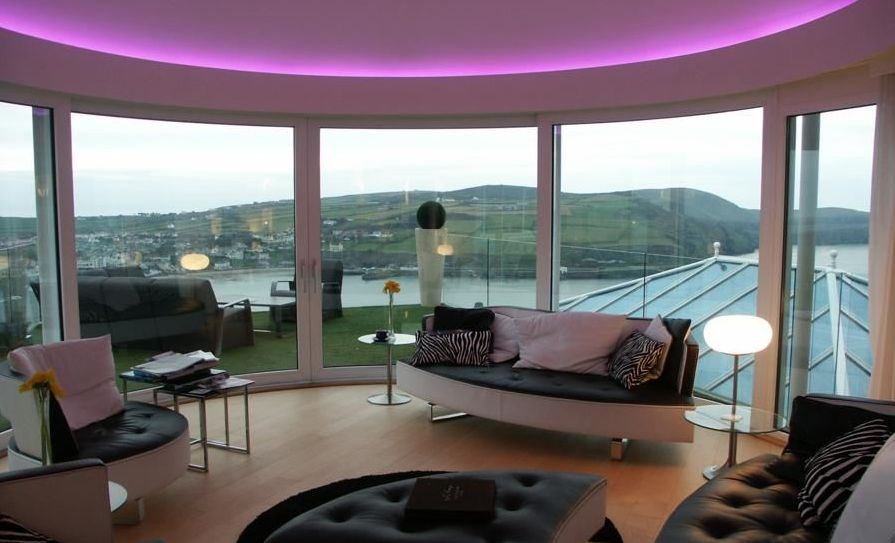 The Curvaglide® curved doors can usually be powder coated to any standard RAL colour. Powder is not always available for every colour or gloss level required, so best to check with us and we will be able to confirm availability. Some colours can be powder coated in extra durable marine grade powder coating which will be the ideal option for doors required in a seaside or marine environment.
Yes, we call this "dual colour" option which means the outside of the profiles are powder coated in a different colour to the inside parts. This option is of course more expensive than a single colour.
The minimum radius we recommend for the curved doors is 2500mm (2.5m) to the inside of the rails. We can actually manufacture to a minimum of approximately 1600mm; however, radii that are smaller than 2500mm affect the smoothness of the operation on the curve and can make the doors too tight.
We recommend a maximum height of 2600mm (2.6m) for the curved doors. We have manufactured curved doors to just over 3000mm (3.0m) but more factors need to be considered for doors taller than the 2600mm recommended height, so please enquire with us if you need them higher than this.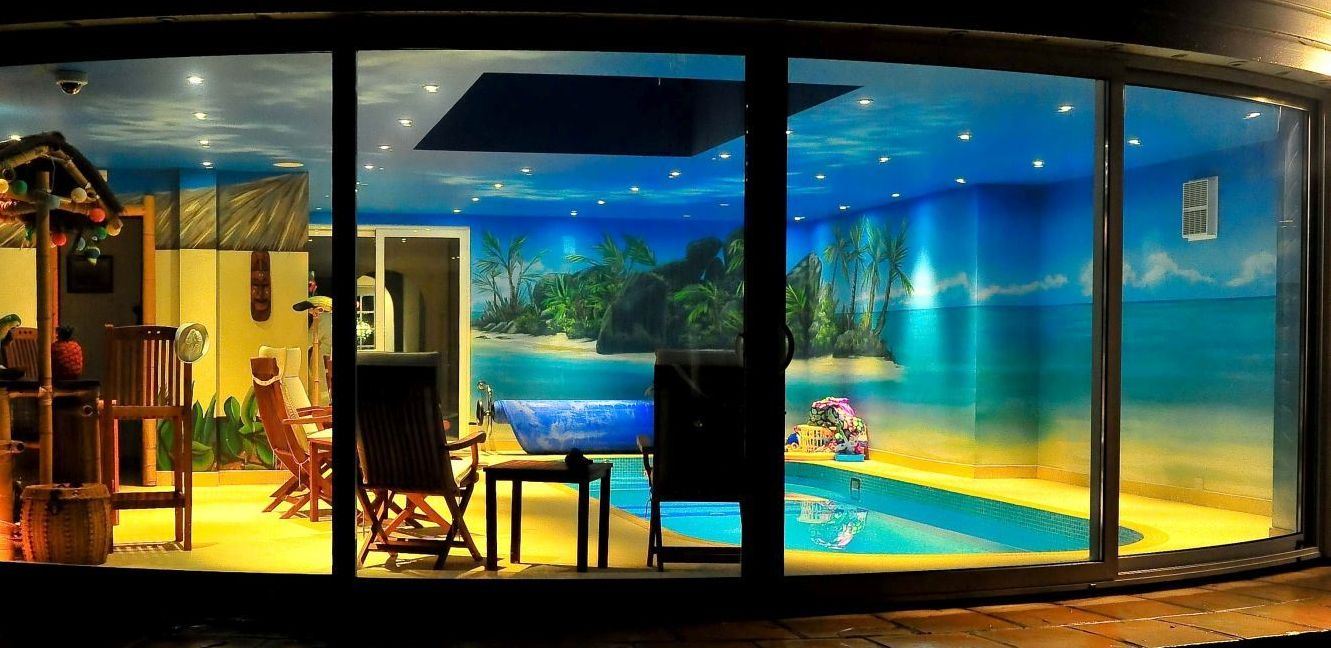 In terms of the double glazed panels specifically, the maximum size we can manufacture in the tempering furnace is 2500mm (2.5m) girth (curved length) by 3000mm (3.0m) height. Such a double glazed glass panel made from two plies of 6mm toughened glass on each side would weigh 225 Kgs.
Yes, the bottom sliding track can be designed to sit flush with the inside of the internal floor height. This can be done with either a step down to the outside, or by building it flush with the outside. The drainage and installation sequence must be taken into account and we can assist with technical details to achieve both options.
The manufacturing period for Curved doors/windows, from agreed and signed manufacture drawings, is between 70 and 90 working days.
We recommend that any sliding door panel be a maximum of 1750mm (1.75m) in curved length. This is the ideal maximum length for good movement of the doors.
We have developed a large variety of options and models to choose from. These models combine between sliding and fixed panels. In this way very large openings can be made. We have made door openings of 19.0m in curved length. Please contact us to discuss your requirements and we can help design the best combination for your needs.
Yes, the aluminium profiles are thermally broken giving that extra thermal insulation to your building.
Our doors are supplied with a Yale multi-point locking mechanism. You can choose to have this with a key on both sides or only on the inside. More details on the type of lock and additional information can be found here.
The glass supplied in the Curvaglide® doors is 28mm high performance double glazing. We use SunGuard SuperNeutral SN51/28 by Guardian. The makeup of the glass is 6mm toughened safety glass on both sides with a 16mm argon filled cavity.
Yes, we can supply a special makeup of one side having 8.8mm laminated glass and the other side 6mm toughened safety glass with a 16mm argon filled cavity.
The centre pane U-Value of the curved double glazing in our doors is 1.0 W/m²K.
Yes, the glass supplied with our curved sliding doors is toughened safety glass on both sides of the double glazing.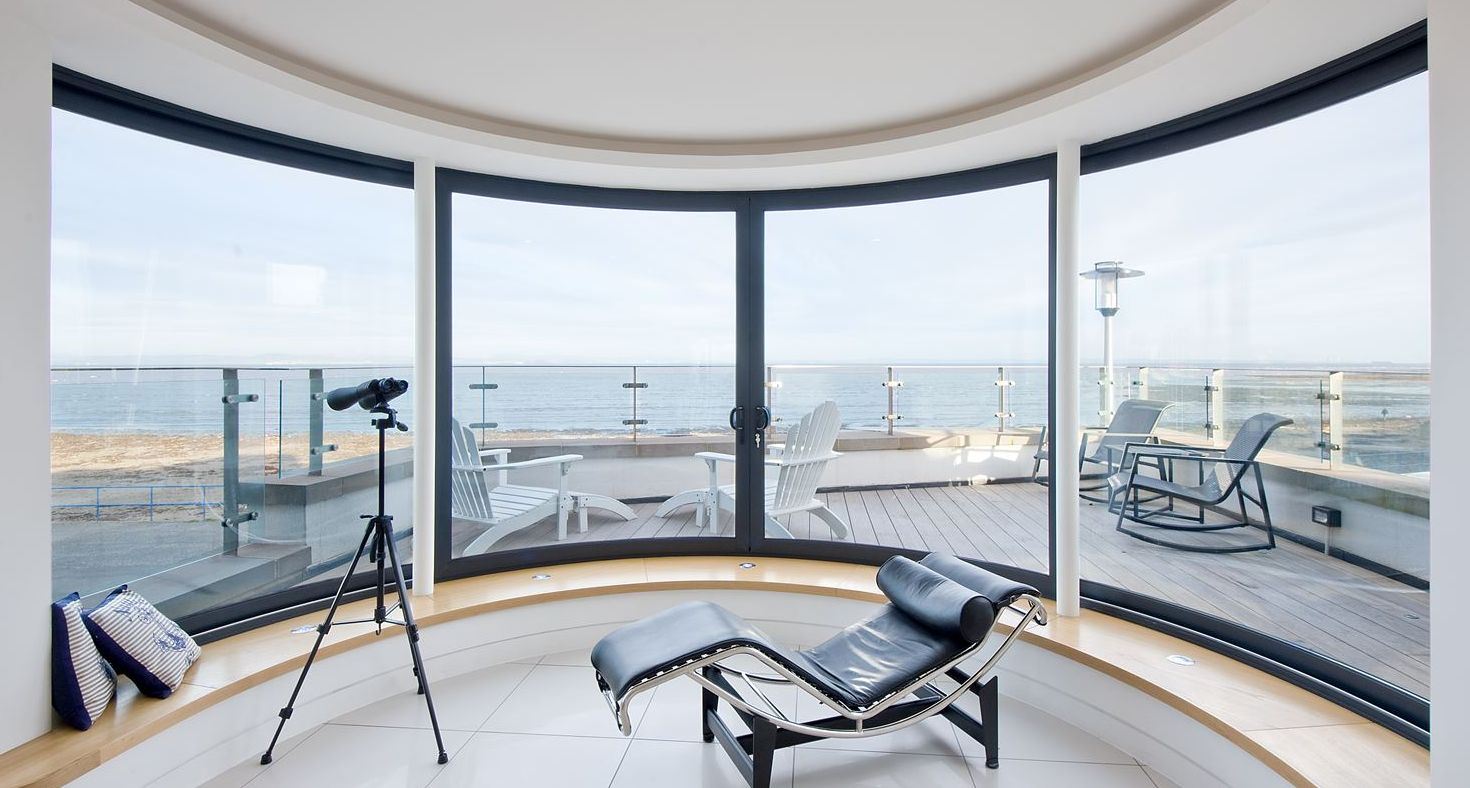 A U value is a measure of heat loss in a building element such as a window, door, wall, floor or roof. It measures how well parts of a building transfer heat. The lower the U value the better the thermal performance of that element, meaning it loses less heat. The units are measured in thermal conductivity and designated in Watts per square metre required to change one degree centigrade (or Kelvin). In simple terms try to imagine it as how much heat you lose to the outside of your door/window. The higher the number the more energy you are losing.
Low-E literally means low emissivity, which in turn means a surface that emits low levels of radiant heat. All surfaces reflect, absorb, and transmit heat. So, a Low-E coating reduces the amount of that heat transfer. Low-E glass is therefore glass that emits less heat and keeps the heat better inside the home.
We do not normally provide a sill, however if required we can provide one at an extra cost.
No, it is not possible to supply a trickle vent on curved frames and so we do not supply these on the doors.