Glass Balcony Systems in the UK
Glass Balcony Systems in the UK
Glass Balustrades | Juliet Balconies | Curved Glass Doors | Decking | Projects | Galleries | Articles | Reviews
Glass Balcony Choices
Your glass balcony choices are many. Here is a quick rundown on how to select, according to your specific needs and budget.
First of all, what is known as a glass balcony is actually a glass balustrade (upright low wall) which is sitting on a balcony. If it were really a glass balcony, even the decking would be made of glass.
Below are more details on your options and their prices.
Glass Balcony Pricing Overview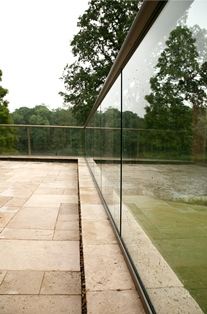 Generally speaking, the less metal supports for the balustrades, the more expensive and heavy the system, due to how thick the glass needs to be, when it is only supported at the base. However, the advantages of an all-glass balustrade is that there are no interruptions to the view and no limit to the width of the overall glass balustrading. A totally frameless glass balustrade begins at £433/meter plus VAT.
At the other end of the spectrum, our most economical glass balcony starts at £199/meter and has an unobstructive handrail and minimal upright posts, both made of anodised aluminium, which are lightweight and come in different colours and finishes. Due to the strength provided by the handrail and upright supports, the balustrading glass can be a lot thinner and lighter, so the underlying structure need not be so strong, so costs less.
The Most Popular Glass Balcony Systems
Our glass balconies come in various shapes and sizes, including custom-curved models, but in reality, our most popular balustrades are our least expensive and are extremely attractive.
Our top-selling glass balcony systems include railings and infrequent upright supports made of anodised aluminium that is finished to look like "stainless" steel. However, due to the innovative finish, our products are truly stainless and virtually maintenance-free.
By far the most popular version of this glass balustrading system is known as "Bal 2". This has an aerofoil modern handrail, as you can see in this photograph and fits perfectly in the more modern buildings that tend to be built using glass balconies today.
For more information on every possible option that might be practical for your current project, please call 01342 410411 to speak to one of our friendly experts today!