Glass Decking Panels
Glass Balustrades | Juliet Balconies | Curved Glass Doors | Decking | Projects | Galleries | Articles | Reviews
Glass decking panels are an attractive and practical way to complete or update your decking. Giving you uninterrupted views, good looks and excellent safety credentials, they're also durable, easy to maintain and protect your decking from the weather; fitting glass decking panels lets you spend more time enjoying your decking than cleaning or maintaining it.
Balconette's glass decking panels come with a minimum of 10mm thick safety glass, a 10-year guarantee on the balustrade profile finishes and easy-to-follow installation guides on downloadable PDF and video. They're easy to fit, making them an excellent choice for anyone keen to avoid the cost of using a professional fitter.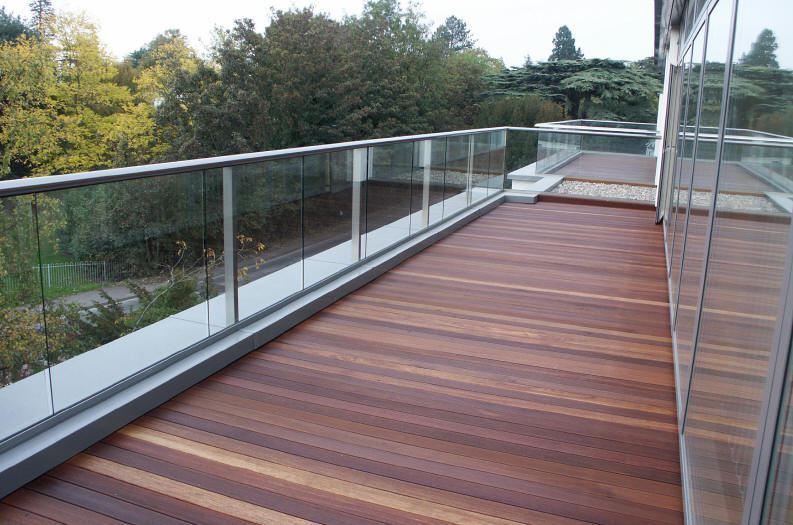 Choosing your decking panels from Balconette means more than choosing a company with an enviable quality guarantee. It also means you can choose from a wide range of styles and finishes:
Traditional Glass Decking Panels
Get the reassurance of sturdy anodised aluminium handrails and posts when you choose one of our traditional glass decking panel options. The fixings are neatly hidden away, so unlike glass decking panels you may have seen with other suppliers, there are no visible lugs or screws, just clear glass panels showing off the view beyond.
You can choose from two handrail systems; the circular "Orbit" handrail and our bestselling "Aerofoil" handrail system.
The "Orbit" system has a classic cylindrical handrail and post system that suits a classic look and puts the focus on your property and its surroundings. This glass decking panel system allows 1.9m of glass between posts, and up to 3.3m of uninterrupted glass if the system's handrail can be fixed between two walls.
The "Aerofoil" system is a more modern-looking handrail with square posts. As our bestselling choice of handrail, it looks slick and modern and complements contemporary builds with its sleek lines. This glass decking panel system allows up to 2.1m between posts and up to 4.0m of uninterrupted glass if the system's handrail can be fixed between two walls.
Frameless Glass Decking Panels
For an ultra-modern and unobtrusive look, increasing numbers of homeowners, architects and builders are turning to frameless glass decking panels. Frameless glass decking panels give you the safety and security you'd expect from traditional glass decking panels, but with the joy of completely uninterrupted views.
Zero posts, zero visible fixings and flexibility with the widths of your panels; you can enclose your decking area with confidence and style. You can choose between frameless glass panels with and without a handrail. Handrail options lend themselves to busy decking areas, and to properties that look over a stunning view – the reassurance of leaning gently onto a handrail feels more comfortable to many.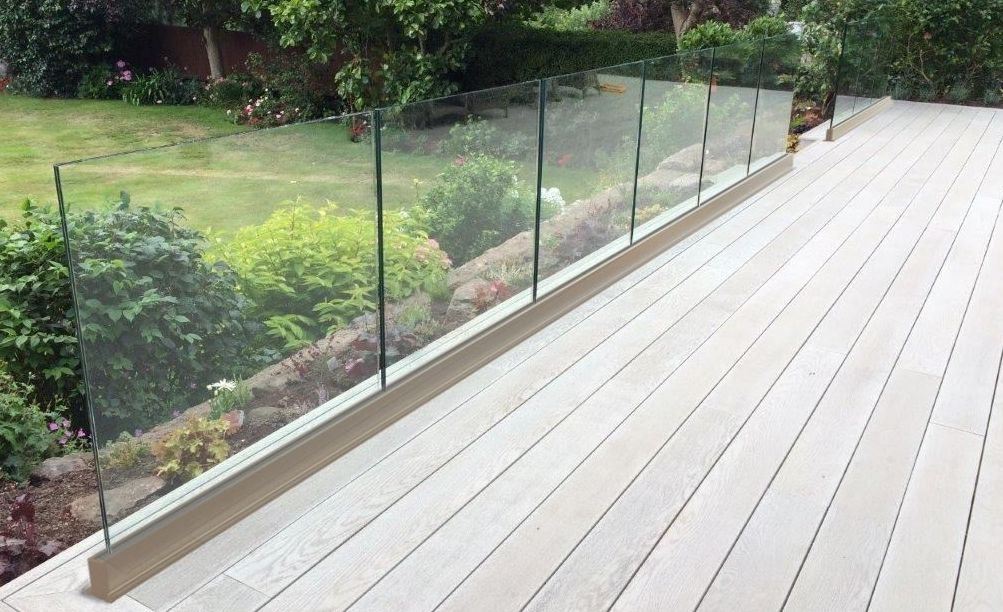 ​
More Options with Glass Decking Panels
As well as the good looks, sense of spaciousness and security you get with glass decking panels, choosing your balustrades from Balconette means you get a range of options that you might not have expected.
Add Colour
With clear, blue, bronze, green and grey glass tints, you can use your glass decking panels to complement your surroundings. You can also create an individual appearance with one of four finishes for the handrails; Royal Chrome anodised, silver anodised, bronze anodised and white powder coated. You'll be able to make your decking panels your own.
Enjoy Some Privacy
Decking areas can sometimes feel quite exposed, especially if they overlook a public space such as on a coastline or riverbank. You can increase your privacy by fitting satin finish glass to obscure your decking area from curious passers-by. You can also choose to install a privacy screen on parts of your decking; taller than the rest of your decking panels, these privacy screens create an unobtrusive wall to help turn your decking area into a peaceful sanctuary, even if you're next to a public footpath or close to nosy neighbours.
Easy Cleaning
Ask us to coat your glass panels with BalcoNano® self-cleaning coating and you can feel smug in the knowledge that your glass-cleaning days are over. This clever coating is invisible to the naked eye and stops dust, dirt and watermarks from spoiling your lovely clear glass panels. So instead of seeing dusty or dirty glass whenever the sun shines, you'll be able to enjoy your beautiful view instead. And if little fingerprints or wet noses find their way onto your glass decking panels, a wipe with a wet cloth or sponge is all you need to put things right. No chemicals, squeegees or elbow grease required.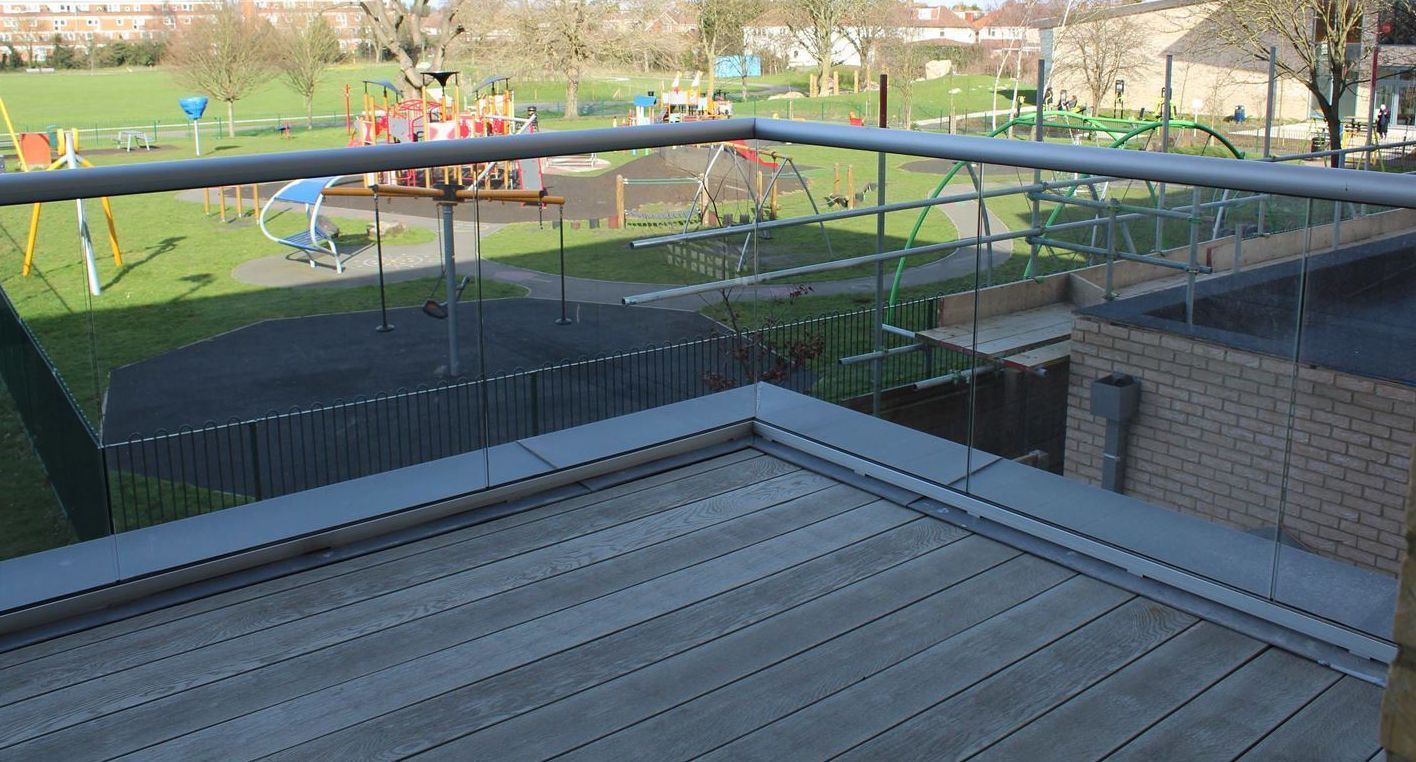 ​
See our complete range of glass decking panels and get ready to transform your decking.