Aerofoil Glass Balustrade in Lincolnshire
Aerofoil Glass Balustrade in Lincolnshire
Glass Balustrades | Juliet Balconies | Curved Glass Doors | Decking | Projects | Galleries | Articles | Reviews
Jason and Caroline Sadler - Lincolnshire / Cambridgeshire
Our Balconette glass and aluminium balconies fit in with the modern theme
Striking glass balustrades supplied by Balconette add extra external space while opening up extensive countryside views at this unique self-built home in a rural location on the Lincolnshire/Cambridgeshire border.
Construction of the four-bedroomed home near Peterborough took three years and it was completed in March 2020 just before the first national lockdown.
To obtain planning permission on the three-quarters of an acre empty plot, owners Jason and Caroline Sadler engaged local architectural practice Studio 11 Architecture to assist in the design and adhere to Paragraph 55 (that then evolved to Paragraph 79) for their dream eco-home.
Paragraph 79 of the National Planning Policy Framework (NPFF) allows new dwellings to be built in the countryside where they are innovative or of exceptional quality of design and fit into the local 'vernacular'.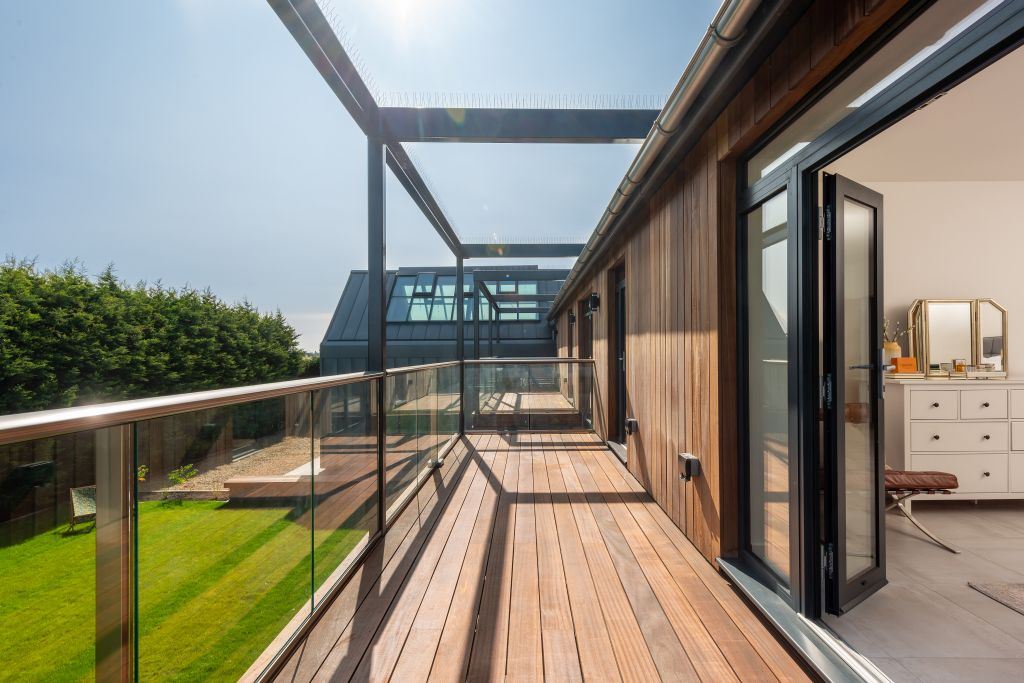 "We found an architect with experience of dealing with sites in the open countryside to fulfil the requirements of Para 55, which states that the design has to be truly outstanding," explained Jason. "For us, it was all about providing an eco-home that is an A-rated building, very thermally-efficient and fully insulated."
Outlining their 'modern approach' to the property's design, Kris Baxter, Director at Studio 11 said: "We pick materials and basis vernacular architecture from the area, so given that the house is close to farms and farmland in the open countryside, we have used a mixture of stone and steel panelled cladding with a traditional slate roof. The glass balconies are exactly what we envisaged, and they enhance the modern look."
Balconies were a key part of the architect brief to make the most of views over the Lincolnshire countryside and create more outdoor space off the bedrooms. The couple had found Balconette via an internet search and cross referenced their research on the company's social media channels.
Preferring the comfort of a handrail to lean on, they opted for Balconette's innovative Aerofoil Glass Balustrade System with its wing-shaped handrail in Balconette's proprietary Royal Chrome finish. A total of 23 metres of glass balustrading was installed for two main balconies, with outstanding results.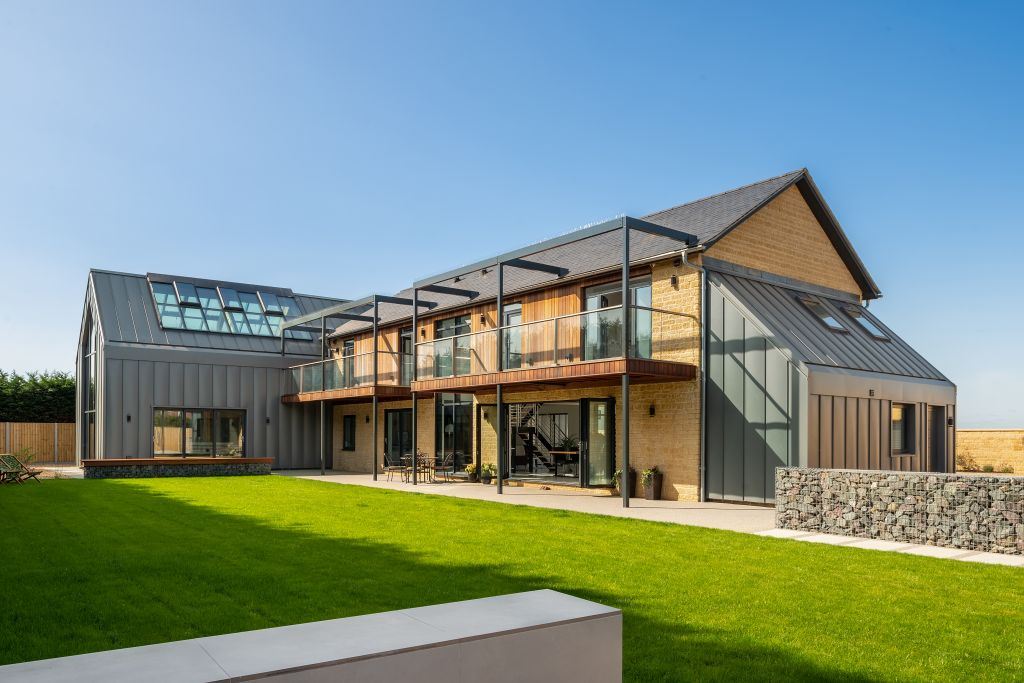 This unusual installation involved designing seven straight sections of the Aerofoil Glass Balustrade system to help create the spacious and enjoyable balconies. This system was designed to be attached to both the steel support posts and the brick wall.
Praising the 'simple lines' and 'continuous clear glass' character of the Balconette product, Jason said: "The Aerofoil design was perfect for us; it fitted the bill, and I liked the style of it. We wanted to keep the minimalistic look, so it was good to use glass and aluminium on the outside. It fits with the modern theme."
In 2019, builder James Sterry-Blunt, Managing Director of Ciantia Ltd, took over to complete the build and installed the balconies, which he found 'very straightforward', adding: "This is the first time I've used Balconette's glass balustrade products and I'm very impressed with them; they complete the external appearance of the house nicely, look modern and let in lots of light."
On Balconette's service and delivery, Jason highlighted the efficiency of Balconette's team that ensured their order was delivered complete and on schedule, concluding: "It came on the day it was supposed to and everything was there. Overall, I am extremely impressed!"