Roof Terrace Balustrade
Glass Balustrades | Juliet Balconies | Curved Glass Doors | Decking | Projects | Galleries | Articles | Reviews
Our roof terrace is the 'envy of our friends'.
A large kitchen diner extension topped with a generous roof terrace and curved glass balcony supplied by Balconette has opened up spectacular rural views for Andie Gardiner and Shaun McCarthy at their 1930s homenear Bristol.
Keen to echo the property's Art Deco feel, the couple incorporated a curve at the end of the room as they wanted 'something a bit different that didn't look too conventionally modern'.
"We love Art Deco design and the extension reflects this look," begins Andie. "It has given us a brilliant kitchen with more space, including having a dining table. Creating a curve raised a few questions from our builder, but the end result has been well worth it."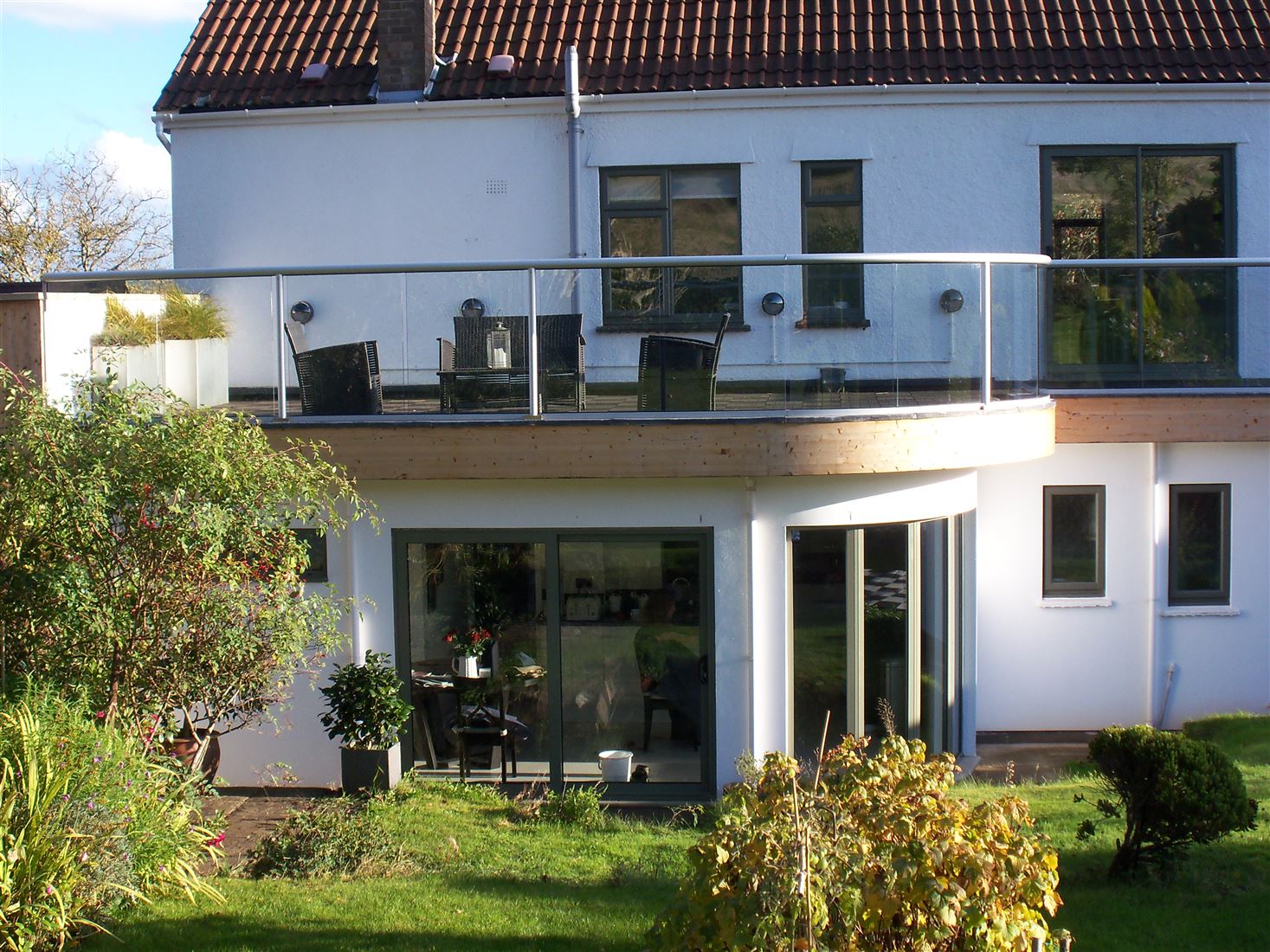 Following the extension's shape above is a terrace with a curved balcony accessed via French Doors from the first floor landing. "In the summer, the balcony captures the last rays of the sun before it goes down over the hill, which is wonderful," continues Andie. "When the sunshine is gone from the garden, we've still got it on the balcony."
Andie and Shaun chose Balconette after extensive on-line research of balustrading firms and praised the company's options as 'outstanding'. "They gave us everything we wanted – and at an affordable price. Balconette was the perfect answer because we wanted a curved balustrade.
"Balconette provided our builder Alex Moss with extensive and thorough support during the specification and ordering phase of our large and geometrically complex roof terrace project. He was very impressed by their technical team's concern to get every detail right," says Andie.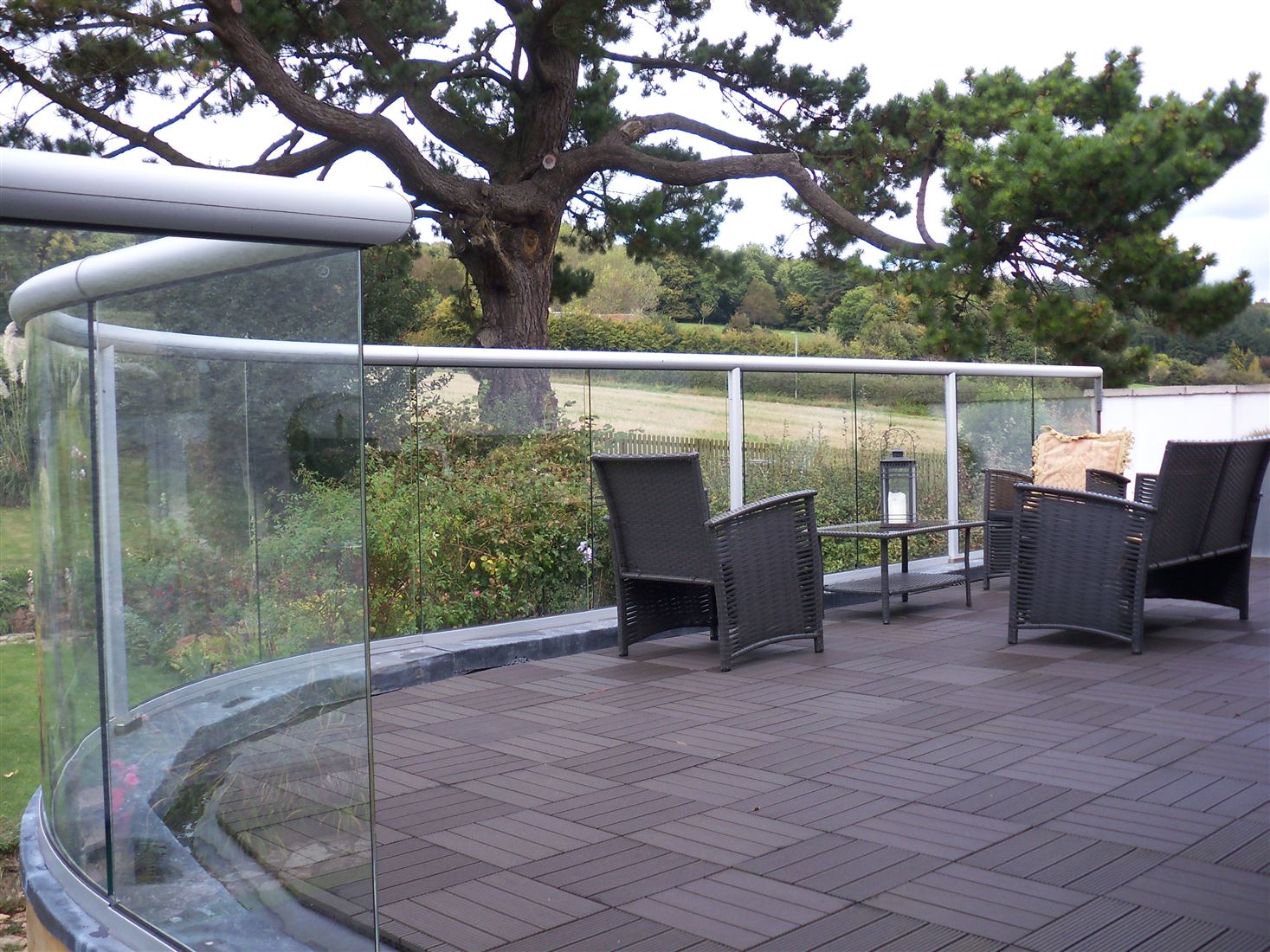 Glass was an important element in their balcony choice for keeping the views over surrounding fields. An extra benefit is protection from the prevailing south-westerly winds.
Measuring more than nine metres long, the balustrade goes round a wide 90 degree curve followed by two 90 degree right-angle joins. All the components arrived on time and 'in perfect condition, having been well-packed in protective packaging', notes Andie.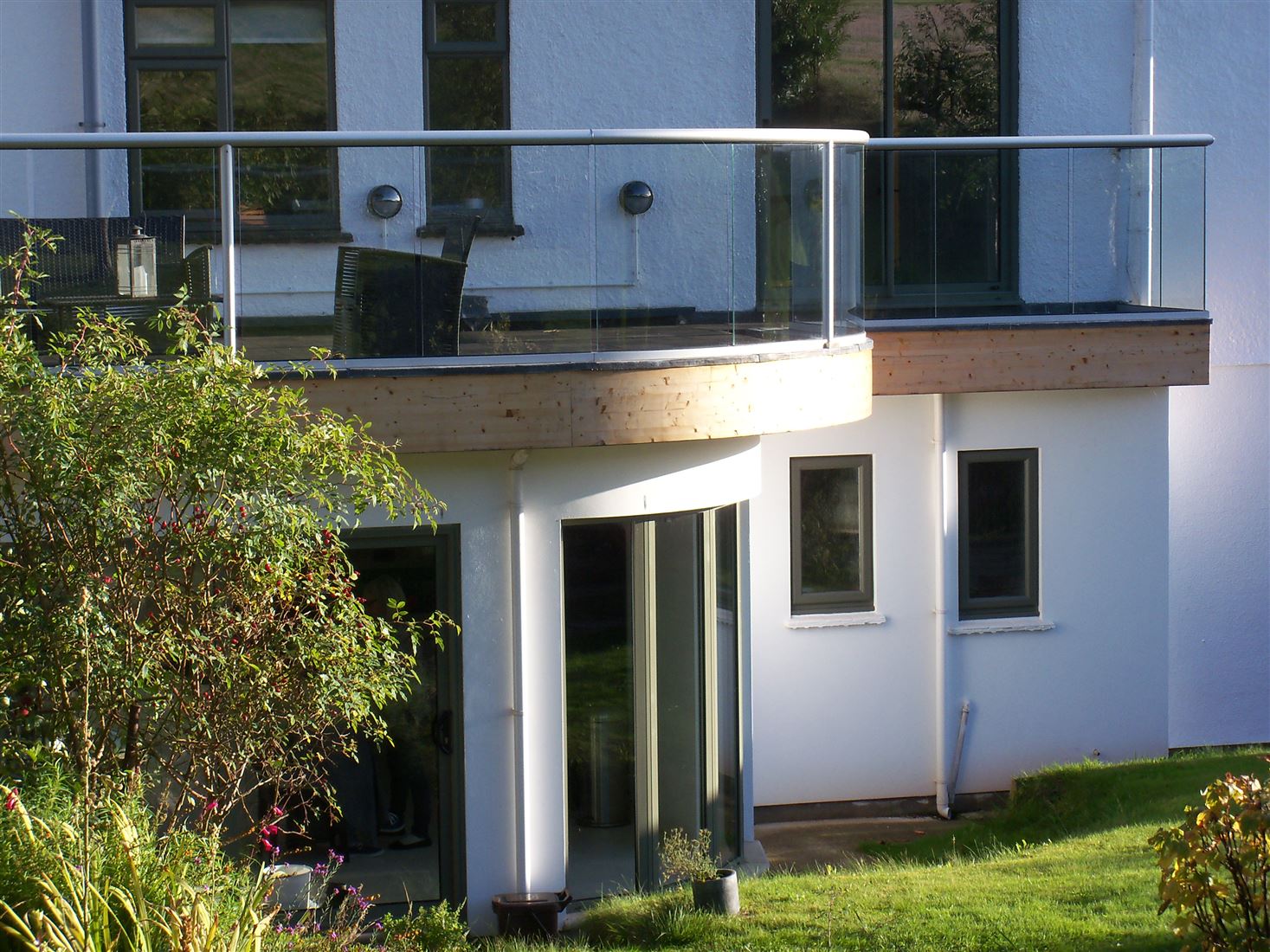 Shortly after their 'grand opening' – at which their guests were 'genuinely impressed by the quality of the balustrade' and the effect it created as part of the overall architectural impact of the house, the couple endured several nights of storms. "The balustrade never even wavered in the onslaught," confirms Andie.
Having enjoyed their terrace for a full summer, the couple are delighted with their 'high quality glass and metal balustrade system that fitted together perfectly', adding quality and value to their home.
Andie concludes: "The finished effect is practical, durable and architecturally striking. We have a roof terrace that is the envy of our friends and definitely delivers the 'wow' factor. Balconette delivered a first class product and support and design service.
"We have absolutely no hesitation in endorsing Balconette as a provider of high quality bespoke building systems that repay any investment."