Adding a Glass Balcony in Hampshire - Case Study
Adding a Glass Balcony in Hampshire - Case Study
Glass Balustrades | Juliet Balconies | Curved Glass Doors | Decking | Projects | Galleries | Articles | Reviews
Winchester, Hampshire
Developer: Self Build Refurbishment
A clear glass balcony extension has transformed the way John and Julie Tunnicliffe use their 1960's 'upside-down' Winchester home. At over five metres wide and between two and three metres deep, the tapered balcony is another room large enough to host a dinner party for six in comfort - achieved for the cost of a small family car.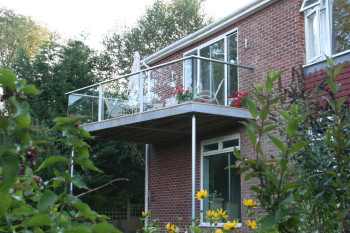 Preserving uninterrupted views over the countryside was of paramount importance. Having dismissed alternatives such as wood or iron spindles, the couple chose a low-maintenance glass and aluminium balustrade system from Balcony Systems Ltd.
"A great design at a reasonable price," says John. "Wood and iron are self-defeating as the view is obscured by the spindles, so glass is a great alternative."
"As the kitchen and living rooms are upstairs, a two-storey extension was required to enlarge our galley-style kitchen. Adding the balcony to the extended kitchen provides us with another area to dine, relax and have fun, while taking advantage of the hillside views."
Comprising a galvanised steel structure supporting timber floor joists and decking, the £6,000 balcony was constructed in just four days. A 'lightweight' solution with a thin profile, as opposed to traditional bulky brick pillars, was chosen to preserve light to the new master bedroom below.
John and the carpenter installed the balcony balustrade in a single day. "Installation was very straightforward, even for two 'inexperienced novices', but the results are wonderful," enthuses John.
At around a third to half the cost of structural glazing, the Balcony balustrading system is a cost-effective and aesthetic alternative. Instead of posts and structural glass, the aluminium hand-railing provides all the required strength and support, meeting all the relevant Building Regulations.
"With easy access from the kitchen, it is just as easy to serve a meal outside as it is inside," concludes Julie. "The balcony has utterly changed the way we use our house, as well as giving us a completely new perspective on the garden. Drinks on the balcony, watching the sunset has now become a standard feature of our life."