Balconette's 'Grand Design on an epic scale'
Balconette's 'Grand Design on an epic scale'
Glass Balustrades | Juliet Balconies | Curved Glass Doors | Decking | Projects | Galleries | Articles | Reviews
Slinfold, West Sussex
Contractor: Southgold
Developer: Lodgecrest
Nestled in the West Sussex countryside, this spectacular new residence built by developer Lodgecrest and main contractor Southgold exudes a 'great sense of theatre' with dramatic curving shapes enhanced by curved patio doors and balustrading supplied by Balcony Systems.
Named Eclipse after its slim curved shape, the striking two-storey property stands in over eight acres on the site of a former piggery near the village of Slinfold and enjoys open panoramic views across its grounds. It is valued at £2.5 million.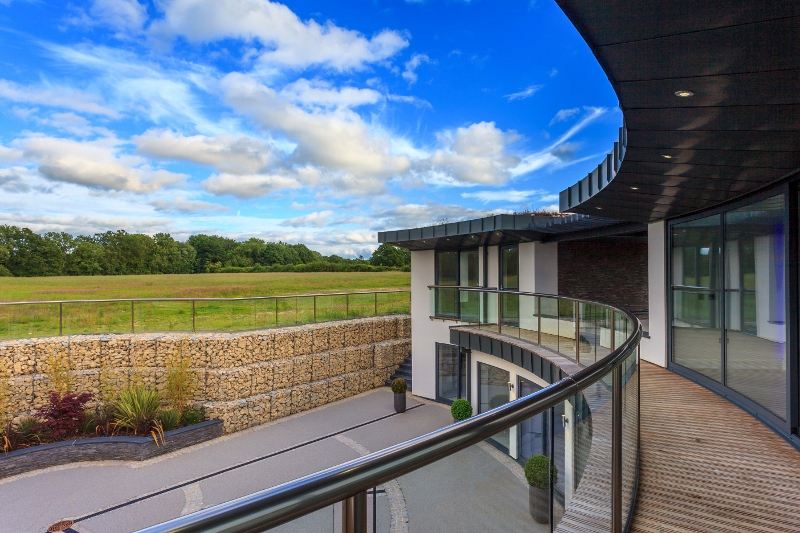 Directly below, a series of concave curved glass doors create a stunning visual impact to the lower bedrooms and games room, allowing in much natural light to the interior and direct access to the courtyard.
The inclusion of an ambitious curved design was a first for South East-based Lodgecrest, as Director Richard Kelly explained: "The original plan to feature curves throughout the building was conceived through collaboration of architects' ideas; it's a bespoke design with hardly any straight walls."
Maximising the site's potential presented a key challenge. This was achieved by constructing the building elements below and above ground to minimise the property's impact on the rural landscape and to comply with planning constraints.
"There's a bridleway and public footpath alongside its boundaries, so it was vital to achieve a low impact within its country setting," said Richard. "You can only see the true curvature when close up to the building."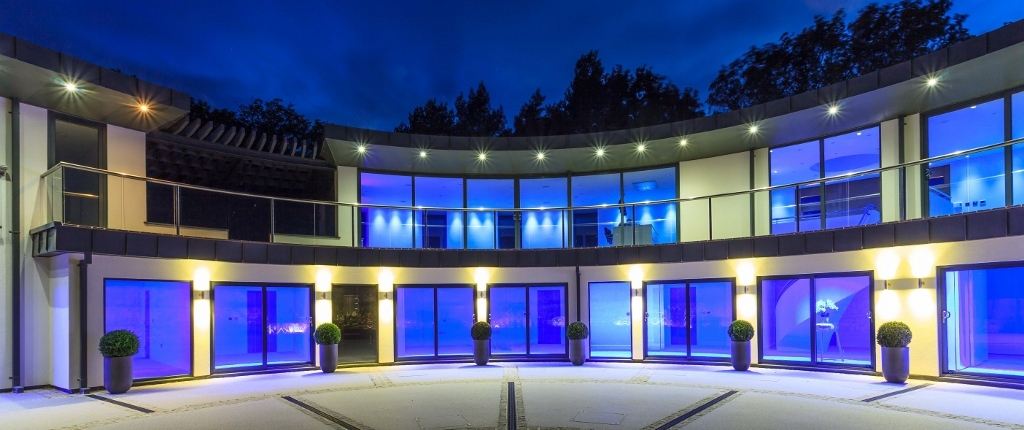 Acknowledging that faceted glass would have been less expensive, Richard felt it would have 'taken away one essential element of the building'. Having found Balcony Systems via a Google search and researched the company's expertise in curved glazing, Lodgecrest engaged them on the project.
Richard continued: "Balcony Systems could manufacture what we needed to suit the building's unique and striking design. Their team fulfilled our requirements to have a complete elevation of smooth curved glass and supply all the required elements, including the curved balustrading.
"It was the first time we'd attempted a curved design and the first time we had worked with Balcony Systems. The quality of their products is very good and I think they look smart. I also liked the design; for example the precise construction of the bottom balustrading rail."
In conclusion, Richard said: "Underneath its sedum 'green' roof, the property gives a hidden feeling and does not reveal its dynamic interior and lower courtyard until you enter and walk through. The view opens up, like a surprise and the whole house has a great sense of theatre.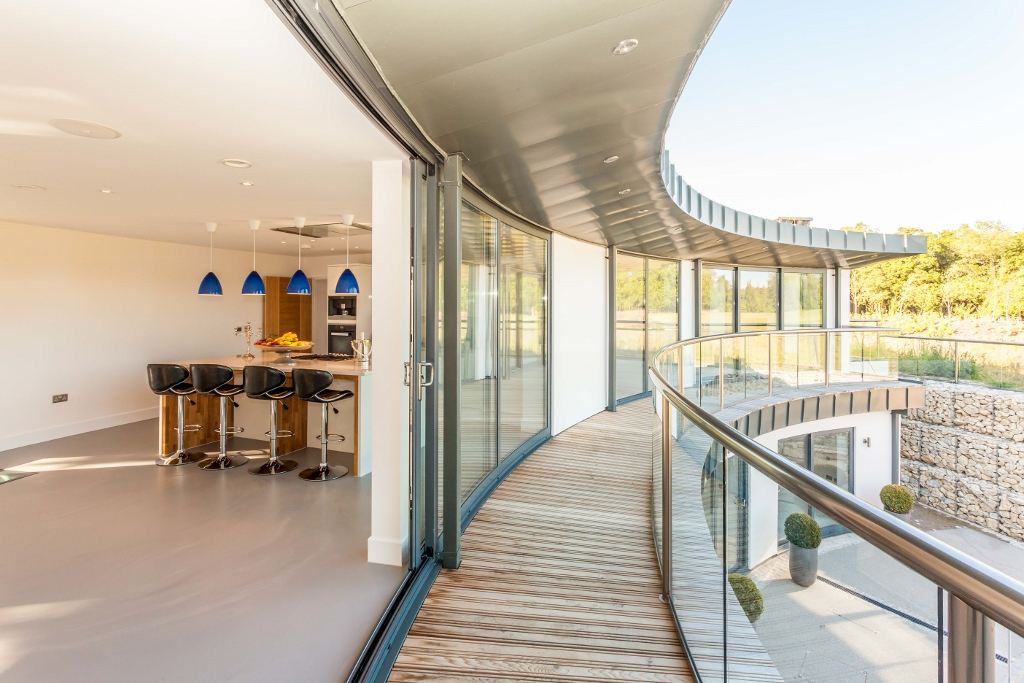 "Using Balcony Systems' products has helped to give Eclipse its full 'wow' factor and I would certainly use the company again," he added.
For Southgold, a South London-based family-run construction company, a good working relationship was quickly established with Balcony Systems with whom they'd not worked with before.
"Initially a lot of trust is involved from both sides, especially with a 'big ticket' item such as this project. Yet you only need one successful project to build up that trust," said Gavin Bradley, Southgold's Contracts Manager, who was impressed with Balcony's professionalism.
The challenges presented by the building's curved shape meant it was important to find the right specialist supplier that could fulfil the design elements. Of the three quotations sourced by Southgold, it was Balcony's competitive price, their service and location close to the project that were key to securing the contract.
Gavin continued: "We were invited to their Lingfield showroom where we could see their balustrading and curved door products and to discuss the project's requirements. Throughout the project, they stuck to their price and did what they said they would do."
Praising Balcony's service, he said: "Given the bespoke nature of the products, we were a little nervous about the installation and keen to get it right. The technical support on site was fantastic; we were very happy and it's all been really good. We would recommend the company and have already done so to another contractor."
Commenting on Eclipse itself, Gavin described it as 'like a Grand Design on an epic scale', saying: "The curved glazing looks fantastic and when installed it changed the look of the whole project. Without it the curve would not have looked as natural as it does. It's great to have it in our portfolio!"
In conclusion, Gavin added: "Eclipse threw up different challenges for all involved. We needed to form new working relationships with companies having experience in curved designs. Knowing specialists like Balcony Systems who can deliver on projects like this is critical. A lot of suppliers might not live up to expectations, so it's great to find the companies who can."